Movie Review: 2014 Chicago Underground Film Festival: What I Love About Concrete & Shadow Zombie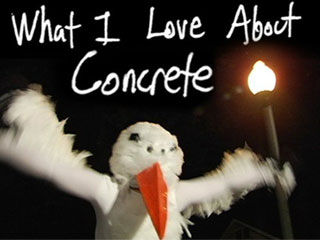 The two most striking narrative features at the 21st annual Chicago Underground Film Festival couldn't have been more different, even though both do originate from the American south. One is an utterly charming teen comedy while the other is a dark, mysterious and mature drama.
What I Love About Concrete opened the fest on April 2, a strong opening night choice and an extremely impressive achievement given that the film is a debut feature by three young filmmakers from Memphis — co-writers and co-directors Alanna Stewart and Katherine Dohan, and collaborator Brett Hanover.
Also strongly contributing to the film's terrific success is Morgan Stewart (director Stewart's younger sister) who stars as Molly Whuppie, a teenage girl who awakens in a strange house one morning covered in bird feathers. Lying next to her in bed is a dead swan. A few hours later at school, Molly literally lays an egg and soon finds herself navigating the strange world of becoming an adult while slowly transforming into a swan herself.
The filmmakers deftly merge several approaches to the teen film genre for an overwhelmingly satisfying vision that combines a realistic feel for adolescent angst with smartly executed metaphoric fairy tale elements and scenes of pure absurdist humor. The way the film combines all of these elements is effortless and mature for such young filmmakers, which is even more impressive considering that the film was produced over the course of several years. The cohesion brought to the material over such a long time is more than admirable.
The film also eschews the traditional types of romantic subplots all too common to not only the teen film genre, but also to female-centric films set in the adult world. Molly is rendered as a strong and independent girl as she navigates the confusing world around her. After discovering the dead bird, Molly stuffs the feathery corpse into her backpack and carries it wherever she goes. But soon, the bird transforms itself into a teenage boy that Molly is told by an elderly mentor is only sleeping.
Although Molly's quest to awaken the boy has fairy tale qualities to it, one never gets the sense that she is attempting to awaken her "prince charming." Molly appears to be a self-satisfied young woman acting simply out of good faith, not out of a need for a boy to make sense of her life, elevating the production into a very modern space.
On the direct opposite end of the entertainment spectrum from the charming comedy of What I Love About Concrete was Jorge Torres-Torres's Shadow Zombie, which screened at the Chicago Underground Film Festival on April 5.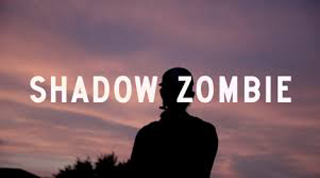 Despite the title, Shadow Zombie is not a horror film. Well, at least not one about the flesh-eating undead. The film stars Kim Filth, a real-life friend of the director's who snorts prescription medication, writes poetry and paints his face to become his alter-ego "Shadow Zombie."
This reviewer was a member of the three-panel jury of this year's Chicago Underground Film Festival and we awarded Shadow Zombie the Best Documentary-ish prize, given the film's startling realistic portrayal of Kim Filth. While the film does place Filth into fictional scenarios, the project is based around his real life and grew organically out of his situation. Yes, he really does transform himself into Shadow Zombie while hanging out with friends, going to parties, etc. There are also many shocking revelations that Filth makes on-screen about what has truly happened in his life.
The fictional aspect of the film involves Shadow Zombie falling in love with a female clown named Cookie. The relationship at first affords the movie a sense of hope and romance, but eventually their union becomes absorbed into the loose plot's relentlessly sad milieu before descending into the fully tragic.
Filth is an impossibly compelling character, whether he's being himself or some slight fictional version of the same. With most of his teeth having rotted away due to his addiction, he mumbles his words to keep his mouth closed, but what comes out is an intriguing combination of sweetness and creativity with a twinge of melancholic resignation.
What I Love About Concrete and Shadow Zombie may be as disparate as can be, but they were two of the strongest entries in the entire 21st annual Chicago Underground Film Festival.