2014 Chicago Underground Film Festival: The Poster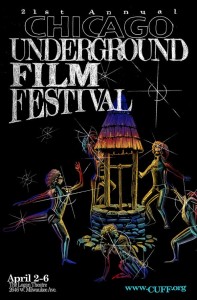 The 21st annual Chicago Underground Film Festival, which will run April 2-6, 2014, has already published their official poster and have identified the artist as Michael Lopez. Click the poster image above to embiggen.
According to the fest, Lopez is a "a Chicago-based video artist, illustrator, performer, and writer whose work has been shown nationally." He is also an alumnus of the festival.
The festival is also currently still open for submissions until December 15, 2013. For more info on how to submit, please click here.