2014 Chicago Underground Film Festival: Official Lineup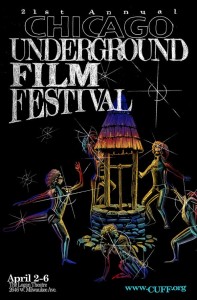 The 21st annual Chicago Underground Film Festival, which will run April 2-6 at the Logan Theater, will be extra special this year. Why? Because Mike Everleth, the Executive Editor of the Underground Film Journal, is sitting on this year's festival jury! And looking over the fest lineup below, he is incredibly excited to witness this visual extravaganza of revolutionary cinematic madness. (Other jurors are Brian Chankin, Therese Grisham and Alison Cuddy.)
Opening Night Film: What I Love About Concrete is the debut feature by the directing team of Katherine Dohan and Alanna Stewart and is a surreal suburban tale about a teenage girl who believes she is transforming into a swan.
Closing Night Film: Usama Alshaibi will be making his triumphant return to Chicago with his latest documentary, American Arab, a personal and sociological examination of what it means to be an Arab in a post-9/11 United States. This film is partially a follow-up to Alshaibi's earlier doc, Nice Bombs, which won the Documentary Feature award at the 2006 Chicago Underground Film Festival. Watch the trailer for American Arab here.
Other Feature Films to Look Out For: Who Took Johnny is the latest documentary provocation by the team of Michael Galinsky, Suki Hawley and David Beilinson; Shadow Zombie by Jorge Torres-Torres focuses on the lives of outcasts in the American south; director Nik Fackler convinces his friends to go on a doomed African journey in Sick Birds Die Easy; Alex Ross Perry tries his best not to exploit the Yucatán in Mark Peranson and Raya Martin's La última película.
Short Films of Note: Jodie Mack's electric Let Your Light Shine; Mike Olenick's nightmarish Red Luck; Tony Lawrence's NeonSpread; Kent Lambert's remixed Reckoning 3; Skizz Cyzyk's poppy Alfred Jarry & 'Pataphysics; Lori Felker's Scattered in the Wind; and the latest film by Mike Kuchar, Happy Birthday.
The full 21st annual Chicago Underground Film Festival lineup is below. For more info, please visit their official website.
April 2
8:00 p.m.: What I Love About Concrete, dir. Katherine Dohan, Alanna Stewart. A teenage girl wakes up one morning to discover that she is slowly transforming into a swan, among other unusual developments.
Screening with:
A Million Miles Away, dir. Jennifer Reeder
April 3
6:30 p.m.: Sick Birds Die Easy, dir. Nik Fackler. Director Fackler leads a team into the African jungle to find a controversial plant that is said to cure opiate addiction. The trip does not go well.
Screening with:
Burrow-Cams, dir. Sam Easterman
7:00 p.m.: "Critical Paranoia: Conspiratorial Memes, Alternative Histories, and Disinformation"
Curator Ernest J Ramon has collected a host of strange and controversial conspiracy videos from YouTube.
8:30 p.m.: "Blast Required"
Let Your Light Shine, dir. Jodie Mack
Peacock, dir. Alexander Stewart
Photooxidation, dir. Pablo Mazzolo
The Lonely Life of Debby Adams, dir. Karen Yasinsky
The Inner and Outer Vanishing Point, dir. Cameron Gibson
Terrible Squad, dir. Stephanie Tisza
Half Life, dir. April Simmons
Red Luck, dir. Mike Olenick
9:00 p.m.: When My Sorrow Died: The Legend of Armen Ra & The Theremin, dir. Robert Nazar Arjoyan. This documentary profiles Armen Ra, whose life was completely transformed after discovering the Theremin.
Screening with:
The Dark, Krystle, dir. Michael Robinson
April 4
6:30 p.m.: a l'est de l'enfer (East of Hell), dir. Matthieu Canaguier. This documentary explores the underground music scene of Black Metal in Indonesia.
Screening with:
Psychic TV: Dreams Less Sweet, prod. Sam Zimmerman, Edward O'Dowd, Genesis P-Orridge. This collaborative film combines the work of 47 artists and the music of the band Psychic TV's second album.
7:00 p.m.: "Summon With Flags"
Black Rectangle, dir. Rhayne Vermette
Humming, Fast & Slow, dir. Rainer Kohlberger
Square Dance, Los Angeles County, California, 2013, dir. Silvia das Fadas
Frost Vapor, dir. Kevin Veselka
Conservatory, dir. Stephen Broomer
Every Filter in Final Cut Pro, dir. Lisa McCarthy
The Present Compendium: a Comprehensive Inventory of 24 Items in 5 Volumes, in the Instance of the Present Print, on the Occasion of its Present Screening, dir. Chris Hoag
The HandEye (Bone Ghosts), dir. Anja Dornieden & Juan David González Monroy
Listen, dir. Monteith McCollum
Tender Feet, dir. Fern Silva
8:30 p.m.: Dream Town, dir. Adrian Briscoe. Director Briscoe visited a remote Russian coal-mining village on a Norwegian island and invited the residents to make short videos.
Screening with:
Scattered in the Wind, dir. Lori Felker
9:00 p.m.: "Negate Sin"
Nine Gates, dir. Pawel Wojtasik
Abductive Object #4, dir. Kera MacKenzie
Minimal Vandalism, dir. Kay Walkowiak
Ye Fu, dir. Di Fang
Asumptions of your Phantom(sy), dir. Karissa Hahn
NeonSpread, dir. Tony Lawrence
Spectrography of a Battle, dir. Fabio Scacchioli, Vincenzo Core
Mount Song, dir. Shambhavi Kaul
Blow Me!, dir. Michele O'Marah
April 5
2:00 p.m.: "Nineteen Ghost Hills"
Kathleen, dir. Stephanie Hutin
The Loneliness Thing, dir. Vanessa Gully Santiago
Ten Notes on a Summer's Day, dir. Mike Stoltz
Migraine and Michael: A Love Story, dir. Adrian Goodman
Green, dir. Heather Young
Theatre of Cruelty, dir. Devin Cain
Ellie Lumme, dir. Ignatiy Vishnevetsky
5:00 p.m.: "A Far Fact Totem"
Ode, dir. Colin Palombi
Kulturpark, dir. Greg Stephen Reigh
The Salad Zone, dir. Sarah Abu Abdallah
Auf dem Bodem der Tatscsachen (A Matter of Fact), dir. Roshanak Zangeneh
Untitled (Agua Viva), dir. Dylan Mira
Historia Calamitatum (The Story of My Misfortunes), Part II: The Crying Game, dir. Roger Beebe
6:00 p.m.: "Their Hive Energys"
Happy Birthday, dir. Mike Kuchar
Tubal Freaks Sneek-a-Peek, dir. Andy Roche
Hot Chicken, dir. Iain Bonner
Familiars, dir. Torsten Zenas Burns
Studies in Silence: 3. Domesticating Wild Things, dir. Whitney Johnston
My Sweet, dir. Kate McCabe
Here Is Everything, dir. Emily Vey Duke & Cooper Battersby
Conjurer's Box, dir. Kerry Laitala
Up the Valley and Beyond, dir. Todd Rosken
7:00 p.m.: La última película, dir. Mark Peranson & Raya Martin. A pretentious American filmmaker (Alex Ross Perry) tours the Yucatán with the help of a local native in the hopes of ultimately making a movie about the end of the world.
Screening with:
to constrict, dir. Jake Barningham
8:00 p.m.: "Heaved Pastiche"
I Regret to Inform You, dir. Wago Kreider
Alfred Jarry & 'Pataphysics, dir. Skizz Cyzyk
Howard Marks and The Lance of Destiny, dir. Kal Bonner
The Fairy Tale, dir. Kelly Oliver and Keary Rosen
All Things, dir. Ryan Murray
The Advice Shape, dir. Jennet Thomas
COMP 1 (Deion Sanders), dir. Theodore Darst
A Day For Cake And Accidents, dir. Steve Reinke and Jessie Mott
Do Voices, dir. Jesse Malmed
Secret Film, dir. Mystery Director
9:00 p.m.: "Oracle Fires"
Sister City, dir. Dani Leventhal
Crisálida, dir. Alejandro Enmanuel Alonso Estrella, Esther de Rothschild, Rosanna Mendez Gonzalez, Laura Costa Cantal
Part 2: I Can't Not Hear You, dir. Kyle Schlie
M4W, dir. Annelise Ogaard
De Luce 2: Arichitectura, dir. Janis Crystal Lipzin
Homeostatic, dir. John Rash
Rice for Sale, dir. Brendan & Jeremy Smyth
10:00 p.m.: Shadow Zombie, dir. Jorge Torres-Torres. A pot dealer living in a small American town paints himself up as a zombie doppelganger and falls in love with a girl who likes to dress up like a clown.
Screening with:
Crawl, dir. Jake Barningham
After the Flood, dir. Joseph Dwyer
April 6
2:00 p.m.: "Wants Mired"
Home Near Water, dir. Christopher Lange
Mother and daughter learning how to play Ghost in the Graveyard in the presence of their future graves, dir. Katie Condon
After Hours, dir. Karen Yasinsky
The Greatest Movie Ever Made V2, dir. Erik Summerville
Reckoning 3, dir. Kent Lambert
Cooper Watches… The Fast and the Furious, dir. Cooper Collier
What a Day, dir. Shannon Lee
Sightings, dir. Kent Tate
Master-Wind, dir. Simon Quéheillard
An Incomplete History of Pornography, 1979, dir. Sasha Waters Freyer
3:00 p.m.: "He Drys Sea Fog"
Shades of Grey, dir. Robert Todd
Push Pull Recover, dir. Terra Long
Another Song About the Sea, dir. Jeremy Bessoff
The Perfect Hello, dir. Zack Kasten
6:00 p.m.: Who Took Johnny, dir. Michael Galinsky, Suki Hawley and David Beilinson. This documentary examines the unsolved case of Johnny Gosch, who mysteriously disappeared while delivering papers on the morning of September 5, 1982.
Screening with:
Eugene, dir. Jason Stanfield and Jordan Olshansky
7:00 p.m.: The Unity of All Things, dir. Daniel Schmidt and Alexander Carver. A sci-fi satire "set against the background of particle collider research."
Screening with:
Portrét I, dir. Jake Barningham
8:00 p.m.: American Arab, dir. Usama Alshaibi. Filmmaker Alshaibi explores what it means to be an Arab in the United States in the country's post-9/11 society. (Watch the American Arab trailer)
Screening with:
Encounters With Your Inner Trotsky Child, dir. Jim Finn