2014 Chicago Underground Film Festival: Award Winners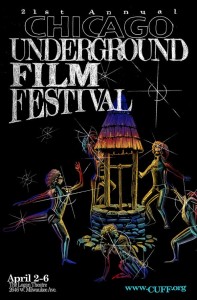 The 21st annual Chicago Underground FIlm Festival, which ran April 2-6 at the Logan Theatre, has announced their list of award winners.
Winners were decided by a three-panel jury that included Brian Chankin, owner of the Odd Obsession Movies video store in Chicago; Alison Cuddy, the arts and culture reporter for WBEZ 91.5 FM Chicago Public Media; and Mike Everleth, editor of the Underground Film Journal.
In total, the jury gave out eight official awards, which are listed below. In addition, given the incredibly strong lineup of films that screened at the festival, a total of 11 Honorable Mentions were also given out, and are listed below as well.
To add a personal note, it was a pleasure and and honor to serve on the jury with Brian and Alison, and our decisions came to us fairly easily, which is a testament to the strength of the work that was made and the impeccible taste of the festival to select these works for programming. Plus, Brian and Alison were ultra cool to hang out with, to boil that down simply.
The jury statement that we made is, the more I read it, a good summation of the festival in general and a great description of the diverse range of winners, from the utterly charming documentary Dream Town by Adrian Briscoe to Kent Lambert's stunning meditation on video game culture, Reckoning 3, to Mike Olenick's gorgeous and disturbing Red Luck to Jorge Torres-Torres's haunting Shadow Zombie and Ignatiy Vishnevetsky's terrifically constructed Elle Lumme.
Jury Statement:
What thrilled us the most about our award selections this year is the uneasy and near impossible categorization of the films we've chosen. This was a puzzling — in every good sense of that word — edition of the festival.
Best Picture
Dream Town, dir. Adrian Briscoe
Best Animation
Another Song About the Sea, dir. Jeremy Besoff
Best Experimental
Reckoning 3, dir. Kent Lambert
Best Short
A Million Miles Away, dir. Jennifer Reeder
Best Looking Film
Red Luck, dir. Mike Olenick
Best Rom Com
Home Near Water, dir. Christopher Lange
Made in Chicago
Elle Lumme, dir. Ignatiy Vishnevetsky
Best Documentary(-ish)
Shadow Zombie, dir. Jorge Torres-Torres
Honorable Mentions
Salad Zone, dir. Sarah Abu Abdallah
Historia Calamitatum (The Story of My Misfortunes), Part II: The Crying Game, dir. Roger Beebe
When My Sorrow Died: The Legend of Armen Ra & The Theremin, dir. Robert Nazar Arjoyan
Who Took Johnny, dir. Michael Galinsky, Suki Hawley and David Beilinson
What I Love About Concrete, dir. Katherine Dohan, Alanna Stewart
Secret Film, dir. Mystery Director
Do Voices, dir. Jesse Malmed
Burrow Cams, dir. Sam Easterman
East of Hell, dir. Matthieu Canaguier
Migraine and Michael: A Love Story, dir. Adrian Goodman
American Arab, dir. Usama Alshaibi
Audience Award
Master-Wind, dir. Simon Quéheillard