2014 Call For Entries: Indie Gathering Film Festival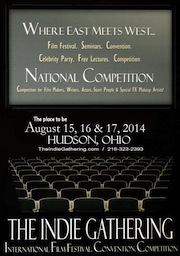 The Indie Gathering is a three-day film festival, convention and competition that will take place in 2014 on August 15-17 in Hudson, Ohio. They are now currently open for submissions for the film festival portion of the event.
While the festival does not post any guidelines on their website as to what they are looking for, filmmakers can browse through last year's lineup for ideas. It seems to be a fairly open festival, programming feature-length movies and short films, including a wide variety of genres, such as comedy, drama, sci-fi, suspense and others. Plus, given the title of the festival, they appear to be more open to more traditional-style indie films and not ones too experimental, but, you also never know.
The upcoming deadlines are below:
Deadlines
Early Deadline
December 31, 2013
Entry Fee: $35
Standard Deadline
May 1, 2014
Entry Fee: $40
Late Deadline
May 15, 2014
Entry Fee: $45