2014 Call For Entries: Haverhill Experimental Film Festival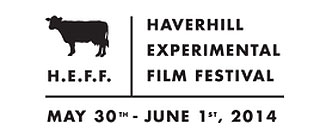 The 2nd annual Haverhill Experimental Film Festival is currently open for submissions. It will be held on May 30 — June 1, 2014 in Haverhill, Massachusetts.
This edition of the festival is expanding by one day, which equals two screenings more than in the inaugural fest. There will also be awards going out and the winners' films will be going on an East Coast tour to, possibly Boston, Providence, NYC, Jersey City, Philadelphia, Baltimore, D.C., Richmond, and finally Raleigh.
Selected submission information is below. Please visit the official HEFF website for full guidelines.
DEADLINES & ENTRY FEES
Regular Deadline (postmarked):
February 1st, 2014
Entry Fees:
$15 per entry
$5 for each additional entry
Late Deadline (postmarked):
March 1st, 2014
Entry Fees:
$20 per entry
$10 for each additional entry
GUIDELINES
Exhibition formats include Super 8mm, 16mm, or ProRes Quicktime File.
Only accepting films/videos completed after December 31st, 2010.
English subtitles/dubbed is required if necessary for comprehension.
Max runtime is 40 minutes.
Filmmakers are encouraged to submit online, providing a link to an online screener (Vimeo, YouTube, etc.) and pay via PayPal. If the filmmaker does not have a PayPal account, he/she can pay via check made out to Haverhill Experimental Film Festival.
If an online screener is not available, the submission form has an option to select DVD (Region 0 or 1) or Quicktime (data disc or USB drive).
All mailings can be sent to:
Haverhill Experimental Film Festival
2 South New Street
Haverhill, MA 01835
USA