2014 Call For Entries: Alchemy Film And Moving Image Festival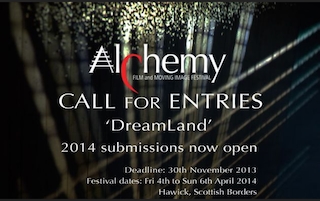 The 4th annual Alchemy Film and Moving Image Festival is currently open for submissions. The festival will run on April 4-6, 2014 in Hawick, Scottish Borders, Scotland. Submission is free.
Alchemy screens primarily experimental films, but will consider narrative films that show a uniqueness in form and structure. Also, this edition of the festival will have the theme of "Dreamland," so submitted films should fit in with that theme.
Some guidelines of what Alchemy is looking for is below after the submission deadline, but please visit the festival's official website for moe info. This is the first time they are being listed on the Underground Film Journal.
Deadline
Final Deadline:
November 30, 2013
No entry fee!
Guidelines
Alchemy Film and Moving Image Festival is an international festival of experimental film and artists' moving image. Our 2014 theme is 'DreamLand', focussing on film explorations of the natural world as a place of dreams, the dream of nature, and the natural world correspondent with the subconscious world. Our theme also relates to the utopian dreams of a Scottish homeland — in Scotland's Year of Homecoming, and the Scottish Referendum.
We accept submissions of short films, feature films, installations and expanded cinema events (both digital and 16/35mm). We usually prefer work of a more experimental nature, though narrative films that show uniqueness in form and structure, or strong relevance to our themes, are most welcome. Please bear in mind the overall festival theme which aims to explore mankind's relationship to the natural world. We're also interested in the 'alchemy' of film as well, whatever that turns out to be.