2014 Arizona Underground Film Festival: Official Lineup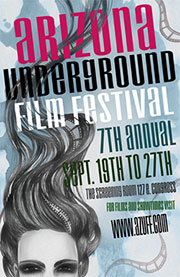 The 7th annual Arizona Underground Film Festival will screen a smorgasbord of cult flicks, horror movies, comedies and provocative documentaries on September 19-27 at The Screening Room in Tucson, AZ.
Opening Night: The fest kicks off on the 19th with Killers, a dark thriller all the way from Japan and Indonesia about a psychopath and a journalist who forge an unlikely, hellish bond.
Other films to be on the look out for include documentaries like the powerful Who Took Johnny? by acclaimed filmmakers Michael Galinsky, Suki Hawley and David Belinson that examines the legacy of the disappearance of young Johnny Gosch in 1982; Penny Vozniak's Despite the Gods, about Jennifer Lynch's struggles to make a Bollywood musical; and Gideon C. Kennedy and Marcus Rosentrater's wild Limo Ride.
Then, there are horror movies like the Lovecraft-inspired The Call Girl of Cthulu by Chris LaMartina; the slasher flick Crazy Bitches by Jane Clark; and the return of William Hellfire with his Upsidedown Cross.
Also, there are just way out there movies like Mario Kyprianou's political satire The Republic of Rick; Yann Gonzalez's sex comedy You and the Night; the revenge thriller The Badger Game by Joshua Wagner, Thomas Zambeck; and loads more.
Lastly, there are tons of short films, including fare like Neil Ira Needleman's Cause of Death and Brian Lonano's Welcome to Dignity Pastures.
The full Arizona Underground Film Festival lineup is below. For more info, please visit the fest's official website.
September 19
8:00 p.m.: Killers, dir. Kimo Stamboel, Timo Tjahjanto. A serial killer and a journalst become entangled in a deadly game of cat and mouse.
September 20
2:30 p.m.: "Animation Shorts"
Binary, dir. Andre Silva
Walls, dir. Christine Spaneddad
In Which I Play the Runaway, dir. Christabel Jarrold
Tall Evil, dir. Wally Chung
Gimme the Sweet and Lowdown, dir. Mad Twins
Path of Blood, dir. Eric Power
4:10 p.m.: Who Took Johnny?, dir. Michael Galinsky, Suki Hawley and David Beilinson. This documentary examines the unsolved case of Johnny Gosch, who mysteriously disappeared while delivering papers on the morning of September 5, 1982.
Screening with:
The Good Escape, dir. Nadia Litz
6:00 p.m.: Despite the Gods, dir. Penny Vozniak. This documentary covers the making of a Bollywood action film by Jennifer Lynch, daughter of David Lynch.
Screening with:
Insomniacs, dir. Charles Chintzer Lai
8:00 p.m.: Time Lapse, dir. Danielle Panabaker, Matt O'Leary, George Finn. Three roommates find a machine that takes pictures 24 hours into the future — disturbing pictures.
Screening with:
Dalai Lama, dir. Jeremy Cohen
10:20 p.m.: "Midnight Shorts"
I Am Monster, dir. Lori Bowen, Shannon Lark
Cause of Death, dir. Neil Ira Needleman
Screw, dir. Angus Ware
Blood Rag, dir. Emma Varker and Josh H.G.K.
White Russian, dir. Emma Varker
FMK, dir. Emma Varker and Josh H.G.K.
Thrist, dir. Zackery Colston, Sera Ferron
A Taste of Blood, dir. Jesse Debernard
Extreme Pinocchio, dir. Pascal Chind
September 21
4:05 p.m.: The Republic of Rick, dir. Mario Kyprianou. A man proclaims himself the President of the Republic of Texas and leads a militia to fight for his new country's independence.
Screening with:
Death Has a Son, dir. Zack Ogle
6:00 p.m.: Unsound, dir. Darious Britt. A young filmmaker struggles with taking care of his mother, who suffers from mental illness.
Screening with:
Help Point, dir. Andrew Margetson
8:15 p.m.: The Call Girl of Cthulhu, dir. Chris LaMartina. Inspired by the work of H.P. Lovecraft, this gonzo horror romp has an innocent virgin boy fall in love with a female escort who just so happens to be the chosen bride of an ancient alien god.
Screening with:
Hellyfish, dir. Patrick Longstreth, Robert McLean
September 22
8:00 p.m.: Crazy Bitches, dir. Jane Clark. A group of seven women take a vacation at a cabin in the woods, which was the site of a horrific mass murder several years earlier.
Screening with:
One More for the Road, dir. Navin Ramaswaran
September 23
8:00 p.m.: Limo Ride, dir. Gideon C. Kennedy, Marcus Rosentrater. This documentary recreates the hilarious story of an epically debauched limo ride taken by ten wild and crazy guys.
Screening with:
The Archivist, dir. Jeremy Ball
September 24
8:00 p.m.: B.F.E., dir. Shawn Telford. Four lives of loneliness and desperation intersect.
Screening with:
Animals, dir. Alexander Yan
September 25
7:15 p.m.: You and the Night, dir. Yann Gonzalez. A young couple prepare to engage in an orgy with their transvestite maid.
Screening with:
Egghead, dir. Patrick Longstreth
9:20 p.m.: Upsidedown Cross, dir. William Hellfire. When a drug-addled prostitute returns home to dry out, her mother hires a preacher to exorcise the demons from the hooker's soul.
Screening with:
Carolina Parakeet, dir. A.J. Briones
September 26
5:25 p.m.: Suicide or Lulu and Me in a World Made for Two, dir. Christian Carroll. A man invents a special camera that he hopes will physically recreate a moment of happiness enjoyed between himself and his girlfriend.
7:35 p.m.: Metalhead, dir. Ragnar Bragason. A woman becomes obsessed with the dark world of Heavy Metal music after her brother dies.
Screening with:
Good Friday, dir. J. Alan Morant
9:45 p.m.: The Badger Game, dir. Joshua Wagner, Thomas Zambeck. A serial philanderer is kidnapped by strangers in masks who attempt to force the cheat to atone for his sins.
Screening with:
Bored, dir. Adam Ray
September 27
3:00 p.m.: "Up From The Underground Shorts Block"
Life After Manson, dir. Olivia Klaus
Lily and Lucille's Hip Creature, dir. Louis Doerge
The Birthday Party (for Me), dir. Yuval Shapira
Best Worst Man, dir. Kenny Colt
There Is No God and We All Die Alone, dir. Harrison Givens
Darwin's Dead, dir. Kevin Tobin
Service, dir. Jerry Pyle
5:00 p.m.: My Name is Jonah, dir. Phil Healy & JB Sapienza. This documentary profiles the iconoclastic Jonah Washnis, an upstate New York native devoted to promoting a warrior lifestyle.
Screening with:
Welcome to Dignity Pastures, dir. Brian Lonano
7:10 p.m.: Pernicious, dir. James Cullen Bressack. Three young women visit Thailand and unwittingly unleash the spirit of a murdered child who wants revenge.
Screening with:
Visitant, dir. Nicholas Peterson
9:15 p.m.: Wolfcop, dir. Lowell Dean. An alcoholic cop becomes a werewolf.
Screening with:
Fool's Day, dir. Cody Blue Snider