2013 Portland Underground Film Festival: Official Lineup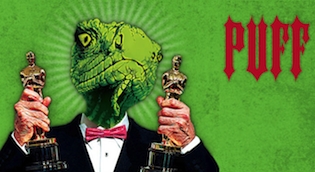 This year will see the 9th annual edition of the Portland Underground Film Festival, which also marks it as the second edition run by filmmaker Bob Moricz and the first edition that will run for six nights at two different theaters. The fun begins at PUFF's traditional home of the Clinton Street Theater on August 21-23, then will conclude on August 24-26 at the Hollywood Theater.
Festival director Moricz, a maverick filmmaker himself, makes some bold moves with this year's PUFF with a real idiosyncratic lineup of films. For example, the opening night program — when most fests like to show the best film they can — PUFF is hosting, along with Grand Detour, a special event looking for the worst films they can find in the "open mic style" showcase called War of the Worst. This will then be followed by a special program of the best Spanish underground films curated by filmmaker Naxo Fiol.
Feature films screening at PUFF include the eagerly anticipated new feature by Underground Film Journal favorite Carlos Atanes: Gallino, The Chicken System, which we only know is described as a "pornophilosophical feature." Gallino will be the closing night feature on the 26th.
Other features include the triumphant return of underground filmmaking legend Jon Moritsugu with his Pig Death Machine, which earned the director a Lifetime Achievement Award at the 2013 Chicago Underground Film Festival; the last film by Jesus Franco, Al Pereira Versus the Alligator Ladies; the political documentary Forward by Dusan Harminc and Matt Mullins; Iris Almaraz's coming-of-age tale Delusions of Grandeur; and more selected oddities.
There are also loads of short film programs that include work by giants of the underground field such as Neil Ira Needleman, Isabela Fondavila, Clint Enns, Jesse Malmed, Brian Lonano, Amir George, Aaron Zeghers and many more.
The full Portland Underground Film Festival lineup is below, but for more info, please visit the fest's official website.
August 21
7:00 p.m.: "PUFF 'n' Stew presents: War of the Worst"
Grand Detour's Stew presents a competitive evening of movies by local filmmakers where the worst film wins. Also featuring a potluck dinner, so bring food for everyone to enjoy.
9:00 p.m.: "Underground De Espana" (curated by Naxo Fiol)
Poseidos, dir. Pierrot
Horrormania, dir. Juan C. Gallardo
Tarzan's Day, dir. Carles Comas
Tears of Florencio, dir. Víctor Olid
Imatges Oblidades, dir. Eduardo Gión
Felix Pumares' Favourite T-Shirt, dir. JJS
Sound of the Sun, dir. David Domingo
Aratz Al Cubo, dir. Aratz Juanes
Arrozzorra, dir. Naxo Fiol
August 22
7:00 p.m.: Forward, dir. Dusan Harminc and Matt Mullins. This documentary presents a look back at the Wisconsin political protests and how they inspired the Occupy movement.
Screening with:
The Gift That Keeps on Giving, dir. Jeff Lassahn
Our Precious Bombs, dir. Adam Rosenberg
Save the Whales, dir. Isabela Fondavila
9:00 p.m.: "I So Heart Bombs"
Waves, dir. Michael Krueger
A Charming Quaint Tale of Brutal Revenge, dir. Neil Ira Needleman
I Am Sorry About What Happened, dir. Jonathan Kiefer
Promo, dir. Devon Williams
Safety, dir. Rory Uphold
The Unknown, dir. Katie Kapuza
Bath Salts 3, dir. Jorge Nunez
Filth, dir. Emma Vanker
Inversion, dir. Linda Fenstermaker
Clap Your Hands, dir. Rita Figueredo
What the Blonde Taught the Native, dir. Malina Chavez
Guy's, dir. Andrew Nacion
The Art of Making a Sandwich, dir. Matthew Rooney
This Is (Not) Yates, dir. Joshua Yates
Thimblerig, dir. Jesse Malmed
I Said Light, dir. Nira Burstein
The Soft Giraffe, dir. Guillaume Vallée
Part of the Party, dir. Stephen Mitchell
Hannah, dir. Antoine Ledroit
August 23
7:00 p.m.: Delusions of Grandeur, dir. Iris Almaraz. A young woman comes of age in San Francisco, experiencing love in "all the wrong places."
Screening with:
Mae's Journal, dir. Amir George
9:00 p.m.: Kakoon, dir. Sean Brown. Two brothers are obsessed with mummification.
Screening with:
Amigo, I Had a Chance, dir. Bernie Roddy
August 24
7:30 p.m.: The Trouble With Barry, dir. Mike Justice. A gay Hollywood actor is the chief suspect when the members of a webseries he's starring in start getting killed.
Are We Not Cats, dir. Xander Robin
9:30 p.m.: Pig Death Machine, dir. Jon Moritsugu. A dim-witted brunette suddenly becomes a genius while a punk rock botanist develops the ability to actually communicate with plants.
Screening with:
The Ill Mannered Milkman, dir. Wayne Horse
August 25
7:30 p.m.: "Blood, Lust, Absinthe and Meat Sauce"
The Transmission, dir. Brian Lonano (Watch Online)
Burt, dir. Chris Rosskopf
Pure View, dir. Liza Bolton
The Last Blood Orgy, dir. Kenny Reed
9:30 p.m.: Al Pereira Versus the Alligator Ladies, dir. Jesus Franco. A conservative private detective runs afoul of a group of amoral young ladies.
August 26
7:30 p.m.: Gallino, The Chicken System, dir. Carlos Atanes. A pornophilosophical feature movie.
9:30 p.m.: "The Wrecking Ball on Your Pillow"
Tudor Village, dir. Rhayne Vermette
Seed Story, dir. William Caballero
The Everden, dir. Clint Enns
Triumph of a City, dir. Aaron Zeghers
Christ Church St. James, dir. Stephen Broomer
Televisao, dir. Filipe Alfonso
Movement #4, dir. Daniel Hopkins