2013 Onion City Experimental Film And Video Festival: Official Lineup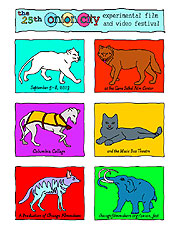 This year, Chicago's durable Onion City Experimental Film And Video Festival is celebrating its devotion to challenging, exciting and entertaining experimental and avant-garde films for a quarter of a century. Hosted, as always, by Chicago Filmmakers, the 25th annual edition of the fest runs at several locations around the Windy City — the Gene Siskel Film Center, Columbia College and the Music Box Theater — on September 5-8.
The opening night program is a terrific lineup of eclectic short works from some of the giants of the experimental film world, such as animators Jodie Mack and Lawrence Jordan, documentarian Deborah Stratman, British filmmaker Ben Rivers, Indian filmmakers Shai Heredia and Shumona Goel, classic experimental filmmaker Phil Solomon and several more.
The rest of the fest is also jam-packed with other terrific short films and videos, from filmmakers such as Jennifer Reeder, Stephanie Barber, Mike Hoolboom, Lewis Klahr, Scott Fitzpatrick and tons more; plus, special programs on queer identity (Sep. 6, 7:00 p.m.), experimental works from Portugal (Sep. 7, 3:15 p.m.) and two mini-features by Scott Stark and Phil Solomon (Sep. 8, 2:00 p.m.).
Then, the fest goes out with a huge bang on September 8 with two exciting features. First is a new film by acclaimed minimalist filmmaker James Benning, the landscape portrait Nightfall, which will then be followed by Double Play: James Benning and Richard Linklater, the documentary by Gabe Klinger that charts the friendship between the two iconoclastic directors.
The full lineup for the 2013 Onion City Experimental Film and Video Festival is below. But for more information on the films, screening locations and to buy advance tickets, please visit the festival's official website.
September 5
8:15 p.m.: "Opening Night Program"
Solar Sight III, dir. Lawrence Jordan
Phantoms of a Libertine, dir. Ben Rivers
I Am Micro, dir. Shai Heredia and Shumona Goel
Silver/Gold: Portrait of Evan Parker, dir. Neil Henderson
The Emblazoned Apparitions, dir. Phil Solomon
Musical Insects, dir. Deborah Stratman
Verses, dir. James Sansing
Blanket Statement 2: It's All Or Nothing, dir. Jodie Mack
Time Present, dir. Alfred Guzzetti; sound by Kurt Stallmann
By Pain and Rhyme and Arabesques of Foraging, dir. David Gatten
September 6
7:00 p.m.: "Portraits, Queerly"
Encounters I May Or May Not Have Had With Peter Berlin, dir. Mariah Garnett
Buffalo Death Mask, dir. Mike Hoolboom
I Remember: A Film About Joe Brainard, dir. Matt Wolf
8:45 p.m.: "Talk About the Passion (Salvation Imminent)"
Girls Love Horses, dir. Jennifer Reeder
Healing, dir. Stephanie Barber
Real Estate, dir. Neil Beloufa
How to Quit Smoking at the Moon Hotel, dir. Jessie Stead
In Reps of Long-Play, dir. Olivia Ciummo
Gold Moon, Sharp Arrow, dir. Malic Amalya
Une Terre Familière, dir. Mariana Milhorat
Pittsburgh 8/5/68, dir. Ted Kennedy
September 7
1:00 p.m.: "Wandering, Pausing"
Watercolor (Fall Creek), dir. Vincent Grenier
Pták básně I a II, dir. Jake Barningham
Marshy Place Across, dir. Lorenzo Gattorna
Bat El Drinking Water and Other Signs, dir. Jonathan Schwartz
Videe, dir. Diane Kitchen
Looking-Glass Insects, dir. Charlotte Pryce
murmurations, dir. Rebecca Meyers
Home Movies Gaza, dir. Basma Alsharif
Aula Magna, dir. Andres Denegri
3:15 p.m.: "The Way of All Flesh"
Os Grilos do Sul Gritam Aurora, dir. Lucas Sá
Carousel, dir. Jorge Quintela
To the Wolf of Madragoa, dir. Pedro Bastos
As the Flames Rose, dir. João Rui Guerra da Mata
Morning of Saint Anthony's Day, dir. João Pedro Rodrigues
Obscene, dir. Giuseppe Boccassini
5:45 p.m.: "Illuminations"
The Heart Balloon, dir. Lennon Batchelor
Darna: A Stone Is a Heart You Cannot Swallow, dir. Jon Lazam
Living in an Ant Hill, dir. Manuel Barenboim
Lagos Island, dir. Karimah Ashadu
Kiss the Rain, dir. Lewis Klahr
The Street of Everlasting Rain, dir. Lewis Klahr
XOXO, dir. Pablo Marin
To the Change Assigned, dir. JB Mabe
Twice Over, dir. Simon Payne
The Breadth of It All, dir. Grant Speich
Shoot Don't Shoot, dir.William E. Jones
8:00 p.m.: "System Overload"
Crux Film, dir. Alexander Stewart and Lilli Carré
Ventis, dir. Myriam Bessette
Lixiviat, dir. Robin Dupuis
Dumb Day, dir. Kevin Eskew
X, dir. Max Hattler
Mictlan, dir. Augustin Gimel
Places With Meaning, dir. Scott Fitzpatrick
Prisoner's Cinema, dir. Joshua Gen Solondz
Delete, dir. Marcello Mercado
Golden Eye, dir. LJ Frezza
runtime error, dir. Sandra Araujo
[deterritorialization], dir. Benjamin Balcom
End Credits, dir. Angelo Ricciardi
September 8
2:00 p.m.: "The Realist & Empire"
The Realist, dir. Scott Stark
Empire, dir. Phil Solomon
4:00 p.m.: Nightfall, dir. James Benning
7:30 p.m.: Double Play: James Benning and Richard Linklater, dir. Gabe Klinger