2013 Oakland Underground Film Festival: Official Lineup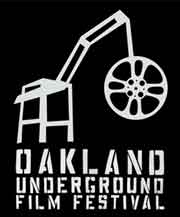 The 5th annual Oakland Underground Film Festival, which runs this year on Sept. 25-29, features their usual mix of socially and politically relevant films, challenging genre fare and loads of short films.
The fest opens on the 25th with two provocative documentaries. First up is Tia Lessin and Carl Deal's Citizen Koch, which shines a spotlight on the behind-the-scenes machinations of the billionaire Koch brothers who have greatly influenced modern politics. (Citizen Koch is also screening for free, which you can RSVP for on the OAKUFF website.) Also on the 25th is a profile of Riot Grrrl icon Kathleen Hanna in The Punk Singer, directed by Sini Anderson.
Other films in the fest include the martial arts action romp Death Grip by Eric Jacobius; the anti-bullying drama The Dirties by Matt Johnson; the quirky family shenanigans of Toastmaster by Eric Boadella; and the Closing Night lyrical documentary about life on the U.S./Mexico border, Purgatorio by Rodrigo Reyes.
And there are many short film blocks in the fest, some of which feature work by local filmmakers, as well as films by Greg Hanson (Sink Hole), Tony Gault (Ghost of Yesterday) and lots more.
The full Oakland Underground Film Festival lineup is below. For more info, please visit the festival's official website.
September 25
6:00 p.m.: Citizen Koch, dir. Tia Lessin and Carl Deal. This documentary investigates how the billionaire Koch brothers influence modern politics.
8:00 p.m.: The Punk Singer, dir. Sini Anderson. This documentary profiles Kathleen Hanna, the pioneering and enormously influential punk rock icon from the bands Bikini Kill, Le Tigre and others.
Screening with:
Altered Lives of Lavonne Salleé, dir. Jazmin Jamias
September 26
8:00 p.m.: "Filmmaker Mingle: Featuring Best of Local Shorts"
Film lineup TBA
September 27
7:00 p.m.: Death Grip, dir. Eric Jacobius. Two brothers run afoul of a satanic cult and must fight for their survival.
9:00 p.m.: "The Monster Within Our Shorts"
Horizonte, dir. Aitor Uribarri
Sink Hole, dir. Greg Hanson
Shelter, dir. Eve Edelson
Centralia, PA, dir. Nick Clasing
Hermeneutics, dir. Alexei Dmietriev
A Story for the Modlins, dir. Sergio Oksman
September 28
2:00 p.m.: "Hella Tight Shorts"
Gats: Voice of Art, dir. Z.S. Grant
Mousse, dir. John Hellberg
Sixteen Seeds, dir. Melinda James
El Rastrillo Se Quiere Comprometer, dir. Santi Veiga
Rope a Dope, dir. Eric Jacobus
4:00 p.m.: "Locals in Shorts"
The Whale Story, dir. Tess Martin
Spaced Out, dir. Aidan Fraser
How to Make an Origami Crane, dir. Emily Alden Foster
Special Delivery Bay Area 2012, dir. Jeff Capps
Interlude, dir. Bolaji Tijani-Qudus
Return, dir. Wes Fisher
The Altered Lives of Lavonne Salleé, dir. Jazmin Jamias
Food Coma, dir. Sean Uyehara
Gats: Voice of Art, dir. Z.S. Grant
6:00 p.m.: "B-Side BBQ and Cinema Party"
7:00 p.m.: The Dirties, dir. Matt Johnson. Two artsy high school students attempt to make a documentary about bullying.
9:15 p.m.: The Institute, dir. Spencer McCall. The Jejune Institute of the San Francisco Bay Area is spotlighted in this documentary.
September 29
12:00 p.m.: "Oddities: Strange & Beautiful Shorts"
Black Moon, dir. Brandon Blommsent
Pittsburgh 8/16/68, dir. dir. Ted Kennedy
Squirrel, Bernhard Hoffler
Pittsburgh 8/5/68, dir. Ted Kennedy
Soft Giraffe, dir. Guillaume Vallee
Super Stition, dir. Michael Venus
Make Me a Doorway, dir. Jesse Brooks
Ghost of Yesterday, dir. Tony Gualt
Hemostasis, dir. Annlie Huang, USA
I Am Into Your Fire, dir. Orland Gray Nutt
Albertine, dir. Elaine Lima
The Naked Soul, dir. Syd Krochmanly
2:00 p.m.: Toastmaster, dir. Eric Boadella. A man and his stepsister visiting with family in Glendale, California are taught the ancient tradition of Toastmaster by their uncle.
4:00 p.m.: Le Bonheur: Terre Promise (Happiness: Promised Land), dir. Laurent Hasse. Filmmaker Hasse documents his walking trip across France from the Pyrenees to the Northern coast.
6:30 p.m.: Purgatorio: un viaje al corazón de la frontera (A Journey into the Heart of the Border), dir. Rodrigo Reyes. This documentary examines the physical landscape and the identity of the peoples who inhabit both sides of the U.S./Mexican border.
Screening with:
Todo Se Vale, dir. Edin Alain Martinez Aguirre