2013 Florida Experimental Film/Video Festival: Award Winners & Lineup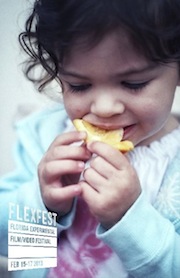 The 9th annual Florida Experimental Film/Video Festival, aka FLEX, was held on February 15-17 in Gainesville, Florida. This year was one of the fest's competitive years — (it alternates years with a curated event) — so they gave out 12 awards to 14 deserving filmmakers.
Awards were given out to both film and video artists and were broken up into both long form and short form categories. The film awards included projects in 35mm (Scott Stark), 16mm (Robert Todd) and Super 8 (Paul Clipson).
Below is the full list of winners. And below that is the full program lineup of the fest.
Film (long)
1. Scott Stark, Traces ($600 Kodak product grant)
2. Josh Gibson, Kudzu Vine ($200)
3. Shinya Isobe, Eden ($100)
Film (short)
1. Anja Dornieden and Juan David González Monroy, Awe Shocks ($600 Kodak product grant)
2. Robert Todd, Cove ($200)
3. Paul Clipson, Compound Eyes No. 1 ($100)
Video (long)
1. Ben Russell and Jim Drain, Ponce de León ($300)
2. Benjamin Pearson, Former Models ($200)
3. Paul Tarragó, The Seven Wonders ($100)
Video (short)
1. Fiona Trigg, Black Swans at Night ($300)
2. Kristin Reeves, The White Coat Phenomenon ($200)
3. Patrick Goddard, So Far, So Good…So What? ($100)
Here's the full lineup of films:
February 15
7:00 p.m.: "Winding Wingding Wonder Wander"
Blanket Statement #1: Home Is Where the Heart Is, dir. Jodie Mack
Crop Duster Octet, dir. Gregg Biermann
Wingdings Love Letter, dir. Scott Fitzpatrick
Retrocognition, dir. Eric Patrick by Eric Patrick
Spring Tide, dir. Sean Hanley
Continuum, dir. Ana B. and Nuno M. Pereira
Like a Lantern, dir. Lilli Carré
Tap to Retry, dir. Neta Cohen
The Seven Wonders, dir. Paul Tarragó
Triangles, dir. Ben Popp
9:00 p.m.: "Pickle Shocks"
Panic Room, dir. Yuk-Yiu Ip
Awe Shocks, dir. Anja Dornieden & Juan David Gonz·lez Monroy
The White Coat Phenomenon, dir. Kristin Reeves
So Far, So Good … So What?, dir. Patrick Goddard
Am I?, dir. Florencia Aliberti
How to Talk to Kids, dir. Scott Fitzpatrick
Once It Started It Could Not End Otherwise, dir. Kelly Sears
some girl who tells stories, dir. Whitney Johnston
Reconciling the Snake, dir. Curtis Tamm
Emotional Sundiving, dir. Tony Balko
Crusts, dir. Alexander Stewart
Persian Pickles, dir. Jodie Mack
February 16
1:00 p.m.: "(big)"
Ponce De Leon, dir. Ben Russell and Jim Drain
20Hz, dir. Semiconductor
Broken Time, dir. Johannes Gierlinger
PXXXL, dir. Lauren Cook
Traces, dir. Scott Stark
Kudzu Vine, dir. Josh Gibson
Eigenheim , dir. Anja Dornieden & Juan David Gonzalez Monroy
Fanfare for Marching Band, dir. Daniele Wilmouth
7:00 p.m.: "Mostly Water"
Toyokoro, dir. Maki Satake
Not Clear Cut, dir. Paul Turano
Niagara's Fury, dir. Benjamin Taylor
The Natural, dir. Ted Kennedy
Hotel Room, dir. Bernd Oppl
River Rites, dir. Ben Russell
9:00 p.m.: "Manimals/Machanimals"
Compound Eyes, No. 4: Araneae, dir. Paul Clipson
Black Swans at Night, dir. Fiona Trigg
Pigs, dir. Pawel Wojtasik
Standards of Perfection, dir. Andrew Kim
Pastoral, dir. JB Mabe
Transit, dir. Jeffrey Curtis
4×4, dir. Pablo Marin
Hermeneutics, dir. Alexei Dmitriev
Machinery Video No 1, dir. Luis Soldevilla
Bridge, dir. Kevin T. Allen
Time Like Water, dir. Thorbjorg Jonsdottir
The Edge of Summer, dir. Charlotte Taylor
February 17
4:00 p.m.: "Slow Dance"
Sonotoki, dir. Amanda Belantara
Lost in the Woods, dir. Ingeborg Stana
Cove, dir. Robert Todd
Solitary Moon, dir. Eva Tang
Poetry of Chance, dir. Daniel Lang
Tehran: Lost and Found, dir. Ascan Breuer
Kako sam ostao bez krila (How I lost my wings), dir. Ivan Tasic
7:00 p.m..: "Home Is Where…"
The Sea [is still] Around Us, dir. Hope Tucker
The Story of Milk and Honey, dir. Basma Alsharif
Eden, dir. Shinya Isobe
Across & Down, dir. Lori Felker
Sticks and Birthstones, dir. April Simmons
9:00 p.m.: "A Program Containing Both Abraham Lincoln and Milli Vanilli"
The Man Who Shot the Man Who Shot Lincoln, dir. Drew Christie
Bloom, dir. Scott Stark
Point de Gaze, dir. Jodie Mack
Devil's Gate, dir. Laura Kraning
Barren, dir. Katherin McInnis
Compound Eyes No. 1, dir. Paul Clipson
Cold Fried Chicken, dir. Frank Biesendorfer
Hi Fi, dir. Susan Devore
Track One, dir. eteam
Hay Algo y Se Va (There is something. Now it's gone.), dir. Kimberly Forero-Arnias
Former Models, dir. Benjamin Pearson