2013 Coney Island Film Festival: Official Lineup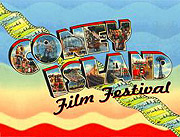 It's lucky 13 for the fun and fabulous Coney Island Film Festival! That's right, 2013 will see the 13th annual edition of this New York City staple that combines the fine art of filmmaking with the rambunctious art of sideshow performing on Sept. 20-22.
The fest opens on the 20th with the documentary More Than the Rainbow, a profile of Matt Weber, an NYC cab driver who moonlights as an art photographer. The film is directed by Dan Wechsler.
Other docs screening at the fest include the uplifting tale of A Clown's Recovery, directed by Matthew Broomfield; the sports drama of One Wall: Kings of Coney Island, directed by Joe Glickman; the profile of a Coney Island legend in The Commander in Chief, directed by Jim McDonnell; the struggle of Bending Steel, directed by Dave Carroll; and World Circus, directed by Angela Snow.
But, there are also fiction films in the mix, such as the bloody Vamp Bikers, directed by Eric Spade Rivas; the homeless drama Stay Cold, Stay Hungry, directed by Eric Branco; and the always insanely popular "interactive" screening of Walter Hill's classic action yarn The Warriors on the 21st.
Plus, CIFF always screens loads of short films. This year they have 8 programs stuffed with shorts, including a block of all Coney Island-based short films and a block of horror shorts — both screening on the 21st. There's also a new animated short by festival staple Bill Plympton, Drunker Than a Skunk.
The full lineup of films at the Coney Island Film Festival is below. For more info and to buy tickets, please visit the fest's official website.
September 20
7:30 p.m.: More Than the Rainbow, dir. Dan Wechsler. This documentary profiles Matt Weber, a New York City cab driver who has been taking artistic black & white photographs of the city and its residents for several years.
9:30 p.m.: "Opening Night Party"
Hosted by Adam Realman! Live Sideshow and Burlesque!
September 21
1:00 p.m.: A Clown's Recovery, dir. Matthew Broomfield. Eric Jelly Boy the Clown, a professional sword swallower, is horribly burned and makes an amazing recovery in this documentary.
Screening with: A Devil's Wrap in Coney Island, dir. M Clarissa
2:00 p.m.: "Short Film Program"
Heartbreak Pills, dir. Brendan Walsh
Headbanger, dir. Conor Byrne
Alternate Sides, dir. Olenka Denysenko
Courage, dir. Rob Innes
I Hear You, dir. Dennis Mason, Robert Kalison
Adonis, dir. David Dibble
Foodie, dir. Aaron Rudelson
Vamp, dir. Zack Chapman
3:00 p.m.: One Wall: Kings of Coney Island, dir. Joe Glickman. Witness the spectacle of the 2011 National One Wall Handball Championship and its combatants at the Seaside Courts in Coney Island, NY.
Screening with: Lit, dir. Chris DePierro
4:00 p.m.: "Coney Island Short Film Program"
This Moment By Up for Nothing, dir. Girard Tecson
Jamaica and the Wishing Shrine, dir. Jason Hood
Guy With a Door, dir. Sander Reijerse
Shoe Shine Chicken, dir. Fernando Cuestas
The Undertaker and the Lifeguard, dir. Matthew Booras
Cyclone Forever, dir. Faiyaz Jafri
Coney Island Sinking, dir. Harriet Fiegenbaum
Breathe, dir. Natalie Berning
Mermageddon: Tails of Glory, dir. Laura deNey
5:00 p.m.: "Short Film Program"
Ben in the Mind's Eye, dir. Iva Radivojevic
Mad Santa, dir. Seth Shire
Just Passing By, dir. Susanne Dollnig
Scattered, dir. Lindsay Lindenbaum
Brad's Book, dir. Bradly Dever Treadaway
No Pizza for Sandy, dir. Uladzimir Taukachou
Hurricane@NYC 2012, dir. Tal Shamir
Ricki Ticki, dir. Sarah Friedland
6:00 p.m.: Vamp Bikers, dir. Eric Spade Rivas. Vampires infest a biker town.
7:00 p.m.: "Short Film Program"
Woman Who Hates Plants, dir. Morgan Miller
Skinny, dir. Sarah Miskoff
Sidewalk, dir. Celia Bullwinkel
Cee Cee's Bedtime Stories, dir. Noelle Melody, Joy Vaccese
Drunker Than a Skunk, dir. Bill Plympton
Mr. Hublot, dir. Laurent Witz
Watercolors, dir. Robert Kornstein
Little Kaiju, dir. Josh Baker, Jonathan Baker
Make a Wish, dir. Hee Jin Kim
Transmission, dir. Jared D. Weiss
Empire Escorts – The Weather, dir. David Allen
Goodie Mob ft. Janelle Monae 'Special Education', dir. John Colombo
Luz Mob – Huerfano, dir. Jeff Bernier, Luz Mob
8:00 p.m.: "Horror Short Film Program"
Scorned As She, dir. Macho Miranda
Ask Grandpa, dir. Caleb Rugg
Pedestrian, dir. Claire Ensslin
Welcome to Madness, dir. Chris DePierro
Carrying Place, dir. Amy Grumbling, Megan Grumbling
Abyssus Abyssum Invocat, dir. Wes Simpkins
From the Woods, dir. Nicolas Wendl
Awake, dir. Lucille Hansen
9:00 p.m.: Stay Cold, Stay Hungry, dir. Eric Branco. When a man decides that he's too comfortable in life, he intentionally goes homeless and befriends a recovering alcoholic.
11:00 p.m.: The Warriors, dir. Walter Hill. The Coney Island Film Festival presents its annual, interactive screening of the classic NYC action film.
September 22
1:00 p.m.: The Commander in Chief, dir. Jim McDonnell. This documentary profiles Rican Vargas, leader of the Coney Island Dancers.
Screening with: Handball Legend Brought Back to Life, dir. Uladzimir Taukachou
2:00 p.m.: "Short Film Program"
Give Chase, dir. Russell Cramer
Every Story Ends in Stone, dir. Drew Boyd
The Last Mermaids, dir. Nika Belianina
Invisible X, dir. Ryan Garretson
Beyond Belief, dir. William Stribling
Girls Who Smoke, dir. Tawny Foskett
37, dir. Puk Grasten
Wren, dir. Christopher Beer
3:00 p.m.: Bending Steel, dir. Dave Carroll. Follow the attempts of Chris Schoeck to become a professional strongman in this documentary.
Screening with: The Jules Verne Project, dir. Lisa Stock
4:00 p.m.: "Short Film Program"
Sea Pig, dir. Andrew Gilchrist
The Days God Slept, dir. Jeremiah Kipp
Night & Day, dir. Ross Hockrow
Krutch, dir. Clark Matthews
Are We Not Cats, dir. Xander Robin
Facial, dir. Roxanne Holman
Loathsome Malady, dir. Nathan Maulorico
Girls Before Swine, dir. Sean Gill, Rachel Klein
J – 1, dir. Geoffrey Guerrero
5:15 p.m.: World Circus, dir. Angela Snow. Attend the Monte Carlo Circus Festival, the most prestigious circus acts competition in the world in this documentary.
Screening with:
Smile High, dir. Hsuan-Yu Pan
The Down Home Daredevils, dir. Ben Dorger
Rehearsal, dir. Jacqueline Christy
6:00 p.m.: "Short Film Program"
Paley Whaley Beaches Himself, dir. Jose Maldonado, Alan Steiner
Break Through It All, dir. Jodie Rae Plaut
The B&B Carousell at Coney Island, dir. Vic Losick
Lighting the Jump, dir. Jim McDonnell
Coney Island Memories, dir. Steven Bamberg
Opening Day at Deno's Wonder Wheel Park and The Cyclone 2009, dir. Lou Dembrow
Sammy's 80th Birthday Party at Ruby's 2007, dir. Lou Dembrow
The Storm, dir. Charles Denson
Last Ride…First Ride, dir. Daniel Turkewitz
8:00 p.m.: "Awards Ceremony"