2013 Call For Entries: Mono No Aware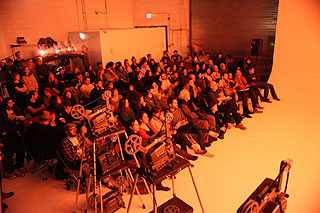 This is a very late notice, but it still deserves to get a mention.
The 7th annual Mono No Aware expanded cinema event is open for submissions, but the deadline is in just a few days, October 31. The event will run on December 6-7.
The deadline is repeated below, but also some submission guidelines are below that.
For full Mono No Aware information, please visit their website.
Also, on a side note, Mono No Aware is a terrific organization that promotes and teaches the art of working with actual film at workshops and screenings year-round all over the country.
Deadline & Entry Fee
Final Deadline:
October 31, 2013
Entry Fee: Free
Guidelines
MONO NO AWARE is an international exhibition open to any person or group of persons making contemporary art that incorporates Super 8mm, 16mm, 35mm or altered light projections as part of a sculpture, installation, dance, or expanded cinema performance.
For example: blending film & theater performance, musicians creating a visual experience for their sound, & experimental filmmakers working with story tellers. Submissions including digital projections will not be considered (i.e. HDcam, DigiBETA, DVcam, DVD) all moving images should be from an analog source.
For more submission info, please visit the Mono No Aware website.