2013 Bradford International Film Festival: Official Film List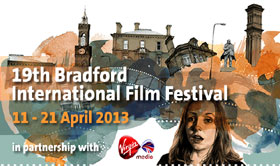 The Bradford International Film Festival is typically an underground-friendly fest. This year appears to be no exception with two very special experimental film retrospectives, as well as a few modern underground-type flicks.
The 19th annual BIFF will roll on April 11-21 at several locations around Bradford and Leeds in England, including the National Media Museum, Hebden Bridge Picture House, Hyde Park Picture House and other venues.
BIFF is hosting a tribute to Stan Brakhage this year by screening the prolific filmmaker's magnum opus, Dog Star Man, as well as a selection of his short films, from 1963's legendary Mothlight to 1994's Black Ice. There's also going to be an epic-sized tribute/retrospective of experimental films from Austria, a country with a proud avant-garde filmmaking tradition that's typically overlooked.
From Austria, BIFF is, of course, screening two works from one of the experimental film world's biggest masters, Peter Kubelka: Unsere Afrikareise (1966) and Valie Export (1973). But, there also will be several works by Peter Tscherkassky, Kurt Kren, Gustav Deutsch, Tina Frank and several others.
On the underground feature film front, BIFF will be screening Sabine Gruffat's documentary I Have Always Been a Dreamer, Robert Todd's experimental Master Plan, James Benning's reimagining of One Way Boogie Woogie, David Fenster's comedy-drama Pincus, Calvin Lee Reeder's offbeat horror The Rambler and others.
The full list of films screening at BIFF, broken into categories, is below. For screening dates/times and other info, please visit the official Bradford International Film Festival website.
STAN BRAKHAGE TRIBUTE
Dog Star Man, dir. Stan Brakhage
USA 1961-4 (78m exp compendium)
Black Ice, dir. Stan Brakhage
USA 1994 (15m exp)
The Garden of Earthly Delights, dir. Stan Brakhage
USA 1981 (3m exp)
Mothlight, dir. Stan Brakhage
USA 1963 (4m exp)
Night Music, dir. Stan Brakhage
USA 1986 (30secs exp)
Rage Net, dir. Stan Brakhage
USA 1988 (1m exp)
AUSTRIAN EXPERIMENTAL FILMS
Fata Morgana, dir. Peter Schreiner
Austria 2013 (140m exp/doc)
Addicted, dir. Reinhold Bidner
Austria 2011 (3m exp/dance)
A to A [aka Kreis Wr. Neustadt], dir. Johann Lurf
Austria 2011 (5m exp/doc)
The Ballad of Maria Lassnig [Maria Lassnig Kantate], dir. Lassnig & Sielecki
Austria 1992 (8m exp/doc)
Ballhead — An Ode to IBM [Kugelkopf — Ode an IBM], dir. Mara Mattuschka
Austria 1985 (6m exp)
The Blue Danube [An der schˆnen blauen Donau], dir. Jakub Vrba
Austria 2011 (1m exp)
Chronomops, dir. Tina Frank
Austria 2005 (2m exp)
Coming Attractions, dir. Peter Tscherkassky
Austria 2010 (25m exp)
Conference [aka Notes on Film 05: Conference], dir. Norbert Pfaffenbichler
Austria 2011 (8m exp)
Egypt [ƒgypten aka Aegypten], dir. Kathrin Resetarits
Austria 1997 (10m exp)
Empire, dir. Apichatpong Weerasethakul
Austria 2010 (2m exp)
Etude, dir. Siegfried A. Fruhauf
Austria 2011 (2m exp)
Exposed, dir. Siegfried A. Fruhauf
Austria 2001 (9m exp)
Film/Spricht/Viele/Sprachen, dir. Gustav Deutsch
Austria 1995 (1m exp) / India 100
Hotel Room , dir. Bernd Oppl
Austria 2011 (6m exp)
Intermezzo [aka Notes on Film 04: Intermezzo], dir. Norbert Pfaffenbichler
Austria 2012 (2m exp)
Machination 84, dir. "lia"
Austria 2010 (6m exp)
Mouse Palace, dir. Horn & Hund
Austria 2010 (10m exp)
Our Trip to Africa [Unsere Afrikareise], dir. Peter Kubelka
Austria 1966 (13m exp/doc)
Outer Space, dir. Peter Tscherkassky
Austria 1999 (10m exp)
Paradise Later, dir. Ascan Breuer
Austria 2011 (13m exp/doc)
Reconnaissance, dir. Johann Lur
Austria/USA 2012 (5m exp/doc)
…Remote…Remote… (Valie Export), dir. Peter Kubelka
Austria 1973 (12m exp)
Strobogramm, dir. Flora Watzal
Austria 2011 (2m exp)
Summer Holiday (Vaginale VII) [Sommerurlaub (Vaginale VII)], dir. Kurdwin Ayub
Austria 2011 (3m exp)
10/65 Self-Mutilation [10/65 Selbstverst¸mmelung], dir. Kurt Kren
Austria 1965 (5m exp)
The 3 Rs, dir. David Lynch
Austria 2011 (1m exp)
3/60 Trees in Autumn [3/60 B‰ume im Herbst], dir. Kurt Kren
Austria 1960 (5m exp)
Tic Tac, dir. Josephine Ahnelt
Austria 2011 (2m exp/doc)
Vargtimmen — After a Scene by Ingmar Bergman [Vargtimmen — Nach einer Szene von Ingmar Bergman], dir. Georg Tiller
Austria 2010 (6m exp)
zounk!, dir. Billy Roisz
Austria 2012 (6m exp)
FEATURE FILMS
The ABCs of Death, dir. various
USA/NZ 2012 (123m fic) Bradford After Dark – pre-premiere
An Anthropological Television Myth [Un mito antropologico televisivo], dir. Bertino, Castelli & Gagliardo
Italy 2012 (56m exp/doc)
Babylon, dir. Chebbi, "ismaël" & Slim
Tunisia 2012 (119m exp/doc)
Billy Liar, dir. John Schlesinger
UK 1963 (98m fic) 50th Anniversary Screening / Sir Tom Courtenay in person [TBC]
Cargo 200 [Gruz 200], dir. Alexei Balabanov
Russia 2007 (89m fic) Balabanov tribute
The Chess Players [Shatranj Ke Khilari], dir. Satyajit Ray
India 1977 (129m fic) India 100
Citadel [Ciudadela], dir. Diego Mondaca
Bolivia/Germany 2011 (48m exp/doc)
Cursed Be the Phosphate [Yel'an Bu Al-Phosphate], dir. Sami Tlili
Tunisia/Lebanon/Qatar/UAE 2012 (84m doc)
The Dancing Soul of the Walking People, dir. Paula Gladstone
USA 1980 / 2012 restoration (67m approx exp/doc) Uncharted States
Decasia [aka Decasia: The State of Decay], dir. Bill Morrison
USA 2002 (67m exp) Hauntology
Dilwale Dulhania Le Jayenge [aka The Brave-Hearted Will Take the Bride], dir. Aditya Chopra
India 1995 (186m fic) India 100
Dragonflies With Birds and Snake [Trollsländor med fåglar och orm], dir. Wolfgang Lehmann
Sweden/Germany 2012 (60m exp)
A Dream's Merchant [Un g'nd, un vis, Doyle… şi-un pix], dir. Bogdan Ilie-Micu
Romania 2012 (172m doc)
Faith, Love and Whiskey, dir. Kristina Nikolova
Bulgaria 2012 (75m fic) EFC
The Ghost That Never Returns [Privideniye, kotoroye ne vozvrashchayetsya], dir. Abram Room
USSR 1929 (67m approx fic) Dodge Brothers / Neil Brand live accompaniment
Gone Wild, dir. Dan Curean
Romania 2012 (88m doc)
A Hijacking [Kapringen aka The Hijacking], dir. Tobias Lindholm
Denmark 2012 (99m fic) pre-premiere
I.D., dir. Kamal KM
India 2012 (90m fic) India 100
I Have Always Been a Dreamer, dir. Sabine Gruffat
USA/UAE 2012 (78m doc)
Kalpana, dir. Uday Shankar
India 1948 / 2012 restoration (154m fic/dance) India 100
Kill Me [Tˆte mich], dir. Emily Atef
Germany/Switzerland/France 2012 (91m fic) EFC
The Last Dogs of Winter, dir. Costa Botes
New Zealand 2011 (97m doc)
Little World [MÛn Petit], dir. Marcel Barrena
Spain 2012 (83m doc)
The Look of Love, dir. Michael Winterbottom
UK/USA 2013 (101m fic) Opening Night – pre-premiere
The Lords of Salem, dir. Rob Zombie
USA 2012 (101m fic) Bradford After Dark – pre-premiere
Love Is All You Need [Den skaldede fris¯r], dir. Susanne Bier
Denmark/Sweden/Italy/France/Germany 2012 (116m fic) pre-premiere
The Love Songs of Tiedan [Mei Jie], dir. Hao Jie
China 2012 (91m fic)
Magpie, dir. Marc Price
UK 2013 (TBCm fic) Bradford After Dark
Master Plan, dir. Robert Todd
USA 2012 (62m exp/doc) Uncharted States
Memory of the Dead [La memoria del muerto], dir. Valentín Javier Diment
Argentina 2011 (89m fic) Bradford After Dark
Me and You [Io e te], dir. Bernardo Bertolucci
Italy 2012 (103m fic) Pre-premiere
Me Too [Ya tozhe hochu], dir. Alexei Balabanov
Russia 2012 (83m fic) Balabanov tribute
Mother India, dir. Mehboob Khan
India 1957 (172m fic) India 100
Much Ado About Nothing, dir. Joss Whedon
USA 2012 (107m fic) pre-premiere
Mughal-E-Azam [aka The Greatest of the Mughals], dir. K.Asif
India 1960 (177m approx fic) India 100
Mumbai's King [Mumbai Cha Raja], dir. Manjeet Singh
India 2012 (77m fic) India 100
A Night Too Young [PrÌlis mlad· noc], dir. Olmu Omerzu
Czech Republic / Slovenia 2012 (61m fic) EFC
1913 Massacre, dir. Galdieri & Ross
USA 2011 (65m doc) Uncharted States
Nor'Easter, dir. Andrew Brotzman
USA 2012 (85m fic) Uncharted States
One Day in the Life of Ivan Denisovich [aka En dag i Ivan Denisovitsj' liv], dir. Caspar Wrede
UK/Norway 1970 (100m approx fic) Sir Tom Courtenay in person [TBC]
One Way Boogie Woogie, dir. James Benning
USA 2012 (105m exp/doc) Uncharted
170 HZ, dir. Joost van Ginkel
Netherlands 2011 (82m fiction) EFC
Pearlblossom Hwy, dir. Mike Ott
USA 2012 (80m fic) Uncharted States
Pincus, dir. David Fenster
USA 2012 (78m fic) Uncharted States
La Playa DC [aka La Playa], dir. Juan Andrés Arango
Colombia/Brazil/France 2012 (90m fiction)
The Rambler, dir. Calvin Lee Reeder
USA 2013 (97m fic) Bradford After Dark
The Reluctant Fundamentalist, dir. Mira Nair
UK/USA/Qatar 2012 (128m fic) Closing Film / pre-premiere
Resolution, dir. Benson & Moorehead
USA 2012 (93m fic) Bradford After Dark
Sans Soleil [aka Sun Less aka Sunless], dir. Chris Marker
France 1983 (100m exp/doc) Hauntology
Silsila [aka The Affair], dir. Yash Chopra
India 1981 (182m fic) India 100
Somebody Up There Likes Me, dir. Bob Byington
USA 2012 (76m fic)
Sometimes City, dir. Tom Jarmusch
USA 2011 (80m doc) Uncharted States
Something in the Air [Après mai], dir. Olivier Assayas
France 2012 (122m fic) pre-premiere
The Sound of Old Rooms [Kokkho-Poth], dir. Sandeep Ray
India 2011 (72m doc) India 100
A Stoker [Kochegar], dir. Alexei Balabanov
Russia 2010 (83m fic) Balabanov tribute
This Ain't California, dir. Martin Persiel
Germany 2012 (90m doc)
A Throw of Dice [Prapancha Pash], dir. Franz Osten
Germany/British India/UK 1929 (74m fic) India 100
To Kill a Beaver [Zabić bobra], dir. Jan Jakub Kolski
Poland 2012 (100m fiction) EFC
Tokyo Waka, dir. Haptas & Samuelson
Japan/USA 2012 (63m doc)
Tower, dir. Kazik Radwanski
Canada 2012 (78m fic) MDFF tribute
Traveling Light, dir. Gina Telaroli
USA 2011 (57m exp/doc/fic) Uncharted States
Under the Weight of Clouds [aka Duivelse dilemma's: De hoer en het meisje], dir. Martijn Maria Smits
Netherlands 2012 (49m fic)
Universal Soldier: Day of Reckoning, dir. John Hyams
USA 2012 (114m fic)
Vegetarian Cannibal [Ljudoûder vegetarijanac aka Cannibal Vegetarian], dir. Branko Schmidt
Croatia 2012 (85m fic) EFC
What Happened to This City? [Kya hua is shahar ko?], dir. Deepa Dhanraj
India 1986 / 2013 restoration (90m doc) India 100
SHORT FILMS
Alfredo, dir. Tom Jarmusch
USA 2000 (8m exp/doc) Uncharted States
Another Bullet Dodged, dir. Landon Zakheim
USA 2012 (13m fic) Uncharted States
The Apocalypse, dir. Andrew Zuchero
USA 2013 (5m fic) Bradford After Dark
Bellum, dir. David B. Sørensen
Denmark 2010 (19m fic)
Blue Monday, dir. Charles Chintzer Lai
UK 2012 (23m fic)
Century, dir. Kevin Jerome Everson
USA 2012 (7m exp/doc) Uncharted States
Cheap Tickets [Φθηνά Εισιτήρια], dir. Konstantinos Iordanou
UK/Greece 2012 (11m doc)
Dangerous Light, dir. Robert Todd
USA 2012 (7m exp) Uncharted States
A Day or Two [Einn dag eða tvo], dir. Hlynur Pálmason
Iceland/Denmark 2011 (16m fic)
Doctor Bucketman, dir. Carlos Carcas
Spain 2012 (14m doc)
Dream of Wild Horses [Le songe des chevaux sauvages], dir. Denys Colomb Daunant
France 1960 (11m exp/doc) Hauntology
Dysmorphia, dir. Andy Stewart
UK 2012 (11m fic) Bradford After Dark
East Hastings Pharmacy, dir. Antoine Bourges
Canada 2012 (46m doc/fic) MDFF tribute
Four Hours Barefoot [Quatro Horas Descalço], dir. Ico Costa
Portugal/France 2012 (15m fic)
Foxes, dir. Lorcan Finnegan
Ireland 2011 (16m fic) Bradford After Dark
Habitat, dir. Robert Todd
USA 2012 (10m exp) Uncharted States
Inertia, dir. Will Herbert
USA 2012 (7m fic)
Khaana, dir. Rajinder Sawhney
UK 2011 (8m fic)
Last Night, dir. Bae Du-ri
South Korea 2012 (16m fic)
Life Doesn't Frighten Me, dir.Stephen Dunn
Canada 2012 (14m fic)
The Livelong Day, dir. David Fenster
USA 2008 (21m doc) Uncharted States
Luisa Is Not Home [Luisa no está en casa], dir.Celia Rico Clavellino
Spain 2012 (19m fic)
A Marriage [Et ekteskap], dir. Henning Rosenlund
Norway 2011 (5m fic)
My House Without Me [MÛj Dom], dir. Olga Szymkow
Poland 2012 (28m doc)
Out of Frame [Titloi telous], dir. Yorgos Zois
Greece 2012 (10m exp/doc)
The Perfectionists, dir. Tucker Davilia Wood
Spain 2012 (14m fic)
Rain, dir. McKeith & McKeith
Australia 2011 (11m fic)
Raja Harischandra [aka King Harishchandra], dir. Dadasaheb Phalke
British India 1913 (40m approx — extract — fic) India 100
Rauch und Spiegel [aka Smoke and Mirrors], dir. Nick Moore
Australia 2012 (6m exp)
Resistente, dir. Perdomo & Sorri
Paraguay/Finland 2012 (20m doc)
Return [Hazara], dir. Shay Levi
Israel 2012 (19m fic)
Short of Breath [aka Le souffle court], dir. Guillaume Legrand
France 2011 (21m fic)
69.4 Degrees North [aka Reindeer], dir. Eva Webber
UK/Finland 2011 (4m doc)
Solo Piano — N.Y.C., dir. Anthony Sherin
USA 2012 (5m doc)
Spark, dir. Annie Silverstein
USA 2012 (9m fic)
Tuesday, dir. Fantavious Fritz
Canada 2012 (15m fic)
The White Lady, dir. Martyn Holmes
Ireland 2010 (15m) Bradford After Dark
Yellow, dir. Ryan Haysom
Germany 2012 (26m fic) Bradford After Dark