2013 Boston Underground Film Festival: Official Lineup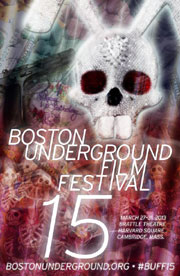 The mighty Boston Underground Film Festival celebrates their impressive 15th edition this year on March 27-31 at the Brattle Theatre. Here's some highlights to be on the lookout for:
Opening night film: I Declare War, a childhood parable about war and brutality, directed by Jason Lapeyre and Robert Wilson.
Closing night film: Big Ass Spider!, a raucous giant arachnid vs. the military flick, directed by Mike Mendez.
Other Feature Films: Both Drew Tobia's first feature, See You Next Tuesday; and the punk documentary A Band Called Death by Mark Christopher Covino and Jeff Howlett recently won awards at the 20th Chicago Underground Film Festival and will now kill it at BUFF. Sion Sono, a BUFF regular, will be screening the last of his "Trilogy of Hate," Guilty of Romance; while Calvin Lee Reeder has the gross-out feature-length version of his gross-out short The Rambler. And Zach Clark, an Underground Film Journal favorite, will screen his latest, the gonzo Christmas comedy White Reindeer.
There are also lots of short films preceding most features, as well as a short film block, a music video block and a Saturday morning cartoon & cereal event.
The full festival lineup is below. For more info, please visit the official Boston Underground Film Festival website.
March 27
7:30 p.m.: I Declare War, dir. Jason Lapeyre, Robert Wilson. Two teams of children engage in a vicious "capture-the-flag" competition that increases in sheer brutality.
Screening with:
Worlds We Created, dir. Nicholas Santos
10:00 p.m.: The Manson Family, dir. Jim VanBebber. A fictionalized take on Charles Manson and his followers, as perceived from their viewpoint.
Screening with:
Old Man, dir. Leah Shore
Territorial, dir. Efren Ramirez
March 28
5:30 p.m.: Blue Dream, dir. Gregory Hatanaka. A Los Angeles journalist wallows in a sea of excessive vice as he watches his profession get flushed down the toilet.
Screening with:
Dear Moon, dir. Walter Sickert
Blue Sheep Suit, dir. Kevin Lonano
7:45 p.m.: A Band Called Death, dir. Mark Christopher Covino, Jeff Howlett. This documentary profiles the unlikely history of what may be the world's first punk band.
Screening with:
Controlled by Rhythm, dir. Mike Pecci
9:45 p.m.: Guilty of Romance, dir. Sion Sono. A bored housewife is sucked into a sexually deviant new lifestyle and a murder mystery when she meets a part-time prostitute. The final chapter in Sono's "Trilogy of Hate."
Screening with:
Abyssus Abyssum Invocat, dir. Wes Simpkins
March 29
5:45 p.m.: "Topsy-Turvy Therapy Hour"
These Days Are Old, dir. Spookey Ruben
Omen of the Goblet, dir. Spookey Ruben
Opiate Girl, dir. Arturo Cubacub & Sarah Weis
Exit to Panama, dir. Spookey Ruben
Ruckus Juice, dir. Jennifer Deutrom
Natural Born Grannies, dir. Spookey Ruben
The Uncle Mike Show, dir. Cable Hardin
Space Package, dir. Spookey Ruben
T Is for Thread, dir. Chris Nash
Cavity Central, dir. Spookey Ruben
L'Brondelle's Universe, dir. David Dineen-Porter
The Alsation Librarian, dir. Spookey Ruben
Moon Over Parador, dir. Jesus Wharhol
The Adventures of Spaghetti Cowboy, dir. Chris Cunningham
7:30 p.m.: See You Next Tuesday, dir. Drew Tobia. A pregnant young woman with a loose grip on reality involves her alcoholic mother and "party girl" sister into her increasingly chaotic life. (Watch Online)
Screening with:
Are We Not Cats, dir. Xander Robin
Ladyfemmes, dir. Drew Tobia
9:45 p.m.: Jug Face, dir. Chad Crawford Kinkle. A girl living in an icky backwoods community gets knocked up by her own brother.
Screening with:
Tokophobia, dir. James Pearcey, Russell Would, Evrim Ersoy
CandyMan, dir. Anthony Tocchio
11:59 p.m.: The Rambler, dir. Calvin Lee Reeder. An ex-con travels to meet his long-lost brother and ends up in the clutches of a mad scientist and other weirdos. Based on Reeder's short film of the same name.
Screening with:
R3, dir. Jorge Enrique Ponce
Polly, dir. Jennifer and Melissa, Diego Ramirez
March 30
11:30 a.m.: "Saturday Morning Cartoons"
Classic Saturday morning cartoons, from the '60s to the '80s, served along with a selection of cereal.
2:45 p.m.: Pieta, dir. Kim Ki-duk. A loan shark's hired muscle meets his estranged mother for the first time.
Screening with:
DeafBlind, dir. Ewan Bailey
5:15 p.m.: "Where the Music's At"
Little Red Lung "50 Fingers", dir. Sarah Sitkin
Twin Killers "Self Portrait Beneath a Woman's Mask", dir. Twin Killers
Darling Pet Munkee "Monster S-I-Z-E Monsters", dir. Michael J. Epstein
Cold Mailman "My Recurring Dream", dir. André Chocron
Cult of Luna "Passing Through", dir. Markus Lundqvist
Scratch Massive (feat. Koudlam) "Waiting for a Sign", dir. Edouard Salier
Daniel Bedingfield "Secret Fear", dir. Daniel Bedingfield
Flying Lotus "Tiny Tortures", dir. David Lewandowski
Antoni Maiovvi "Dark Room", dir. Ryan Haysom
alt-J "Breezeblocks", dir. Ellis Bahl
Keyboard Kid "BasedExorcism", dir. Bryan McKay & Shannen Ortale
Hundred Waters "Boreal", dir. Mayer/Levya
Bonobo "Cirrus", dir. Cyriak
Caulit Anything "Mirror Lies", dir. Adam Rosenberg
Christeene "Big Shot", dir. PJ Raval
Hot Sugar "#MindControl", dir. Matt Kliegman
Darwin Deez "You Can't Be My Girl", dir. Keith Schofield
7:00 p.m.: White Reindeer, dir. Zach Clark. A young widow spends the Christmas season befriending the stripper her dead husband was having an affair with. (Watch online)
Screening with:
Remember Your Death, dir. Greg Croteau
Accidental Love, dir. Phil Healy
9:15 p.m.: Cheap Thrills, dir. E.L. Katz. A rich husband and wife engage a pair of down-on-their-luck friends to submit to a series of crazy stunts.
Screening with:
As Human As Animal, dir. Kristina Klebe
11:59 p.m.: Samurai Cop, dir. Amir Shervan. This 1989 "classic" Z-grade action movie follows the exploits of a white samurai police officer and his African-American partner as they go after Yakuza gangsters.
Screening with:
Bio-Cop, dir. Steven Kostanski
Vengeance de los Muertos, dir. Steven Christopher Wallace
March 31
12:30 p.m.: Mondomanila, dir. Khavn. Hip-hop artists try to carve out a life for themselves in Manila.
Screening with:
Bomb Fetish, dir. Matt Kliegman
2:15 p.m.: Los Chidos, dir. Omar Rodríguez López. A lazy and sadistic family makes a prisoner of an American traveler who gets stuck in their web.
Screening with:
Un Regalo, dir. Paul Colella
A Short Film, dir. Rick Williamson
4:15 p.m.: "Champagne & Dirty Sprite"
A collection of rap music videos.
6:00 p.m.: Vanishing Waves, dir. Kristina Buožyt. A research scientist uses his own invention to enter the mind of a comatose man where he meets, and becomes sexually attracted to, a mysterious woman.
Screening with:
Awake, dir. Francisco Sonic Kim
The Decelerators, dir. Mark Slutsky
8:30 p.m.: Big Ass Spider!, dir. Mike Mendez. The military attempts to kill a gigantic spider that's terrorizing Los Angeles.
Screening with:
Game, dir. Josh MacDonald