Movie Review: 2013 AFI Fest: In Bloom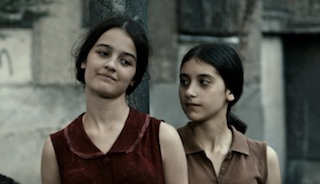 In Bloom is a neo-realist drama set in the early '90s in the country of Georgia. It follows the adventures of two fourteen-year-old girls — one fully immersed in her adolescence, the other ready to bust out — as they navigate their culturally limiting universe.
Before the screening of the film at AFI Fest, writer and co-director Nana Ekvtimishvili said she based her script on her own experiences growing up in Georgia. So, the film feels nicely authentic, but not limited, either, as the minimalist directing style — with co-director Simon Groß — allows for the opening up of universal adolescent struggles that transcend country and decade.
One just hopes that the incident with the gun is a narrative construct and not literally pulled from Ekvtimishvili's personal history.
There is the old adage about showing a gun early in a narrative structure that it must go off by the end, an adage that is so well known that the structure of it has lost most of its suspense. But Ekvtimishvili does not wield the firearm as an agent of suspense.
The film establishes very early on the powerlessness of all women in Georgian society and that the two lead girls, Eka (Lika Babluani) and Natia (Mariam Bokeria), have this lesson ingrained into their DNA. Thus, when the gun is introduced into the narrative structure, it does not become the tool of female empowerment it is expected — by both the audience and the characters — to become.
Although not fostering empowerment, the gun instead becomes a symbol of maturity in the way that Eka and Natia choose to consider using it in each other's lives as it passes from one's hands to the next and back and so on. The girls in their attitudes towards sex and violence, in regards to their maturity levels, alternate and compliment each other, making it easily understandable why they are so close in their friendship.
In Bloom is also a film of young talent. It is Ekvtimishvili's first time directing a feature film; Groß's second; and Babluani and Bokeria's first time acting. For such newcomers to filmmaking, the most remarkable aspect of the movie is just how accomplished and sophisticated it deals with its delicate subject matter, particularly in the talent of the young leads who put in thoroughly compelling performances.