2012 Spooky Movie Film Festival: Official Lineup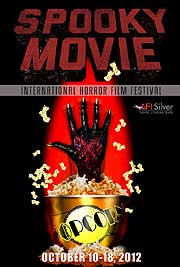 For their seventh annual edition, the Spooky Movie International Horror Film Festival is really blowing things up!
Well, not literally. But the world's premiere horror movie fest is expanding to over double its regular size, screening over 50 films on nine terrifying nights Oct. 10-18 at its new home, the prestigious AFI Silver Theatre in Silver Spring, Maryland.
The scares kick off on the 10th with the return of local fave filmmaker Richard Bates, Jr. with the feature-length version of Excision about a teenage girl obsessed with becoming a surgeon. The film co-stars John Waters, Malcolm McDowell and Traci Lords. Bates' original short Excision on which the feature is based screened at Spooky Movie back in 2008.
A few other Spooky Movie alumni who are back with highly anticipated new films include Mike Davis' "green" horror movie President Wolfman, which is composed entirely of public domain footage mixed with a rip-roarin' new soundtrack just like his 2008 film Sex Galaxy; and James Eaves' is back with one-third of the anthology film Nazi Zombie Death Tales, following up on his brilliant Bane a few years ago.
On the 11th, expect a night of terror and magic with a special screening of Play Dead, co-directed by master magician Teller — of Penn & Teller fame, 'natch! — and top notch film journalist Shade Rupe, which is a "concert film" of Teller and Todd Robbin's hit Grand Guignol off-Broadway show. Teller, Robbins and Rupe will also be making a live appearance at the screening!
Other horrific offerings this year include Jennifer Lynch's controversial Chained, about a serial killer who raises a young protege in the art of murder; Casey Walker's hit zom-rom-com A Little Bit Zombie; Davi de Oliveira Pinheiro's post-apocalyptic vision from Brazil Beyond the Grave; Steven Kostanski's wild other-dimensional Manborg; Michal Kosakowski's disturbing murder fantasy documentary Zero Killed; and tons more feature films.
Most feature film screenings will be proceeded by one or two short films, including ones by the spookily talented Lonano brothers Brian (The Transmission) and Kevin (Blue Sheep Suit); another by gruesome Greg Hanson (Sink Hole); a short film by Shade Rupe (T Is for Trick) and of course lots, lots more.
Also, in the special event category, is a Filmmaker Summit to be held on the 14th that will be moderated by Eduardo Sanchez (The Blair Witch Project) and will be attended by several of the fest's attending filmmakers. And you don't even have to be a horror filmmaker to attend: The summit will discuss as many as aspects of all kinds of filmmaking that this powerhouse panel can cram into 90 enlightening minutes.
And that's just the tip of the pile of rotting corpses! Spooky Movie has gone totally epic this year and looks to be the ultimate genre event of the East Coast. The full film lineup is below, but for more info please visit the official Spooky Movie International Horror Film Festival website.
October 10
8:00 p.m.: Excision, dir. Richard Bates, Jr. An introverted teenage girl is ostracized by just about everybody in her life, so to escape her depressing reality she fantasizes about being a famous surgeon — then tries to make her fantasy a reality without having to go to medical school.
Screening with:
Elko, dir. Alexander Yan
10:30 p.m.: Some Guy Who Kills People, dir. Jack Perez. A put-upon loser whose been released from a mental asylum kills those he feels are responsible for his miserable life. Starring Kevin Corrigan. (Watch the movie trailer!)
Screening with:
Dorothy, dir. Eros Romero
October 11
5:00 p.m.: The Holding, dir. Susan Jacobson. A woman who kills he abusive husband in order to protect her daughters has her dirty little secret dug up when a charming stranger comes to town.
Screening with:
Braineater, dir. Mitch Urban
Love Bug, dir. Benjamin Kent
7:30 p.m.: Play Dead, dir. Shade Rupe & Teller. Famous magician Teller and Coney Island showman Todd Robbins perform all kinds of gory and grotesque acts on stage in front of a terrified — and highly entertained — audience. This documentary captures one of Teller and Robbins' notorious live off-Broadway shows. Teller, Robbins and Rupe in person!
Screening with:
Baby-sitting, dir. Lucas Masson
Plush, dir. Ryan Denmark
10:00 p.m.: Nazi Zombie Death Tales, dir. James Eaves, Pat Higgins & Alan Ronald. A trilogy of WWII set horror tales, including Eaves' "Medal of Horror," in which a soldier helps a burlesque dancer escape zombie Nazis; Higgins' "Devils of the Blitz," in which a family hiding from the Nazis must also stave off an attack by flesh-eating devils; and Ronald's ghost story "Harriet's War."
October 12
9:20 p.m.: Chained, dir. Jennifer Lynch. A murderous taxi driver enlists the help of an 8-year-old boy to dispose of his victims — a "job" the young boy holds well into his teenage years. Starring Vincent D'Onofrio and Julia Ormond.
Screening with:
The Transmission, dir. Brian Lonano (Watch online)
Exit, dir. Daniel Shea Zimbler
12:00 a.m.: Zero Killed, dir. Michal Kosakowski.This film combines a series of short filmed "murder fantasies" along with a questioning of the people who devised the fantasies on their feelings about killing. (Read the review)
Screening with:
Mr. Monster, dir. Simon Hung
T Is for Trick, dir. Shade Rupe
October 13
7:15 p.m.: A Little Bit Zombie, dir. Casey Walker. Although a meek HR manager turned zombie is consumed with eating brains, he battles that desire so as to keep his impending wedding on track.
Screening with:
Trapped, dir. Margaux Magis
Sink Hole, dir. Greg Hanson
9:30 p.m.: Resolution, dir. Justin Benson & Aaron Scott Moorhead. A dude tries to help his friend kick his alcoholism, but the two of them both end up facing even more terrifying personal demons.
Screening with:
The Table, dir. Shane Free
Deadbox, dir. Richard Karpala
11:45 p.m.: "Double Feature!"
Manborg, dir. Steven Kostanski. A half-man, half-robot cyborg must save the world from demons from another dimension. (Watch online)
Intermission short: (Baby) It's You, dir. David Cowles, Jeremy Galante, Brad Pattullo
President Wolfman, dir. Mike Davis. When the President is bitten by a werewolf, the streets of the nation's capital run red with blood. This "green movie" is compiled from public domain footage and feature films with an outrageous new soundtrack. (Read the review)
October 14
5:00 p.m.: "Spooky Movie Filmmaker Summit"
Eduardo Sanchez, co-director of The Blair Witch Project, will moderate a 90-minute roundtable discussion with local filmmakers about their craft.
7:00 p.m.: A Sweet and Vicious Beauty, dir. Eric Thornett. A grave robber who steals the dying breath of corpses starts looking for live specimens to nourish her strange cravings.
9:45 p.m.: Ninjas vs. Monsters, dir. Justin Timpane. The classic monsters — such as Dracula, the mummy, the wolfman and Frankenstein's creature — team up to defeat an army of ninjas.
October 15
7:00 p.m.: Beyond the Grave, dir. Davi de Oliveira Pinheiro. In a post-apocalyptic world that's ruled by magic and mayhem, a police officer desperately searches for a possessed serial killer.
Screening with:
Divination, dir. JT Seaton
Thumb Snatchers From the Moon Cocoon, dir. Brad Schaffer
9:15 p.m.: Motion Sickness, dir. S.M. Kerstein. A rabbinical school dropout struggles to solve the crisis between mind and body.
Screening with:
The Dump, dir. Rebekah McKendry
Vai Col Liscio, dir. Pier Paolo Paganelli
October 16
7:00 p.m.: Nightmare Factory, dir. Donna Davies. This documentary profiles special effects make-up guru Greg Nicotero, who has worked on films and TV shows such as Day of the Dead, Evil Dead II and The Walking Dead.
Screening with:
Blue Sheep Suit, dir. Kevin Lonano
Mother Died, dir. Neill Gorton
9:30 p.m.: Gut, dir. Elias. A man who feels like he's just sleepwalking through life watches an incredibly disturbing video that shakes his universe to the very core. (Read the review)
Screening with:
Slash, dir. Caleb McKenney
Silence, dir. Giuseppe Capasso & Angelo Capasso
October 17
7:00 p.m.: 247°F, dir. Levan Bakhia & Beqa Jguburia. Three friends become trapped in a sauna from which they cannot escape and which the temperature continues to rise.
Screening with:
Dark Vessel, dir. Rocky Curby
Unfortunate, dir. Tom Grejs
9:30 p.m.: Zombie 108, dir. Joe Chien. A SWAT team is sent into a gang-infested urban neighborhood in order to evacuate everybody before they're all turned into zombies.
Screening with:
Status, dir. Richard Williamson
Vadim, dir. Peter Hengl
October 18
7:00 p.m.: Nervo Craniano Zero, dir. Paulo Biscaia Filho. A mad scientist invents a chip that, when implanted into the brain, heightens creative abilities, but with devastating side effects.
Screening with:
Dinner at My Place, dir. Tito Guillen
Mac and Cheese, dir. Emre Cicek
9:30 p.m.: Crawl, dir. Paul China. A bar waitress becomes trapped in her own home by a Croatian hit man.
Screening with:
Velvet Road, dir. L. Gustavo Cooper
Foodie, dir. Christopher G. Moore