2012 Melbourne Underground Film Festival: Official Lineup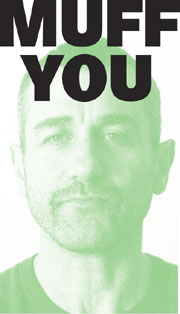 To celebrate their 13th anniversary this year, the Melbourne Underground Film Festival is going green!
No, they're not out to save the kookaburra or anything. Instead, they're hosting a special tribute to the New Irish Low Budget Cinema, featuring two films by acclaimed filmmaker Ivan Kavanagh, plus work by Colin Downey, Gary Kenneally and Gerard Lough.
MUFF will host a repeat screening of Kavanagh's celebrated thriller Tin Can Man — it previously screened at MUFF in 2008 — as well as his latest film, The Fading Light. The three other Irish films screening all fall into the horror/thriller genres, from Downey's The Looking Glass to Lough's Stephen King adaptation The Boogeyman and Lough's trilogy-ending The Shaken 3. And, in addition, the entire fest kicks off with the opening night Irish thriller Charlie Casanova by Terry McMahon.
But don't think MUFF is all Irish all the time this year, as there are plenty of killer documentaries and boundary pushing films from all over. On the local Australian front, there's the new thriller by Chris Sun, Daddy's Little Girl; plus budding young sexuality of Adrian Goodman's Wakey Wakey, the quirky Dace Decklan: Private Eye by Ivan Malekin and the haunting Johnny Ghost by Donna McRae.
From the U.S., there are a pair of quirky indie hits, Bobcat Goldthwait's God Bless America and Evan Glodell's Bellflower, as well as the grindhouse biker-inspired Dear God No! by James Bickert, and the L.A. music documentary In Heaven There Is No Beer by David Palamero.
Plus, MUFF is hosting a series of their typical retrospectives, this time booking double-features of "retro mavericks" such as Ken Russell, Andy Milligan, Ray Dennis Steckler and, of course, John Waters. But, there's also an interesting double-feature of a more modern filmmaker, Kim Fowley. That's right, the former controversial rock impresario (The Runaways) is now a director who will be screening two no-budget features, Golden Road to Nowhere and Black Room Doom.
And all that is just the tip of the MUFF iceberg! There are also tons of short films and several more features.
The full film lineup is below. For more info on the fest, please visit the official Melbourne Underground Film Festival website.
August 24
8:00 p.m.: Charlie Casanova, dir. Terry McMahon. A sociopath wrecks havoc at a hotel while his wife and friends are helpless to stop him.
Screening with:
Lust Highway, dir. Eddie Diamandi
August 25
5:00 p.m.: Wakey Wakey, dir. Adrian Goodman. A narcoleptic teenage girl struggles to keep secret her true feelings she has for her resentful half-sister.
7:00 p.m.: Despite the Gods, dir. Penny Vozniak. This documentary captures filmmaker Jennifer Lynch's disastrous attempt to direct a Bollywood musical called Hisss about the vengeful snake Goddess Nagin.
7:00 p.m.: Desperate Living, dir. John Waters. After her maid kills her husband, a high-strung housewife high tails it to a community filled with degenerate outcasts who are ruled by a wicked queen. (Watch online)
9:00 p.m.: God Bless America, dir. Bobcat Goldthwait. A divorced, unemployed and terminally ill loser decides to go out with a bang — namely by assassinating as many stupid people as he can first. Starring Joel Murray.
9:00 p.m.: Pink Flamingos, dir. John Waters. With the help of her revolting family, Babs Johnson struggles to maintain her status as the Filthiest Person Alive despite a challenge from the drug-dealing, black market baby selling Connie and Raymond Marble. Hands down the most offensive movie ever made!
11:00 p.m.: In Heaven There Is No Beer, dir. David Palamero. This documentary chronicles the infamous "Kiss or Kill" music scene that existed in Los Angeles in the early 2000s.
11:00 p.m.: Tin Can Man, dir. Ivan Kavanagh. A down-on-his-luck fellow has his luck squashed even further when his insane neighbor invites himself in to "use the phone," only to torture and mentally abuse the poor bastard.
August 26
7:00 p.m.: Donkey Love, dir. Daryl Stoneage. This documentary explores the controversial subject a bestiality in Colombia.
7:00 p.m.: The Thrill Killers, dir. Ray Dennis Steckler. A trio of sadistic murderers escape from a mental institution and stalk innocent women in Los Angeles.
9:00 p.m.: Bellflower, dir. Evan Glodell. While preparing for the coming apocalypse, a pair of best friends find themselves sidetracked from their plans when one of them falls in love with a charismatic young woman.
9:00 p.m.: The Incredibly Strange Creatures Who Stopped Living and Became Mixed-Up Zombies, dir. Ray Dennis Steckler.
After coming under a gypsy's spell at a carnival, a wayward young man turns into a mindless killer.
August 27
7:00 p.m.: "Mini-MUFF Session 1"
Secret Life of Objects, dir. Nathan Jones
Shorty & Morty, dir. Dave Edison
Picking Up at Auschwitz, dir. Alice Foulcher
Honour, dir. Azahn Munas
Derby Wives, dir. Matt Horne
Government Funding Bodies, dir. Sam Eliopoulos
The Billabong, dir. Jeffory Assalin
The Disappearance of Lyle Humphries, dir. Rowan Elliott Hopkins
Skeletons, dir. Ryan Coonan
Tough, dir. Anna Snoekstra
2 Guys in a Back Yard, dir. Tez Frost
7:00 p.m.: The Shaken 3, dir. Gary Kenneally. In the concluding chapter of the trilogy, a pair of investigators try once and for all to track down the mysterious creator of The Shaken virus.
9:00 p.m.: "Mini-MUFF Session 2"
Let There Be Light, dir. Pete Pauls
The Poet Cursed, dir. Ryan Smith
Their Morning, dir. Girard Dorney
Aboriginal Embassy, dir. Nick McLaren
The Smile, dir. Arturo Cubacub
Migraine & Michael: A Love Story, dir. Adrian Goodman
Late One Night Ep 1, dir. Gregory Pakis
Quinkin, dir. Mick Wannenmacher
9:00 p.m.: The Looking Glass, dir. Colin Downey. While living happily with his pregnant girlfriend, a young man's life is upended when his lover's evil mother comes for a visit.
August 28
7:00 p.m.: Stephen King's The Boogeyman, dir. Gerard Lough. A man visits a psychologist in an attempt to pin the murder of his three children on an evil monster.
7:00 p.m.: "Mini-MUFF Session 3"
Dying and other Superpowers, dir. Elias Ribeiro
Andrew & Bec's Skydiving Video, dir. Lachlan Ryan
Evie Wants a Baby, dir. Jemma van Loenen
Broken Superman, dir. Zev Howley
Viscosity, dir. Paul von Stoetzel
Torn, dir. Lori Young
The River, dir. Tarquin Nertherway
Wakey Wakey, dir. Adrian Goodman
9:00 p.m.: The Fading Light, dir. Ivan Kavanagh. A successful woman's world collapses once she agrees to return home to care for her ailing mother.
9:00 p.m.: "Mini-MUFF Session 4"
Stretch, dir. Arturo Cubacub
Real Meal Deal, dir. Stuart Mannion
Tentaklees, dir. Peter Allen
Harmony of Twists, dir. Kristin Casey
Gyre, dir. Lindsay Morrison
Winter Man, dir. Mirae Kim
Two Feet Under, dir. Cameron McGrane
The Wishful, dir. Daniel Gregg
August 29
7:00 p.m.: "Mini-MUFF Session 5"
Tilting at Skyscrapers, dir. Frank Stasio
Scenes from the end of the world, dir. Doug Mason
Body Movie, dir. Jordon Prosser
War Profit, dir. Aaron Singfield
Killer Lizards, dir. Blake Borcich
Glare, dir. Anna Snoekstra
The Show Must Go On, dir. BJ Britton
Crumble, dir. Renata Bialkouska
7:00 p.m.: The Body Beneath, dir. Andy Milligan.
A vampire fi lm without the typical
9:00 p.m.: Dace Decklan: Private Eye, dir. Ivan Malekin. A private detective is hired to find a missing man who was involved in a kinky sexual underground.
9:00 p.m.: Nightbirds, dir. Andy Milligan. A naive young man comes under the spell of a predatory woman.
August 30
7:00 p.m.: Shiver, dir. Julia Richards. A woman is kidnapped by a psychopath, but in her attempt to get free she gives her attacker the fight of his life.
7:00 p.m.: Zero Killed, dir. Michal Kosakowski. This film combines a series of short filmed "murder fantasies" along with a questioning of the people who devised the fantasies on their feelings about killing. (Read the review)
9:00 p.m.: Dear God No!, dir. James Bickert. A vicious biker gang who love to rape, kill and maim may have just met their match when they meet a young girl taking care of a hideous monster in her basement.
9:00 p.m.: "Mini-MUFF Session 6"
It's All the Rage, dir. Julian Constanzo
The Winking Boy, dir. Alan King
Kitchen Sink Drama, dir. Michael Ciccone
Blood on the Game Dice, dir. Ahren Morris
Painted Love, dir. Johnny McPherson
Polly, Jennifer & Melissa, dir. Diego Ramirez
1000 Grams, dir. Tom Bewilogua
Monopsters, dir. Brandon deWys
Cryo, dir. Luke Doolan
Frank Howson: A Portrait, dir. Anthony Gravina
August 31
5:00 p.m.: Mas Man, dir. Dalton Narine. This documentary profiles Peter Minshall, a Caribbean designer who was chosen to be the artistic director of the Opening Ceremonies for three Olympic Games.
7:00 p.m.: Golden Road to Nowhere, dir. Kim Fowley. An older show biz industry "expert" takes advantage of young aspiring wannabes in Hollywood. Directed by and starring the infamous record producer (The Runaways).
7:00 p.m.: Savage Messiah, dir. Ken Russell. A biopic about the French sculptor Henri Gaudier-Brzeska.
9:00 p.m.: The Devils, dir. Ken Russell. In 17th century France, Cardinal Richelieu is accused of witchcraft.
11:00 p.m.: Johnny Ghost, dir. Donna McRae. An ex-punk rocker decides to have her creepy old tattoos removed, which unleashes the ghosts of her past back into her life.
11:00 p.m.: Black Room Doom, dir. Kim Fowley. An all-female rock band tries to make it in Hollywood.
September 1
8:00 p.m.: Daddy's Little Girl, dir. Chris Sun. A distraught father must decide if cold-blooded revenge is the best way to cure his broken heart.
Screening with:
Acid Spiders, dir. Stuart Simpson