2012 Melbourne Underground Film Festival: Award Winners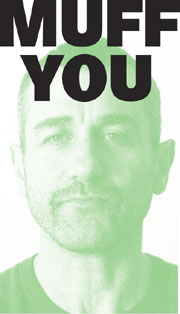 The 13th annual Melbourne Underground Film Festival, held back on Aug. 24 to Sept. 1, shined an especially bright spotlight on New Irish Low Budget Cinema, so it shouldn't come as a surprise that the fest gave its top awards to a film from the land of Éire.
Terry McMahon's crime thriller Charlie Casanova won for Best Film and Best Director, and star Emmet Scanlon tied for Best Actor with Shiver's John Jarrat.
Despite all the love given to Ireland, this year's MUFF didn't ignore its home countrymen, either. Local filmmaker Chris Sun's latest, Daddy's Little Girl, also took home multiple awards, including Best SFX, Best Actress for Allira Jacques and tied for the Special Jury Prize with Donna McRae's Johnny Ghost.
Also, as usual, MUFF gave out a wide variety of awards to multiple films. Some of the other winners include Daryl Stoneage's controversial Donkey Love for Best Documentary, Jordan Prosser's Body Movie for Best Short Film and Adrian Goodman's Wakey Wakey for Best Guerilla Film. Plus, in a somewhat surprising move, MUFF awarded a Special Jury Prize for Innovation and Audaciousness to notorious music industry promoter Kim Fowley who has turned to no-budget filmmaking. MUFF screened two of Fowley's films Golden Road to Nowhere and Black Room Doom.
The full list of winners is below. And please check out the full 2012 Melbourne Underground Film Festival lineup.
Best Film
Charlie Casanova, dir. Terry McMahon
Best Director
Terry McMahon (Charlie Casanova)
Best Actor (tie)
Emmet Scanlan (Charlie Casanova)
John Jarrat (Shiver)
Best Actress
Allira Jaques (Daddy's Little Girl)
Special Jury Prize (tie)
Daddy's Little Girl, dir. Chris Sun
Johnny Ghost, dir. Donna McRae
Best Documentary
Donkey Love, dir. Daryl Stoneage
Best Guerilla Film
Wakey Wakey, dir. Adrian Goodman
Best Supporting Actress
Fabiana Weiner (Wakey Wakey)
Best Supporting Actor
Tom V (Dace Decklan: Private Eye)
Best Cinematography
Brendan Krotz (Wakey Wakey)
Best Screenplay
Donna MacRae (Johnny Ghostt)
Best SFX
Daddy's Little Girl, dir. Chris Sun
Special Jury Prize for Innovation and Audaciousness
Kim Fowley (Golden Road to Nowhere / Black Room Doom)
Best Short Film
Body Movie, dir. Jordan Prosser
Best Short Film (Runner up)
Real Meal Deal, dir. Stuart Mannion
Best Actor in a Short
Tom Stanley (Dying & Other Superpowers)
Best Actress in a Short
Carissa McAllen (Evie Wants a Baby)