2012 Images Festival: Official Lineup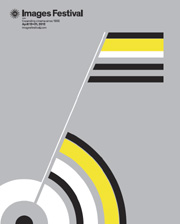 Toronto's Images Festival celebrates it's 25th anniversary on April 12-21 at theaters, galleries and other venues all over the city. They are celebrating with a massive event with films and videos, live performances, installations, artist talks and other events.
Below is the lineup for Images' specific film screening events and some live performances. The fest's Opening Night film is John Akomfrah's The Nine Muses, which takes a poetic look at the immigrant experience, particularly through using images of Caribbean and African migrants in the 1950s and '60s.
The fest will close with a live score by alt-rock band Yo La Tengo accompanying the avant-garde scientific underwater films by French documentary filmmaker Jean Painlevé. Yo La Tengo has been performing "Sounds of Science" since they were commissioned for the project by the San Francisco Film Festival in 2001.
In between these two events is a lineup of feature-length experimental works, live avant-garde performances and programs of short films.
Some of the feature-length productions screening are Jacqueline Goss' scientific exploration, The Observers (Watch Online); Ben Rivers' portrait of a hermit, Two Years at Sea; and James Benning's historical reconstruction, Two Cabins.
Live performances include a re-staging of Hollis Frampton's Critical Mass directed by Kerry Tribe; and the on-stage/off-stage performance of Keren Cytter's I Eat Pickles at Your Funeral.
Some of the short films include new works by Jodie Mack, Clint Enns, Alexandre Larose, Laida Lertxundi, Chick Strand and more. Plus, to celebrate Images' 25th year, there will be special screenings of work from the fest's first edition, such as Richard Kerr's Last Days of Contrition.
Below is the lineup of on-screen films and videos, but for the full offerings of Images Fest, please visit their official website.
April 12
6:45 p.m.: The Nine Muses, dir. John Akomfrah. An allegorical tale of immigration, particularly the Caribbean and African migrant experience of the 1950s and '60s.
April 13
8:00 p.m.: "Images 25th Anniversary 1988 Screening: Part 1"
Last Days of Contrition, dir. Richard Kerr
Sirensong, dir. Jan Peacock
Orientation Express, dir. Frances Leeming
10:00 p.m.: "Sound Objects: 204 Spadina Avenue"
A night of abstract and avant-garde audio and visual performances by Lucky Dragons, Tristan Perich and Abstract Random.
April 14
5:00 p.m.: "As Afterwards the Image Still Rings"
Whose Eyes, dir. Tan Tan
Turret, dir. Björn Kämmerer
xHz, dir. Lucy Raven
Printed Matter, dir. Sirah Foighel Brutmann & Eitan Efrat
Tape #158: Document 2B, dir. Kandis Friesen and Nahed Mansour
Split Ends, I Feel Wonderful, dir. Akosua Adoma Owusu
Unstable Grounds (After The Great White Silence), dir. Alexandra Navratil
7:30 p.m.: The Observers, dir. Jacqueline Goss. A solitary meteorologist measures and records the weather way up on Mt. Washington, New Hampshire. Based on the observers who perform this very real work. (Watch Online)
9:30 p.m.: "Right Ascension: Curated by Selena Lee and Carly Whitefield"
Walking Away 2, dir. Peter Dudar
Depart, dir. Blake Williams
Landscape Series, dir. Renée Lear
Wall of Death, dir. Adam Rosen and John Creson.
Rock, dir. Geoffrey Pugen
Fresnel, dir. Aubrey Reeves
Temps Mort, dir. Kyath Battie
Connecting With Nature, dir. Clint Enns
Towards a Vanishing Point, dir. Chris Kennedy
April 15
5:00 p.m.: "S Is for Student: Curated by Dan Browne, Jennifer Sider and Cam Woykin"
Once Upon a Time, dir. Cyrena Dunbar
What a Young Girl Should Not Know, dir. Emily Pickering
La Vie En&hellip (Life in&hellip), dir. Julia Müller
Slow Sleep, dir. Masha Sedyaeva
So Certain I Was, I Was a Horse, dir. Emilie Serri
John's Desire, dir. Henning Frederik Malz
Na Memoria (In Memory), dir. Pedro Lacerda
Children of the Sun, dir. Nikolas Tsonis
Those I Misunderstood and Unable to Identify, dir. Chia Yu Chen
A Children's Book of War, dir. Sumugan Sivanesan
The Rising of the Soul, dir. Jacopo Natoli
7:00 p.m.: "Drawing Conclusions"
The Suppliant, dir. Robert Beavers
Point de Gaze, dir. Jodie Mack
Line Describing Your Mom, dir. Michael Robinson
Charles, dir. Monique Moumblow
Racetrack Superstar Ghost, dir. Myriam Yates
First Law: Quail Ct., dir. Mike Gibisser
9:00 p.m.: Two Years at Sea, dir. Ben Rivers. Jake is a hermit who lives in the forest near Aberdeenshire, Scotland trying to complete his mysterious projects.
April 16
7:00 p.m.: "A Place in the World"
Portrait De La Place Ville Marie, dir. Alexandre Larose
East Hastings Pharmacy, dir. Antoine Bourges
Third Law: N. Kedzie Blvd, dir. Mike Gibisser
The Home and the World, dir. Lucy Parker
9:15 p.m.: "Memorie di uno Smemorato (Memoirs of an Amnesiac): Curated by Erik Martinson"
Llora Cuando Te Pase (Cry When it Happens), dir. Laida Lertxundi
Insideout, dir. Tonje Alice Madsen
Second Law: South Leh St., dir. Mike Gibisser
Omokage (Remains), dir. Maki Satake
The Forgetting of Proper Names, dir. Agnieszka Polska
Agatha, dir. Beatrice Gibson
April 17
9:00 p.m.: "A Letter to the Living"
S.T.T.L., dir. Elisabeth Smolarz
The Well of Representation, dir. Evan Meaney
Algonquin, dir. Travis Shilling
To Mark the Shape, dir. JB Mabe
Under the Shadow of Marcus Mountain, dir. Robert Schaller
Hoof, Tooth & Claw, dir. Adam Gutch and Chu-Li Shewring
where she stood in the first place., dir. Lindsay McIntyre
Señora con fl ores (Woman of Flowers), dir. Chick Strand
9:00 p.m.: "Two Movies"
Two Cabins, dir. James Benning. A reconstruction of the cabins lived in by Henry David Thoreau and Ted Kaczynski.
Ani, Nan DooKKeobiga Anigo Geobuk-ee Yo! (No, I am not a toad, I am a turtle!), dir. Elke Marhöfer. A turtle tries to avoid being eaten by a tiger.
April 18
7:00 p.m.: Critical Mass by Kerry Tribe with Reed Windle and Jasmine Woods
A live performance and recreation of the structural film Critical Mass by Hollis Frampton.
10:00 p.m.: The Third Man, dir. Erik Bünger. Traipsing through a melodic memory through pop culture, from George A. Romero's Dawn of the Dead and the Julie Andrews musical The Sound of Music.
Screening with:
Turning Away Part of the Light: The Future of Cinema, dir. Steve Kado
The Future Is Bright, dir. Jodie Mack
April 19
7:00 p.m.: I Eat Pickles at Your Funeral, dir. Keren Cytter. A live performance that mixes it up between on-stage action and off-stage action.
9:00 p.m.: "Images 25th Anniversary 1988 Screening: Part 2"
Clouds, dir. Fumiko Kiyooka and Scott Haynes
Learning About Female Sexuality, dir. Wendy Geller
Censored: The Business of Frightened Desires (or the Making of a Pornographer), dir. Vera Frenkel
Delivrez-nous du mal, dir. Marc Paradis
April 20
7:00 p.m.: I Eat Pickles at Your Funeral, dir. Keren Cytter. A live performance that mixes it up between on-stage action and off-stage action.
7:00 p.m.: El árbol de las fresas (The Strawberry Tree), dir. Simone Rapisarda Casanova. This documentary proflies the day-to-day life of the indigenous Taino population who live where it is said Christopher Columbus first landed in the New World in 1492.
9:00 p.m.: "Sidewalk Stories"
Everything Is Everyday, dir. Patrick Tarrant
Sidewalk Stories, dir. Rizki Resa Utama
Protocol, dir. Lina Rodriguez
Workers Leaving the Googleplex, dir. Andrew Norman Wilson
Kreis Wr. Neustadt (A to A), dir. Johann Lurf
Traces, dir. Scott Stark
Puhelinkoppi (1882–2007), dir. Hope Tucker
Century, dir. Kevin Jerome Everson
April 21
12:00 p.m.: Florentina Hubaldo, CTE, dir. Lav Diaz. A young woman is forced into a life of prostitution in the Philippines by her own father.
8:00 p.m.: "Yo La Tengo Presents: The Sounds of Science"
Alt-rock band Yo La Tengo performs a live score to the underwater films of Jean Painlevé.