2012 Florida Experimental Film/Video Festival: Official Lineup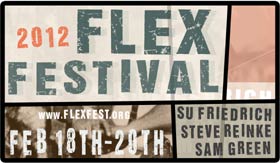 The 8th annual Florida Experimental Film/Video Festival, or FLEX Fest, is one of their curated editions, featuring the work of three major avant-garde and experimental filmmakers and their influences over the course of three nights on Feb. 18-20 in Gainesville, FL. FLEX's honorees this year are: Su Friedrich, Steve Reinke and Sam Green.
The work and influences of Su Friedrich will take to the screen on the first night at the Top Secret Space at 24 N. Main St. The event will begin with two films and one video that cover the span of Friedrich's career, from 1981 to 2005. Over the past nearly35 years, Friedrich has been one of the leading figures in the feminist avant-garde, combining elements of documentary, narrative and experimental filmmaking in her work.
One of the films that Friedrich will screen is her seminal, autobiographical Sink or Swim, a compilation of 26 short films that chronicle her difficult relationship with her father and her developing notions of sexual identity. Then, in addition to her own films, Friedrich will show films from other important feminist filmmakers such as Yvonne Rainer, Peggy Ahwesh and Joyce Wieland, plus films from male filmmakers such as Vincent Grenier and John Marshall.
Then, on Feb. 19 also at Top Secret Space, Chicago-based filmmaker Steve Reinke will screen three of his diary-style video works that combine elements of pop culture commentary and autobiographical confessionals. Like Friedrich's Sink or Swim, Reinke's The Tiny Ventriloquist is a compendium of several shorter video works. Plus, Reinke will screen his video influences from filmmakers such as Donigan Cumming and Barry Doupé.
Lastly, on Feb. 20 at the University Auditorium at the corner of Union Rd & Newell Dr., documentary artist Sam Green will present his Utopia in Four Movements, a slideshow with live commentary and music by Green, the Quavers, Dave Cerf and Brendan Canty. Utopia chronicles four separate attempts by man to build the perfect society, including the birth of a new universal language and the building of a massive mall in China.
For more info, please visit the official FLEX Fest website. The full lineup is below:
Feb. 18
7:00 p.m.: "Su Friedrich: Works"
Gently Down the Stream (1981, 16mm, 13:00)
Seeing Red (2005, video, 27:00)
Sink or Swim (1990, 16mm, 48:00)
9:00 p.m.: "Su Friedrich: Influences"
Interieur Interiors (to AK), dir. Vincent Grenier
She/Va, dir. Marjorie Keller
Philosophy in the Bedroom, dir. Peggy Ahwesh
A Group of Women, dir. John Marshall
An Emotional Accretion in 48 Steps, dir. Yvonne Rainer
Sailboat, dir. Joyce Wieland
Jennifer, Where Are You?, dir. Leslie Thornton
100 N.Y., N.Y., dir. Kyle Kibbe
The Girl Chewing Gum, dir. John Smith
Feb. 19
7:00 p.m.: "Steve Reinke: Works"
Ask the Insects (2005, video, 8:00)
Regarding the Pain of Susan Sontag (Notes on Camp) (2006, video, 4:00)
The Tiny Ventriloquist (2012, video, 61:00)
9:00 p.m.: "Steve Reinke: Influences"
A Very Personal Story, dir. Lisa Steele
Associations, dir. John Smith
Locke's Way, dir. Donigan Cumming
At the Heart of a Sparrow, dir. Barry Doupé
Feb. 20
7:00 p.m.: Utopia in Four Movements, dir. Sam Green. A "live documentary" performance detailing man's attempts to build perfect societies, including the development of a language to end all war, a portrait of an American exile in Cuba and a massive mall in China. Featuring the Quavers, Dave Cerf and Brendan Canty.