2012 Comic-Con International Independent Film Festival: Award Winners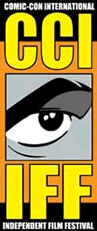 So, by now, everybody's heard endlessly about all the big mainstream movie, tv show and comic book news that came out of this year's Comic-Con International.
However, the unsung winners of the world's largest media gathering were the winners of Comic-Con's Independent Film Festival, which ran four straight days and nights of genre short films from all over the world. Films were screened in blocks according to type with one winning film picked from each block.
The big winner of the CCI-IFF was Alex DeMille's The Absence, a horror film about a middle manager investigating an odd mystery being covered up by the corporation he works for. The Absence took home two awards, one for Best Horror/Suspense Film and the other the Judge's Choice Award.
(Judges for the fest included filmmakers Steven-Charles Jaffee and Kyle Newman, plus entertainment journalist Borys Kit.)
Other winners included Brett Whitcomb's GLOW: The Story of the Gorgeous Ladies of Wrestling for Best Documentary, which was the only feature-length film included in the fest; James Moran's Lost Rites for Best-Comics Oriented Film, as it is based on a comic book concept created by David Edgerly; Kyle Rideout's Wait for Rain; and several more.
The full list of winners is below and, for more info, please visit the official CCI Independent Film Festival website.
Best Action/Adventure Film
Bridges – A Living Graphic Novel, dir. Miguel Angelo Pate
Best Animated Film
Wolf Dog Tales, dir. Bernadine Santistevan
Best Comics-Oriented Film
Lost Rites, dir. James Moran
Best Documentary
GLOW: The Story of the Gorgeous Ladies of Wrestling, dir. Brett Whitcomb
Best Horror/Suspense Film
The Absence, dir. Alex DeMille
Best Humor Film
Natural 20, dir. Brusta Brown
Best Science Fiction/Fantasy Film
Wait for Rain, dir. Kyle Rideout
Judges' Choice Award
The Absence, dir. Alex DeMille