2012 Calgary Underground Film Festival: Official Lineup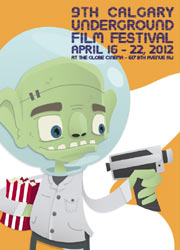 The 9th annual Calgary Underground Film Festival will run on April 16-22 at the Globe Cinema with a mix of outrageous comedies, documentaries about controversial personalities, cult flicks and some frank depictions of sexuality.
The fest launches on the 16th with the new comedy by Bobcat Goldthwait, God Bless America, in which Joel Murray stars as a terminally ill man who decides to kill as many stupid people he can can before he perishes himself. Also on the comedic front are Rick Alverson's The Comedy starring TV's Tim Heidecker and Eric Wareham as troublemaking urban hipsters; and Mikkel Nørgaard Klovn (Clown) about a Danish loser who takes a young boy on a brothel tour.
On the cult film front are Jack Perez's Some Guy Who Kills People starring Kevin Corrigan in the eponymous role; Alex Ross Perry's abusive sibling flick The Color Wheel; the brutal Father's Day from Winnipeg's Astron-6 crew; Alex Chandon's backwater grotesquerie Inbred; and the harrowing real-life Australian drama The Snowtown Murders by Justin Kurzel.
The documentaries cover a burnt-out musician (Don Argott & Demian Fenton's Last Days Here), an aggressive garage rocker (Alex Hammond & Ian Markiewicz's Better Than Something), an abrasive performance artist (Matthew Akers' Marina Abramovic: The Artist Is Present) and a real-life comic book hero (Terry Dougas, Nikki Frakes & Will Hess' With Great Power: The Stan Lee Story).
Plus, there are lots more films and special events, such as a live performance by underground icon John Waters, the annual 48-Hour Movie Making Challenge, the Found Footage Festival, the Saturday Morning Cartoon Party and a program of short films including the latest by Greg Hanson, Sink Hole.
For more info and to buy advance tickets, please visit the official Calgary Underground Film Festival website. The full film lineup is below:
April 16
7:00 p.m.: God Bless America, dir. Bobcat Goldthwait. A divorced, unemployed and terminally ill loser decides to go out with a bang — namely by assassinating as many stupid people as he can first. Starring Joel Murray.
9:30 p.m.: Better Than Something: Jay Reatard, dir. Alex Hammond & Ian Markiewicz. This documentary profiles the late, controversial garage rock icon Jimmy Lee Lindsey, Jr. aka Jay Reatard.
April 17
7:00 p.m.: We Are Legion: The Story of the Hacktivists, dir. Brian Knappenberger. This documentary takes a look at Anonymous, the online organization devoted to civil disobedience.
9:00 p.m.: Kid-Thing, dir. David Zellner. A neglected 10-year-old girl stumbles upon an old woman calling for help from the bottom of an abandoned well.
April 18
7:00 p.m.: A Little Bit Zombie, dir. Casey Walker. A man engaged to be married is turned into a zombie and he must elude a hunter of the undead to still make it to the altar.
9:15 p.m.: Last Days Here, dir. Don Argott & Demian Fenton. This documentary profiles musician Bobby Liebling, who had a promising career as the singer for the '70s metal band Pentagram, but whose life descended into terrible drug addiction. Can Bobby clean up and relaunch Pentagram again?
April 19
7:00 p.m.: "John Waters: This Filthy World"
The cult movie director performs his acclaimed one-man stage show live.
9:00 p.m.: Klovn (Clown), dir. Mikkel Nørgaard. In order to prepare for fatherhood, a degenerate befriends a young boy and plans to take him to the best brothel in the world.
11:00 p.m.: Game of Werewolves (Lobos De Arga), dir. Juan Martínez Moreno. A tiny Spanish village aims to lift the curse that's plagued its inhabitants for 100 years by killing the last in a long line of werewolves.
April 20
7:00 p.m.: "Found Footage Festival"
Curators Joe Pickett and Nick Prueher present the funniest, most outrageous found videos they can get their hands on.
7:30 p.m.: Turn Me On, Dammit!, dir. Jannicke Systad Jacobsen. A teenage girl living in a small Norwegian town is obsessed with sex that the entire town turns against her.
9:00 p.m.: Some Guy Who Kills People, dir. Jack Perez. A put-upon loser whose been released from a mental asylum kills those he feels are responsible for his miserable life. Starring Kevin Corrigan. (Watch the movie trailer!)
9:30 p.m.: Nuit #1 (One Night Stand), dir. Anne Émond. Two strangers meet at a rave, go home together, then confess their innermost secrets and desires to each other.
11:15 p.m.: Father's Day, dir. Adam Brooks, Jeremy Gillespie, Matthew Kennedy, Steven Kostanski & Conor Sweeney. When fathers start getting killed all over the city, a trio of outcasts join together to find the killer. (Read the review)
April 21
10:00 a.m.: "Saturday Morning Cartoon Party"
Three hours of classic cartoons!
1:30 p.m.: Without, dir. Mark Jackson. A young woman takes on the difficult job of taking care of a man trapped in a vegetative state and who lives on a remote island.
4:00 p.m.: "Dark, Daring & Funny"
Chronicles of a Shirtless Vampire, dir. Struan R. Sutherland
I'm Coming Over, dir. Sam Handel
Bear, dir. Nash Edgerton
Undetected, dir. Kristen Anderson-Sauvé
Sink Hole, dir. Greg Hanson
Elko, dir. Alexander Yan
Dr. Breakfast, dir. Stephen Neary
Ghost, dir. Dahci Ma
Mutantland, dir. Phil Tippett
Meaning of Robots, dir. Matt Lenski
7:00 p.m.: Marina Abramovic: The Artist Is Present, dir. Matthew Akers. This documentary profiles the controversial performance artist.
7:30 p.m.: Doppelgänger Paul, dir. Kris Elgstrand & Dylan Akio Smith. A man meets and forms an awkward relationship with his doppelgänger.
9:15 p.m.: The Color Wheel, dir. Alex Ross Perry. A young woman enlists her brother's help to remove her belongings from her ex-boyfriend's apartment, except that the siblings share an especially acrimonious relationship that may prevent them from actually ever getting anything done.
9:30 p.m.: The Comedy, dir. Rick Alverson. A man wanders aimlessly through life until he hooks up with a group of hipsters who perform degrading acts of cruelty for fun.
11:15 p.m.: Inbred, dir. Alex Chandon. A group of troubled youths and their caretakers stumble upon an enclave of extreme weirdos while on a trip to the countryside.
April 22
1:00 p.m.: Beyond the Black Rainbow, dir. Panos Cosmatos. A woman trapped inside a medical research facility desperately tries to escape.
3:30 p.m.: With Great Power: The Stan Lee Story, dir. Terry Dougas, Nikki Frakes & Will Hess. This documentary profiles the co-creator of Spider-Man, the Fantastic Four, the Incredible Hulk, the X-Men and a ton of other superheroes.
6:00 p.m.: "48-Hour Movie Making Challenge"
Filmmaking teams struggle to make a 2-5 minute film in just two days. Come and watch the results!
9:30 p.m.: The Snowtown Murders, dir. Justin Kurzel. Based on a terrifying true story, a neighborhood watch team take their safety responsibilities to extreme, murderous lengths.