2012 Boston Underground Film Festival: Official Lineup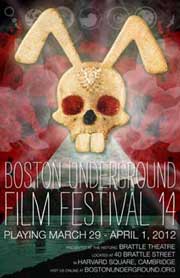 The 14th annual Boston Underground Film Festival is ready to kick ass and take names on March 29 to April 1 at the Brattle Theatre. And a few of those names will look familiar to BUFF fanatics — and underground film fans the world over.
A trio of BUFF favorites are returning to the fest with debut feature films after totally killing it with their amazing short films in the past. Jamie Heinrich's Happily Never After is a feature-length expansion of the short film that took home the Best of Fest Award in 2010, but with more solid and mature themes as the movie explores the problematic life of a degenerate photographer.
Another former award winner is Richard Bates Jr. who will be screening Excision, another feature-length extension of a short film, this one about a teenage girl who exercises her morbid obsession with surgery every chance she gets.
Steven Kostanski's feature film Manborg is a totally new creation from the cult Winnipeg filmmaker who has screened at BUFFs past with numerous shorts, such as Lazer Ghosts 2. Manborg is a throwback to '80s direct-to-video sci-fi detritus about a humanoid robot who must save our Earthly dimension.
Also returning to BUFF are shorts filmmakers with new shorts: Brian Lonano will be world premiering his much anticipated The Transmission; while Greg Hanson is back with another brutal short, Sink Hole; and Chicago-based animator Lisa Barcy returns with Turbulent Visions. And, although he's new to BUFF, Robert Putka's hilarious Mouthful runs during the closing night festivities.
Some other new names include the legendary Don Cascarelli with his latest twisted horror romp John Dies at the End; Japanese filmmaker Noboru Iguchi presents his classic retro-themed Karate Robo Zaborgar; Mia Donovan has her moving documentary Inside Lara Roxx; the John Landis produced and Jack Perez directed Some Guy Who Kills People will screen; and Norwegian filmmaker Mikkel Nørgaard will close the fest with Klovn (Clown), which appears like it's going to tear up the underground circuit this year. Plus, a ton more fun, music videos, surprises and nightly parties.
Please visit the official Boston Underground Film Festival website for more info. The full film lineup is below:
March 29
8:00 p.m.: John Dies at the End, dir. Don Coscarelli. Two unsuspecting dudes ingest a funky sauce that reveals the true nature of the universe to them, which they discover only they can save from interdimensional demons.
Screening with:
The Family Unit, dir. Blackmagic Rollercoaster
I Am Your Grandma, dir. Jillian Mayer
March 30
5:45 p.m.: "Look at this F*cking Shorts Program"
Roger, the Chicken, dir. Matthew-Lee Erlbach
#omgimtrending, dir. Jorge Enrique Ponce
Internet Life Horoscopes, dir. Arturo Cubacub
Shit Hipsters Say, dir. Duke Lazor
Beard's Company, dir. Zach Voss
Come Here Often?, dir. Sophie Heppel
Hip Kids, dir. Meera Peermohamed
7:30 p.m.: Excision, dir. Richard Bates Jr. An introverted teenage girl is ostracized by just about everybody in her life, so to escape her depressing reality she fantasizes about being a famous surgeon — then tries to make her fantasy a reality without having to go to medical school.
Screening with:
The Virgin Herod, dir. Xander Robin
9:30 p.m.: Smuggler, dir. Katsuhito Ishii. A failed actor is recruited to transport the enemies of a powerful ganglord to their final reward.
Screening with:
Ad Noctum, dir. Ryan Wilson & Ross Morin
11:55 p.m.: Rock 'n' Roll Nightmare, dir. John Fasano. In this 1980s cult classic, a hard rock band tear a hole in reality with their blistering music.
Screening with:
Testosteroso Theme, dir. Dylan Stern-Courney
March 31
12:45 p.m.: "Saturday Morning-After Cartoons"
Apt. 5A, dir. Leonardo De Luzio
There's a Dead Crow Outside, dir. Morgan Miller
Idle Worship, dir. Theo Stefanski
Turbulent Visions, dir. Lisa Barcy
Murgi Keno Mutant (Attack of the Killer Mutant Chickens), dir. Nayeem Mahbub
Grub, dir. Annalise Wimmer
Being Bradford Dillman, dir. Emma Burch
Dziad i Baba, dir. Basia Goszczynska
Stay Home, dir. Caleb Wood
Star Cross, dir. Ted Wiggin
Ad & Substract, dir. Laura Stephens
The Game, dir. Marcin Janiec
The Lady Paranorma, dir. Vincent Marcone
Beast of Hearts, dir. Jonathan Seligson
2:45 p.m.: Happily Never After, dir. Jamie Heinrich. A lecherous photographer Jason Carrougher attempts to connect with the son he never knew he had, but things turn bad when good ol' dad becomes attracted to his kid's girlfriend.
Screening with:
Howard From Ohio, dir. SJ Chiro
Crush, dir. Matthew Brown
5:15 p.m.: "Where the Music's At"
Andre Obin: Valencia, dir. Ted Cormey
Blue Hawaii: Dream Electrixra, dir. Brewer
Box 5: My Hand's Gave Way, dir. Ted Cormey
Chelsea Wolfe: Mer, dir. Zev Deans
Count Zero: My Mockingbird, dir. Michael Pope
Darling Pet Munkee: X-Ray Specs, dir. Michael J. Epstein
Gem Club: Twins, dir. BriAnna Olson
Lil Jon: Drink, dir. Ballard Boyd
Mater Suspiria: Seduction of the Armageddon Witches, dir. Diego Barrera
Opeth: The Devil's Orchard, dir. Phil Mucci
The Ham Machine: I'm Going to Kick You in the F*ck, dir. Lee Hardcastle
Umlala: My PDF Files, dir. Soul Royale
Zola: Jesus Vessel, dir. Jacqueline Castel
7:00 p.m.: Manborg, dir. Steven Kostanski. A half-man, half-robot cyborg must save the world from demons from another dimension. (Watch online)
Screening with:
The Transmission, dir. Brian Lonano (Watch online)
Puzzleface, dir. Spookey Ruben
9:15 p.m.: Inside Lara Roxx, dir. Mia Donovan. This documentary profiles the young adult film actress who contracted HIV after doing only a few films and ended up in a Montreal mental institution.
11:55 p.m.: "Midnight Transgressions"
Elko, dir. Alexander Yan
Desire, dir. Nicole Delprado
Blood and Fire, dir. Carey Burtt
At the Formal, dir. Andrew Kavanaugh
Crown, dir. AG Rojas
Sink Hole, dir. Greg Hanson
The Finer Points of Animal Dentistry, dir. The Whore Church
April 1
12:00 p.m.: Karate Robo Zaborgar, dir. Noboru Iguchi. A police offer gets a new partner — a karate-fighting robot that can transform into a motorcycle. A loving and hilarious tribute to '70s Japanese TV sci-fi shows. (Watch the movie trailer!)
2:15 p.m.: "King of the Trill"
Mr. Mothafuckin' eXquire — "Lou Ferigno's Mad", dir. Blue Champagne System
Gita — "Hood Rich", dir. Steve Wilson
The Life and Freaky Times of Uncle Luke, dir. Jillian Mayer and Lucas Leyva
Killa Kyleon — "Syrup City", dir. David Stunts
Lite Feet, dir. Ruben XYZ
Jim-E-Stack — "Purple Swag Bootleg" (Director's Cut), dir. Jason Ano
Mykki Blanco: Cosmic Angel, dir. Jesse Miller-Gordon, Jake Moore, and Skye Skii
Danny Brown — "Blunt After Blunt", dir. A$AP Rocky and The ICU
BFOUR X CROES, dir. Robby Reis
The Green Monster, dir. Mark Zemel and Eavvon O'Neal
Kendrick Lamar — "A.D.H.D", dir. Vashtie
Spaceghostpurrp — "Pheel tha Phonk 1990", dir. Strange Customs
Suha, dir. Robby Reis
Main Attrakionz — "Perfect Skies", dir. Friendzone
A$AP Rocky — "Wassup", dir. A$AP Rocky, Andy Capper, and Jacob Burghart
4:15 p.m.: Gandu, dir. Q. A young man steals money from her mother's rich married boyfriend and goes on a dark descent into the world of music and drugs.
Screening with:
Orion's Belt, dir. Michael Bucuzzo
Underwater Experiences, dir. Ramona Pettygrave Shah
6:15 p.m.: Some Guy Who Kills People, dir. Jack Perez. A put-upon loser whose been released from a mental asylum kills those he feels are responsible for his miserable life. Starring Kevin Corrigan. (Watch the movie trailer!)
Screening with:
Deadbox, dir. Richard Karpala
8:30 p.m.: Klovn (Clown), dir. Mikkel Nørgaard. In order to prepare for fatherhood, a degenerate befriends a young boy and plans to take him to the best brothel in the world.
Screening with:
Down Bob, dir. Adam Schafer
Mouthful, dir. Robert Putka (Read the review)