2012 Boston Underground Film Festival: First Titles Announced!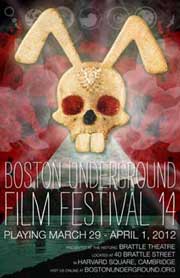 The 14th annual Boston Underground Film Festival has announced a few of the films they've already selected to screen on March 29 to April 1, including several regular BUFF favorite filmmakers ready to make their spectacular return.
Most exciting is the feature film Happily Never After by Jamie Heinrich who, back in 2010, took home the BUFF Best of Fest Short Award. However, this new feature is more dramatic in nature, telling the story of a lecherous photographer (Jason Carrougher) who attempts to connect with the son (Ryan Wichert) he never knew he had.
Also returning to BUFF is Canadian filmmaker Steven Kostanski with his debut feature Manborg, a tribute to '90s direct-to-video movies about a dead soldier turned into a cyborg killing machine designed to stop a demon invasion.
Watch the movie trailer for Manborg:
Plus:
Making their BUFF debuts are Mia Donovan with her documentary Inside Lara Roxx, about a Montreal woman who contracted HIV while working in the Los Angeles adult film industry; and two filmmakers from Japan: Katsuhito Ishii with Smuggler and Noboru Iguchi's ode to '70s Japanese TV shows Karate-Robo Zaborgar.
This year's BUFF will take place at the Brattle Theatre and will also feature the return of several popular short film blocks including "Midnight Transgressions" and the music video block "Where the Music's At."
The full BUFF lineup will be announced in early March and there's still time to donate to the fest's Kickstarter campaign, which is raising funds for promotional efforts and for their visiting filmmaking program. Click the widget below to donate.