2012 Boston Underground Film Festival: Award Winners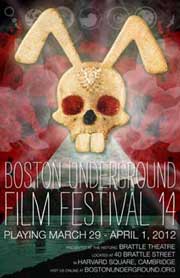 The 14th annual Boston Underground Film Festival wrapped up on April 1 with their Bacchus Awards ceremony, named after the fest's bunny mascot.
The big winners were: Winnipeg filmmaker Steven Kostanski took home the Best of Fest Feature award for Manborg, his over-the-top action and low-fi special effects homage to '80s direct-to-video movies; while U.S. filmmaker Robert Putka won Best of Fest Short for his provocative tale of young romance, Mouthful, which was positively reviewed on the Underground Film Journal just a few weeks ago.
Jamie Heinrich took home his second ever Bacchus Award, the Most Effectively Effectively Offensive award, for Happily Never After, a feature-length version of the short film that he won the Best of Fest Short Award back in 2010. Another BUFF alumni, Richard Bates Jr., won the Director's Choice Feature award for Excision, another feature-length film adapted from a popular short.
Also, the Runner-Up for the Most Effectively Effectively Offensive award was Xander Robin's short film The Virgin Herod, which hasn't been officially reviewed on the Underground Film Journal, but we've seen it and say it's totally deserving of the accolade.
All of this year's award winners, plus runners-up are listed below:
Best of Fest Feature
Manborg, dir. Steven Kostanski (Watch online)
Runner-Up
Inside Lara Roxx, dir. Mia Donovan
Best of Fest Short
Mouthful, dir. Robert Putka (Read the review)
Runner-Up
Howard From Ohio, dir. SJ Chiro
Most Effectively Effectively Offensive
Happily Never After, dir. Jamie Heinrich
Runner-Up
The Virgin Herod, dir. Xander Robin
Director's Choice Feature
Excision, dir. Richard Bates Jr.
Runner-Up
Gandu, dir. Q
Director's Choice Short
The Life and Freaky Times of Uncle Luke, dir. Jillian Mayer and Lucas Leyva
Runner-Up
The Family Unit, dir. Blackmagic Rollercoaster