2012 Arizona Underground Film Festival: Official Lineup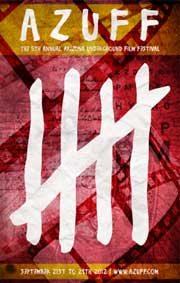 To celebrate their 5th anniversary, the Arizona Underground Film Festival has expanded to a whopping nine nights on Sept. 21-29 for a cinematic event the likes of Tucson has never seen before!
The shenanigans kick off with the opening night film The Legend of Kaspar Hauser, an experimental Italian feature directed by Davide Manuli and starring Vincent Gallo as the hero and the villain to a strange young boy, then end with the closing night film Jason M. Solomon's nostalgic documentary 7 Years Underground: A 60's Tale, which profiles the legendary Cafe Au Go Go in NYC that hosted such up-and-coming acts such as Jimi Hendrix, Frank Zappa, George Carlin, Lily Tomlin and more.
In between those two films lies a twisted carnage of movie mayhem, including Spencer Parsons' demented homage to '70s mystery cartoons Saturday Morning Massacre; Michael Melamedoff exploitative semi-doc The Exhibitionists; Stephen Amis' Australian WWII sci-fi epic The 25th Reich; Casey Walker's bloody rom-com A Little Bit Zombie; Babis Makridis's oddball Greek drama L; and more.
The documentary front of the fest features it's own special insights into real life, such as Stacy Peralta's skateboarding autobiography Bones Bridage; the sibling adult film aspirants in Richard Buonagurio's Stage Brother; Roger Paradiso's Sugar Hill Gang redemption story I Want My Name Back; and more.
There's also a unique special event on the 29th, a retro screening of the Charlie Sheen starring cult classic The Wraith, which was filmed entirely in Tucson back in the swingin' 1980s. Director Mike Marvin will be in attendance for a special Q&A session that marks his return to the area for the first time since making the film.
The full film lineup is below, but for more information and to buy tickets, please visit the official Arizona Underground Film Festival website.
September 21
8:00 p.m.: The Legend of Kaspar Hauser, dir. Davide Manuli. In this Italian update of the Werner Herzog classic film, which was based on a true story, controversial American actor Vincent Gallo tackles the dual roles of the protector and the enemy of a mysterious boy who may or may not be royalty.
September 22
4:00 p.m.: Missing Pieces, dir. Kenton Bartlett. A man with a serious head injury relieves his anxiety and depression by kidnapping a couple and forcing them to participate in some vicious games. Starring Mark Boone Junior and Melora Walters.
6:00 p.m.: The Exhibitionists, dir. Michael Melamedoff. A filmmaker exploits his friends at a New Year's Eve party at which they are encouraged to explore all kinds of sexual taboos — on camera, of course. (Read the review)
Screening with:
Catnip: Egress to Oblivion?, dir. Jason Willis
7:00 p.m.: Bones Brigade: An Autobiography, dir. Stacy Peralta. Peralta, who has made a career documenting the surf and skateboard cultures of Los Angeles tackles his own involvement with the Brigade skateboarding team in the '80s, which also included members Tony Hawk, Rodney Mullen, Steve Caballero and others.
8:00 p.m.: A Little Bit Zombie, dir. Casey Walker. Although a meek HR manager turned zombie is consumed with eating brains, he battles that desire so as to keep his impending wedding on track.
Screening with:
Blue Sheep Suit, dir. Kevin Lonano
10:00 p.m.: Stage Brother, dir. Richard Buonagurio. This documentary follows a young woman, Jennifer Buonagurio, as she attempts to realize her dream of becoming an adult film star. Managing her career — and directing this documentary — is her brother.
Screening with:
The Dark Companion, dir. Darrell C. Hazelrig
September 23
4:00 p.m.: "Creeps and Lovers of Celluliod Shorts Block"
Hula Girl, dir. Joe Toms-Ashroft
I Want to Be Tom Savini, dir. Bianca Luedeker
Bathing and the Single Girl, dir. Christine Elise McCarthy
A Cod Bit My Kipper, dir. Judy Somers
Grub, dir. Annalise Wimmer
I Need A Hero, dir. W.H. Bourne
Stuffed, dir. Gabriela Egito
I See a Light, dir. Aaron Zeghers
Last Supper, dir. Ira Chute
Braineater, dir. Mitch Urban
6:00 p.m.: Last Look, dir. Hernando Bansuelo. A woman reluctantly returns home to visit with her overly domineering mother and her sheltered brother.
Screening with:
Disjointed Custody, dir. Christian Serge Nelson
8:00 p.m.: Robert Mitchum Is Dead, dir. Olivier Babinet, Fred Kihn. A struggling French actor who's only real skill is lip-synching to old Robert Mitchum movies travels to the Arctic Circle with his manager for his big break.
Screening with:
Odokuro, dir. Voltaire
September 24
6:00 p.m.: Exit, dir. Marek Polgar. A woman navigates the maze of urban living in a desperate attempt to leave that world behind.
Screening with:
Terminal, dir. Michael Okum
8:00 p.m.: Saturday Morning Massacre, dir. Spencer Parsons. In this parody of old '70s mystery cartoon shows — you know which ones — a group of meddling kids investigate a series of brutal murders that have taken place at an abandoned schoolhouse. (Watch online)
Screening with:
The Transmission, dir. Brian Lonano (Watch online)
September 25
6:00 p.m.: Cycle, dir. Zoltan Sostai. An astronaut attempts to outrun a black fog, but only seems to be running in circles running into the same weary travelers.
Screening with:
Wingdings Love Letter, dir. Scott Fitzpatrick
8:00 p.m.: Heavy Girls, dir. Axel Ranisch. A put-upon bank teller spends his nights caring for his mother who is suffering from dementia and who escapes from his care one night.
Screening with:
Doctor Glamour, dir. Andrew Jones
September 26
6:00 p.m.: Booster, dir. Matt Ruskin. A man must decide if he's willing to commit a series of crimes in order to prove the innocence of his brother.
Screening with:
Written in Ink, dir. Martin Rath
8:00 p.m.: Vigilante Vigilante, dir. Max Good. This documentary explores the world of graffiti art, from those who put it up to those who hope to permanently cover it up.
Screening with:
Sweet Home Arizona, dir. Richardo Bracamonte
September 27
6:00 p.m.: Deadball, dir. Yudai Yamaguchi. A juvenile delinquent with a deadly fastball is forced to participate in a grueling baseball tournament after he's committed to an institution.
Screening with:
Post Human, dir. Cole Drumb
8:00 p.m.: Ghosts With Shit Jobs, dir. Chris McCawley, Jim Morrison, Jim Munroe, Tate Young. In the year 2040, a popular TV documentary series covers the types of horrible jobs that white Westerners are forced to perform.
Screening with:
Outhouse, dir. Nathan Jones
10:00 p.m.: Girl$, dir. Kenneth Bi. In China, several girls are forced into lives of "compensated dating," i.e. prostitution.
Screening with:
Sinkhole, dir. Greg Hanson
Myrtil Palemone, dir. Loïc Vinet
September 28
7:00 p.m.: I Want My Name Back, dir. Roger Paradiso. Even though The Sugarhill Gang brought rap and hip hop to the masses in the late '70s, they've mostly been unfairly relegated to the dustbin of history. This documentary follows their efforts to create new music and to reclaim their rightful identity that was unjustly stripped from them.
Screening with:
When The Tree…, dir. Sara Khalili
9:00 p.m.: Funeral Kings, dir. Kevin McManus, Matthew McManus. Two altar boys enjoy the good life when they have to participate in a funeral service, until their antics catch up with them.
Screening with:
In & Out, dir. Mark Mulcahy
11:00 p.m.: Danland, dir. Alexandra Berger. This documentary follows the career of an amateur porn video star who longs to make it in the world of legitimate adult entertainment, plus find the woman of his dreams who will be comfortable with his lifestyle.
Screening with:
Elko, dir. Alexander Yan
September 29
3:00 p.m.: "Darlings of The New Midnight Shorts Block"
Seashell and the Clergyman, dir. Germaine Dulac
La Amistad, dir. Christopher Martin
Damsel, dir. Paul Hoeprich
Blood Film, dir. Lara Salmon, Kevin Walker
Feed A, dir. Clarke Mayer
Baby-Sitting, dir. Lucas Masson
The Eater, dir. Wally Chung
5:00 p.m.: 25th Reich, dir. Stephen Amis. During WWII, a group of American soldiers go on a mission to rescue a pair of missing pumas in the Australian outback. Or, at least that's what their official story is. What they're really up to is something more bizarre.
Screening with:
Puzzleface, dir. Spookey Ruben
7:00 p.m.: L, dir. Babis Makridis. This trippy Greek film from several of the creators of Dogtooth features a chauffeur who is so obsessed with his car that he never seems to leave it.
Screening with:
Caldera, dir. Evan Viera
7:00 p.m.: The Wraith, dir. Mike Marvin. In this beloved '80s cult classic, a crusading spirit dishes out revenge against a gang of racing hoodlums. Starring Cast: Charlie Sheen, Randy Quaid, Sherilyn Fenn, Nick Cassavetes and Clint Howard. Director Marvin will attend a post-screening Q&A session.
9:00 p.m.: 7 Years Underground: A 60's Tale, dir. Jason M. Solomon. This documentary profiles the legendary NYC club Cafe Au Go Go, which saw performing on its stage musical acts such as Jimi Hendrix, the Grateful Dead, Cream, Jefferson Airplane and Frank Zappa; and comedians such as George Carlin, Richard Pryor, Lily Tomlin, and Lenny Bruce, who was famously arrested there.
Screening with:
Distance, dir. Sang Joon Kim