2012 Arizona Underground Film Festival: Early Titles Announced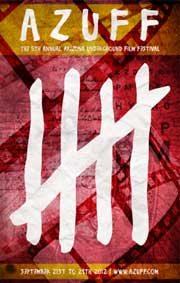 The 5th annual Arizona Underground Film Festival, which will run on Sept. 21-29 at various venues around Tucson, Arizona, has officially released the titles of six of the films that will be screening at this year's event.
It's clear from this half-dozen batch of movies that the fest will be sticking to its successful formula that has allowed it to grow by leaps and bounds since 2008. That formula consists of offering up a diverse batch of fun genre fare, controversial exploitation films, crowd-pleasing music documentaries and somewhat unclassifiable cinematic oddities.
The titles and brief descriptions are below. The full lineup will be available on the Underground Film Journal in early September.
The Legend of Kaspar Hauser, dir. Davide Manuli. In this Italian update of the Werner Herzog classic film, which was based on a true story, controversial American actor Vincent Gallo tackles the dual roles of the protector and the enemy of a mysterious boy who may or may not be royalty.
L, dir. Babis Makridis. This trippy Greek film from several of the creators of Dogtooth features a chauffeur who is so obsessed with his car that he never seems to leave it.
Bones Brigade: An Autobiography, dir. Stacy Peralta. Peralta, who has made a career documenting the surf and skateboard cultures of Los Angeles tackles his own involvement with the Brigade skateboarding team in the '80s, which also included members Tony Hawk, Rodney Mullen, Steve Caballero and others.
I Want My Name Back, dir. Roger Paradiso. Even though The Sugarhill Gang brought rap and hip hop to the masses in the late '70s, they've mostly been unfairly relegated to the dustbin of history. This documentary follows their efforts to create new music and to reclaim their rightful identity that was unjustly stripped from them.
A Little Bit Zombie, dir. Casey Walker. Although a meek HR manager turned zombie is consumed with eating brains, he battles that desire so as to keep his impending wedding on track.
The Exhibitionists, dir. Michael Melamedoff. A filmmaker exploits his friends at a New Year's Eve party at which they are encouraged to explore all kinds of sexual taboos — on camera, of course. (Read the review)