2012 Arizona Underground Film Festival: Award Winners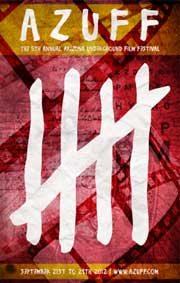 Held back on Sept. 21-29, the 5th annual Arizona Underground Film Festival was a major blow-out event of extreme underground greatness. And, to top it all off, they handed out a gaggle of awards to both feature films and shorts alike.
The big winner was the Best of Fest award that went to Michael Melamedoff's sly drama The Exhibitionists, about a bunch of hedonists gathered on New Year's Eve. Meanwhile, the Audience Award went to the reality TV parody Ghosts With Shit Jobs by Chris McCawley, Jim Morrison, Jim Munroe and Tate Young; and Kenton Bartlett's torture flick Missing Pieces won the Director's Award.
Some other winners include Spencer Parsons' Saturday Morning Massacre for Best Horror Feature, a film that while not reviewed yet on the Underground Film Journal we've seen it and easily declare one of the best horror movies of the last few years. The Vincent Gallo-starring The Legend of Kaspar Hauser, directed by Davide Manuli, won for Best Experimental Feature and Best Narrative went to the "altar boys gone bad" comedy Funeral Kings by Kevin and Matthew McManus.
On the short film front, Alexander Yan's Elko, which has been ripping up the entire film festival circuit this year, won for Best Narrative Short; and Kevin Lonano's Blue Sheep Suit won for Best Horror Short.
The full list of winners is below. And, if you want, check out the entire lineup of the 2012 AUFF here.
Best Narrative
Funeral Kings, dir. Kevin McManus, Matthew McManus
Best Narrative Short
Elko, dir. Alexander Yan
Best Horror Feature
Saturday Morning Massacre, dir. Spencer Parsons (Watch online)
Best Horror Short
Blue Sheep Suit, dir. Kevin Lonano
Best Documentary Feature
I Want My Name Back, dir. Roger Paradiso
Best Documentary Short
I Want to Be Tom Savini, dir. Bianca Luedeker
Best Experimental Feature
The Legend of Kaspar Hauser, dir. Davide Manuli
Best Experimental Short
Myrtil Palemone, dir. Loïc Vinet
Best Exploitation
25th Reich, dir. Stephen Amis
Best Animation Feature
Cycle, dir. Zoltan Sostai
Best Animation Short
Post Human, dir. Cole Drumb
Best of Fest
The Exhibitionists, dir. Michael Melamedoff (Read the underground film review)
Audience Award
Ghosts With Shit Jobs, dir. Chris McCawley, Jim Morrison, Jim Munroe, Tate Young
Director's Award
Missing Pieces, dir. Kenton Bartlett