2012 Academy Awards Honors George Kuchar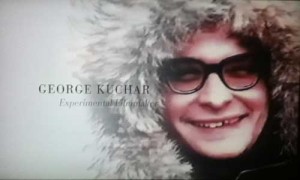 The "In Memoriam" segment of the 84th Academy Awards last night included a brief tribute to underground filmmaker George Kuchar, who passed away on Sept. 6, 2011. The above snapshot from the telecast was crudely taken with an iPod camera. Click through to embiggen.
As you can see, the Academy labeled him an "experimental" filmmaker, although he would probably be better classified as an underground or an avant garde filmmaker. But, who's to quibble. It's nice they included him.