2012 $100 Film Festival: Official Lineup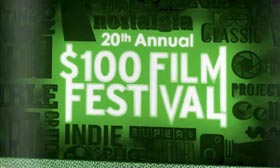 This year mark's the amazing 20th anniversary of $100 Film Festival, making it Calgary's oldest film fests and one of the last ones devoted solely to film. The cinematic fun will run at the Stanford Perrot Lecture Theater on March 8-10 with three nights of short movies produced on 16mm and 8mm film.
What began as a modest affair simply to promote local filmmaking efforts, the $100 is now an international festival with movies this year from the U.S., Germany, Spain, Japan and, of course, Canada. The fest is also celebrating the work of American filmmaker Robert Todd, who will be on hand to screen some of his movies as well as host a workshop on experimental documentary filmmaking techniques.
Each night of the festival kicks off with a live music and film performance. The first night features the a jam film by local filmmakers Brenda Lieberman, Luke Black, Caitlind Brown, John Frosst & Brennan Tilley accompanied by music by Jesse & the Dandelions. The following two nights will then open with a film by Gillian McKercher and music by Jasmin PoonBy; and a film by Keely Bruce with music by Geist.
Some highlights of the fest also include the experimental animations The Future Is Bright by Jodie Mack and Clouds by Ben Popp; the artistic underwater documentary Caridea and Ichthyes by Paul Clipson; and the electric I Own a Carousel by Lori Felker.
The full festival lineup is below, but for more info, please visit the official $100 Film Festival website.
March 8
7:00 p.m.
Shadow, dir. Brenda Lieberman, Luke Black, Caitlind Brown, John Frosst & Brennan Tilley. Music by Jesse & the Dandelions
The Future Is Bright, dir. Jodie Mack
Hindsight, dir. Sean Hanley
Infinite Struggles, dir. Danielle & Corey King
Transfixed; What's Broken, dir. Brendan Prost
Dumpster of Your Love, dir. Brian Ganong
The Open, dir. Daniel Boos
TROBIA , dir. Benjamin Hayden
For Magicians, dir. Scott Fitzpatrick
What Is This?, dir. Stefan Mockel
Spagottcha, dir. Chris Lockerbie
Awe Shocks, dir. Anja Dornieden & Juan Monroy
The Third Choice, dir. Hesam Hanafi
A Celebration of Corn, dir. Chloe Reyes
He, She, I, Was, dir. Ross Meckfessel
Carta Austral, dir. Pablo Marin
Numbskull Numb Heart, dir. Sandi Rankaduwa
A Life's Work, dir. Adam R. Levine
Fruit Flies, dir. Christine Lucy Latimer
Sound of the Sun, dir. David Domingo
March 9
7:00 p.m.
Untitled Improvisation, dir. Gillian McKercher. Music by Jasmin PoonBy
Peninsula Valdes, dir. Mark Fiorillo
Undergrowth, dir. Robert Todd
Waiting for Woody, dir. Katherine Skelton
Clouds, dir. Ben Popp
I Own a Carousel, dir. Lori Felker
Love Is Colder than Steel, dir. Gabrielle Provost
Derby Jam, dir. Allan Brown
Extreme Skiing in 1930, dir. Ichiro Sueoka
Great Blue Heron, dir. Frank Biesendorfer
Rerun Amok, dir. Gerald Saul
Lark's Tongue in Aspics, dir. David Shushan
The Importance of Hortense, dir. Lisa Morse
Beneath Your Skin of Deep Hollow, dir. Malena Szlam
Walter, dir. Sezen Turkmen
Eat Cake, dir. Amy Belanger
Someday All of This Will Be Yours, dir. Adam Huggins & Illana Fonariov
March 10
7:00 p.m.
Creeper, dir. Keely Bruce. Music by Geist.
Contingency, dir. James Beattie Morison
Focus, dir. Christine Lucy Latimer
Caridea and Ichthyes (Compound eyes no.5), dir. Paul Clipson
The Electric Embrace, dir. Norbert Shieh
Let Me Try to Explain, dir. John Cannizzaro
In the Shadow of Marcus Mountain, dir. Robert Schaller
Vanilla Sam, dir. Tara Lee Reddick
Besty, dir. Peter Stinson
Eden, dir. Shinya Isobe
Wind Up!, dir. Eric Hill
Imperceptihole, dir. Lori Felker & Robert Todd
Six, dir. Kelly O'Brien
The Orientation of Snails, dir. Robert Drisdell
Hull, dir. Tara Nelson