2011 WNDX Acquires Guy Maddin's Hauntings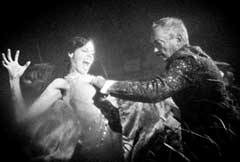 Winnipeg's WNDX Festival of Film and Video Art has announced that they will be presenting Guy Maddin's film art installation Hauntings throughout the month of September and end on Oct. 3. The city of Winnipeg is, of course, Maddin's hometown, so this is an  especially sweet acquisition.
Hauntings will be installed at the Platform Gallery beginning on Sept. 2 and end on the last day of WNDX.
Maddin's original installation of Hauntings was commissioned by the Toronto International Film Festival last year. It consists of 11 short films that form a collection of fragments of lost films from famous classic filmmakers that have been re-imagined by Maddin himself. From TIFF's description, these are "tales of unrealized, half finished or abandoned films, potential masterworks doomed to oblivion as they slipped out of their creators' control."
Toronto arts writer Chris Randle wrote a detailed review of the TIFF Hauntings installation last September.
The actual WNDX festival will run on Sept. 29 to Oct. 3.