2011: The Year In The Underground Film Journal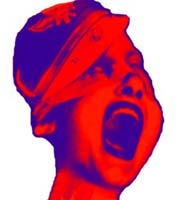 2011 was a tough year.
After feeling positive at the beginning of the year and a strong content push those first couple of weeks, it was ultimately decided that the survival of the Underground Film Journal was going to have to rely on beefing up the site's technical undercarriage. And, yes, I just used the word "survival."
The main trouble with maintaining a large website oneself, as I do, is that if focus on the site is to be shifted to a particular area, then all the other areas become neglected. So, I either write or I do something else. That's the dilemma: I can either write furiously and maintain a minuscule audience growth, or I can try to make the site more useful in other ways and pray it has a bolder effect in attracting traffic.
In the effort to make myself more "useful," first I created an officially-approved WordPress theme from scratch. To get the theme approved by WordPress, I had to go through a rigorous testing process by their team that taught me an infinite number of tricks about this amazing program. There are so many wonderful things built into WordPress that it can be used to create sites way more involved than just the fairly standard blog that the Underground Film Journal has been up until now.
However, completion of the theme gave me the confidence to pursue and land an extremely rewarding freelance gig updating somebody else's WordPress website. Taking over from another webmaster with way more skills and abilities than myself continued my WordPress education that I could then start tweaking the Underground Film Journal to get it to the place I want it.
My first serious improvement on the Underground Film Journal was transforming the always popular Underground Film Festival List into a better functioning tool for filmmakers. Previously, the list required regular manual updates that I could never manage to get to, resulting in a page with mostly outdated information. Now, the page is set up to update on an automatic daily schedule once the proper information is correctly loaded on the back-end. Plus, the page now includes lots of more detailed information regarding deadlines and submission fees.
After that, I worked on lots of other back-end improvements in how the site is generated, such as eliminating several no-longer-necessary plugins. These were projects that were very exciting to myself personally, but aren't necessarily exciting to write about.
But where this is leading is to another large-scale project that I will be announcing shortly. This will be a serious update to a fairly buried feature of the site that I'm very excited about. Hopefully, the feature won't be so buried in the future and will become a serious, helpful resource.
Another project to teach this old dog new tricks was to launch a new publishing company, Underground Film Press, that publishes screenplays of underground and independent films for the Kindle and the Nook. I solo published three scripts and co-published a fourth over the summer and early autumn.
Then, I was asked in October to return to the American Film Institute to work full-time for a couple of months. While thrilled to work again on AFI's Catalog of Feature Films — a demanding project I truly love producing — it did mean all work on the Underground Film Journal to slow down to a trickle: The technical improvements, regular article postings, watching and reviewing films, formatting a fourth Underground Film Press screenplay and everything else that goes into maintaining a major website.
I always have big plans for the Underground Film Pressl. Maybe sometimes they're too big, especially considering when I run into tough time restrictions and the continued fairly tepid reception to all of it.
That's why I think the site needs something big and new to keep it going, that it's become too just reliable and predictable. The festival lineups, the embedded videos, the screening notices. These are all important and necessary things, but they're not exactly generating a wave of excitement anymore.
So, what's coming in 2012? I honestly don't know. However, writing this article/confessional, I'm a bit impressed by what I was able to accomplish, even if none of it is especially glamorous and took me out of the realm of regular writing, where my strengths traditionally lie. Something's a'changin' on the horizon, though. I just need to figure out what that change is.