2011 San Francisco Underground Film Festival (Fall Edition): Official Lineup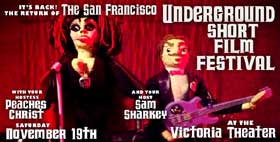 Peaches Christ does the unthinkable and returns with a second edition of the wild San Francisco Underground Short Film Festival in 2011! And this new event is a double blow-out with two back-to-back programs of shorts in one scintillating evening.
The fun starts on Nov. 19 at 7:30 p.m. at The Victoria Theatre with the more genteel "Act 1" block of shorts, compared to the sexy and ultra-violent programming of "Act 2: Shorts After Dark" that begins at 10:10 p.m.
However, with "Act 1" featuring Waylon Bacon's gory and disturbing — and absolutely hilarious — Help Wanted, there's plenty of outrageousness packed into that first program, so be sure to not miss any of it.
And if 33 short films packed into one night isn't enough, the entire evening will kick off with Peaches and her co-host Sam Sharkey performing in a live rock show.
The full film lineup is below, but for more info on the fest and to buy advance tickets, please visit their official website.
Nov. 19
7:30 p.m.: "Act 1"
Alligator Bitch, dir.Craig Jacobson
Bugbaby, dir. Rebecca Lorenne
Dream Warriors, dir.Sean Lynch
Evershift, dir. Jeff Kao
Freddie McGuire: Down to the Sea, dir. Steffen Frech
Happy Birthday to Me, dir. Mauricio Baioccui
Help Wanted, dir. Waylon Bacon (Watch online)
Jason Mecier Does Amy Sedaris, dir. Marika Kontoudakis
Jimbo, dir. Daniel Maggio
Killin' It in Reno, dir. Aaron Paul
L.O.V.E., dir. Ionel Daiconescu
Love & Anger, dir. Brian Benson
Mirror, dir. Sean Blau
Ninjas vs. Guilt, dir. David Chai
Peter and Wendy, dir. Sean Blau
Two Kids From Kansas at the Beach, dir. Peter Max Lawrence
10:30 p.m.: "Act 2: Shorts After Dark"
52 Takes of the Same Thing, Then Boobs, dir. T. Arthur Cottam
Belle Nouveau, dir. Cassandra Sechler
Burger Time, dir. Neranjan Bisson
Customer Service, dir. Robb Grimes
Designate Routes in Nature and Time, dir.Jim Granato
Dumpster, dir. Patrick Campbell
Harold, dir. Chris Tipton-King
I Like it Ruff, dir. Vincent Gargiulo
Maurine, dir. Mauricio Baioccui
Meter Maid Me Massacre, dir. Cecil B. Feeder
Mr. Ok, dir. Sean Blau
Slutmobile, dir. DeWayne Austin
Sweetheart, dir. Daniel Maggio
That Darn Bear, dir. Matthew Gregory
Venus in My Eyes, dir. Sean Blau
Voulez Vous Avant Garde Avec Moi, dir. Steffen Frech
Wizard Heist, dir. Max Sylvester