2011 Onion City Experimental Film And Video Festival: Official Lineup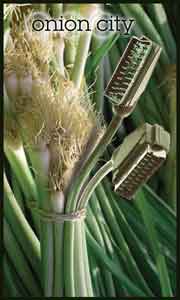 The 23rd annual Onion City Experimental Film and Video Festival presents four nights of international avant-garde and experimental media from all over the world. The fest runs June 23-26 with the Opening Night festivities taking place at the Gene Siskel Film Center and the rest of the screenings held at the venerable Chicago Filmmakers, which has been behind the event for the past 11 years.
The Opening Night presentation begins with the new short film from the Brothers Quay, Maska, which was produced in Poland and based on a short story by Polish author Stanislaw Lem (Solaris). Also included in the opening screening are films by Thom Anderson, Mati Diop, Christopher Becks, Milena Gierke and more.
The Closing Night film is the much anticipated new feature by former Chicagoan James Fotopoulos. He will be screening Alice in Wonderland, an adaptation of an 1886 musical based on the classic children's book. The film features hundreds of drawings, text fragments from Alice Carroll, a minimalist central performance and dense sound design.
Squeezed between two stellar screenings are scores of short experimental works and two feature presentations. The features are Nicolás Pereda's All Things Were Now Overtaken by Silence, which documents the shooting of a play, and Madison Brookshire's Color Series, a camera-less film made up entirely of shifting color hues.
Short works are by acclaimed filmmakers such as Laida Lertxundi, Jodie Mack, Lewis Klahr, Luther Price, Robert Todd, Paul Clipson, Stephanie Barber and Deborah Stratman; plus, lots of new work by filmmakers new to Onion City. Films also hail from 14 countries, including France, Germany, Austria, Brazil, Japan, Turkey, Belgium and more.
The full festival lineup is below, but please visit the official Onion City website for more info.
June 23
8:00 p.m.: "Opening Night Program"
Maska, dir. The Quay Brothers
Get Out of the Car, dir. Thom Andersen
Atlantique, dir. Mati Diop
Slave Ship, dir. T. Marie
Zagreb Tram Station, dir. Jürgen Reble
House of Days, dir. Peter Miller
Ouverture, dir. Christopher Becks
Toads, dir. Milena Gierke
June 24
7:00 p.m.: "Shorts Program 1"
Resonance, dir. Karen Johannesen
Between Gold, dir. Jonathan Schwartz
Morning Glory, dir. Robert Todd
Subdued Glow, dir. Antonio Vargas
Minong, I Slept, dir. Vera Brunner-Sung
Place for Landing, dir. Shambhavi Kaul
…These Blazeing Starrs!, dir. Deborah Stratman
Sphinx on the Seine, dir. Paul Clipson (Read the review)
Paper Sun, dir. Keith Tassick
9:00 p.m.: "Shorts Program 2"
Kindless Villain, dir. Janie Geiser
Sugar Slim Says, dir. Lewis Klahr
Posthaste Perennial Pattern, dir. Jodie Mack
Berlin Tracks 18h00-20h00, dir. Shiloh Cinquemani
Echoecho, dir. Sabine Gruffat
Ceibas: Epilogue: The Well of Representation, dir. Evan Meaney
Vice Versa Et Cetera, dir. Simon Payne
Santoscope = Dumontage, dir. Carlos Adriano
Bust Chance, dir. Stephanie Barber
The Hunch That Caused the Winning Streak and Fought the Doldrums Mightily, dir. Stephanie Barber
The Electric Embrace, dir. Norbert Shieh
Summer Grass 2/10, dir. Mie Kurihara
Cold Fried Chicken, dir. Frank Biesendorfer
June 25
4:00 p.m.: All Things Were Now Overtaken by Silence, dir. Nicolás Pereda
Screening with:
Monologue, dir. Maximilian Le Cain
Untitled, dir. Neil Beloufa
7:00 p.m.: "Shorts Program 3"
Mastering Bambi, dir. Persijn Broersen and Margit Lukács
A Thousand Julys, dir. Lewis Klahr
Tempts I, dir. Kyle Canterbury
A Reasonable Man, dir. Brian L. Frye (Watch online)
Janiceps, dir. Augustin Gimel
#25, dir. Jake Barningham
western, dir. Jake Barningham
night, day, dir. Jake Barningham
trees, dir. Jake Barningham
and houses, dir. Jake Barningham
color copy, dir. Jake Barningham
Sorry (Part One), dir. Luther Price
Shelley Winters, dir. Luther Price
9:00 p.m.: "Shorts Program 4"
Focus on the Family, dir. Lennon Batchelor
sense+innocence, dir. Nicolaas Schmidt
Once Mars Is Colonized, dir. Pierre Yves Clouin
All That Sheltering Emptiness, dir. Gina Carducci
We Would See a Sign, dir. Michael A. Morris
While You Were Sleeping, dir. Mary Helena Clark
Forged Ways, dir. Ephraim Asili
Pigs, dir. Pawel Wojtasik
June 26
2:00 p.m.: Color Series, dir. Madison Brookshire
3:45 p.m.: "Shorts Program 5"
To Touch, dir. JB Mabe
To Turn, dir. JB Mabe
moonalphabet, dir. Yoel Meranda
highway keying, dir. Yoel Meranda
highway screening, dir. Yoel Meranda
a dream of horses, dir. Yoel Meranda
anitkabir, dir. Yoel Meranda
Controller, dir. Ed Janzen
Slow Action, dir. Ben Rivers
6:30 p.m.: "Shorts Program 6"
Shibuya – Tokyo, dir. Tomonari Nishikawa
Tokyo – Ebisu, dir. Tomonari Nishikawa
Relocation, dir. Pieter Geenen
010101, dir. T. Marie
In the Absence of Light, Darkness Prevails, dir. Fern Silva
Hotel Nightclub, dir. Arianne Olthaar
Tableaux Vivants, dir. Vincent Grenier
Cry When It Happens, dir. Laida Lertxundi
8:30 p.m.: Alice in Wonderland, dir. James Fotopoulos