2011 Oakland Underground Film Festival: Official Lineup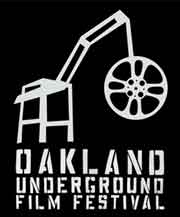 Like its predecessors, the 3rd annual Oakland Underground Film Festival, which runs Sept. 22-24, is mostly devoted to music-based movies, both fictional and documentary.
There's the docu-narrative hybrid Marimbas From Hell, the musical Devious, Inc., the Bollyood punk upstart Gandu, and the Bay Area documentary The Furious Force of Rhymes.
In addition, the Opening Night film is Victoria Mahoney's Yelling to the Sky, starring rock royalty Zöe Kravitz; the cute Japanese children's film Komaneko, The Curious Cat; plus, a program of experimental short films and more.
For more info on the fest, including screening locations, please visit the official Oakland Underground Film Festival website. The full lineup is below:
Sept. 22
8:00 p.m.: Yelling to the Sky, dir. Victoria Mahoney. A semi-autobiographical account of director Mahoney's urban adolescence. Starring Zöe Kravitz and Gabourey Sidibe.
Sept. 23
7:30 p.m.: Marimbas From Hell, dir. Julio Hernández Cordón. A struggling musician whose specialty is the marimba forms a musical act with his glue-sniffing godson and a heavy metal rock star.
9:00 p.m.: Tarantino: The Disciple of Hong Kong, dir. Jac & Johan. Examining the Asian film influences on the work of Quentin Tarantino.
Screening with:
So Long, Kodachrome, dir. Jim Granato
10:30 p.m.: Devious, Inc., dir. xuxE. A small-town shoe fashion expert moves to the big city to make a name for himself, including winning the notorious Wheel of Fetish competition.
Sept. 24
5:15 p.m.: Komaneko, The Curious Cat, dir. Tsuneo Goda. A cat attempts to make his own animated movie. Filmed in stop motion animation and perfect for children of all ages!
6:30 p.m.: "Experimental-Ity: A Shorts Program"
Film lineup TBA
7:45 p.m.: Gandu, dir. Kaushik Mukherjee. A young punk-rapper goes on a psychedelic journey with his best friend.
9:30 p.m.: The Furious Force of Rhymes, dir. Joshua Atesh Litle. This documentary profiles the diverse group of rap stars from all over the world who converge on the Bay Area for one massive show.
11:00 p.m.: "All-Star Projectionist Jam"
Projections by Illuminated Corridor Department of Public Works. Music by Punk Funk Mob and Oakland Faders