2011 Movie Of The Year: Profane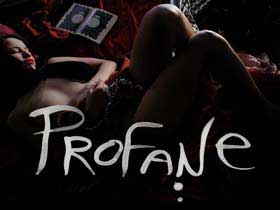 Choosing the Underground Film Journal's 2011 Movie of the Year came down to a near dead heat. There were two movies that came out this year filled with such grand ambition, artistry and skill that the decision almost came down to a tie before ultimately settling on the singular Movie of the Year tradition.
That movie this year is Usama Alshaibi's Profane, a spectacular triumph of uncompromising vision, extreme daring and intimate personal expression. There was simply no other film like it this year — underground or otherwise — and its only rival of sheer audacity of the past several years was last year's Movie of the Year pick, Gravity Was Everywhere Back Then.
And yes, I did say there was almost a tie this year. The first runner-up is a film that achieved greatness for several different reasons than Profane's accomplishments.
But, before I get to that close runner-up, there's even a third film that, in a weaker year, would have handily snagged the top spot: Jaimz Asmundson's magickal portrait of his father, The Magus.
Perhaps some might consider the adjective "dazzling" as too cliched and/or old-fashioned to use to describe a film, but it seems there's hardly any other word to describe The Magus. This is a short film — a little over 10 minutes — with no dialogue that was originally reviewed at the very beginning of the year. However, Asmundson's electric and beautifully crafted images of his father painting a doorway to another dimension were seared onto the Underground Film Journal's brain like a hot poker. In pure visual terms, this film weaves a potent spell.
The first runner-up to the Underground Film Journalt's 2011 Movie of the Year is the powerhouse documentary Battle for Brooklyn, directed by Suki Hawley and Michael Galinsky.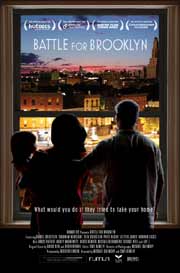 Made over the course of seven years, Battle for Brooklyn takes the story of a local neighborhood struggle and transforms it into a politically-charged, bare knuckle slugfest of epic proportions. Not only that, in the form of Daniel Goldstein, the film gives us the perfect everyman hero to root for at its center. To describe it another way, this is a '70s Sidney Lumet film made real.
Even more astounding, finished and on the festival and theater circuit in the spring and summer, Battle for Brooklyn now seems like a prescient instigator of the Occupy Wall Street movement that sprouted up in the autumn. If there ever were a film to inspire the seemingly powerless masses to rise up and fight back against big business and the politicians who lie in bed with them, it would be Battle for Brooklyn.
Profane is an activist film, too, of a different sort. It is a spiritually activist film.
The main character of Profane may be a female Muslim sex worker searching to engineer a "reverse exorcism," but one can tell that this is filmmaker Alshaibi's — a middle-aged husband and father — most personal film to date. Perhaps even moreso than his diary documentary Nice Bombs.
It would seem that getting back in touch with his Iraqi roots in Nice Bombs have sent Alshaibi on a spiritual quest that has culminated in Profane, which combines several motifs found throughout all his work throughout his career, particularly his sexually transgressive experimental films and his explorations of the outsider.
All of this combines into a thrilling, heady and complex stew of visual provocations, challenging assumptions of American Muslim identity and oblique character development. It is the rare film that can so perfectly combine themes of political, social, spiritual and personal anxiety and upheaval into a cohesive, exhilarating whole. Perhaps none of done so with such artistic grace as Alshaibi has done with Profane.
It is for those reasons that we name Profane as the Underground Film Journal's 2011 Movie of the Year. If you want to read our original review of the film, you can do so here.
Watch the Profane movie trailer: