2011 Migrating Forms: Opening Night Film & Special Programs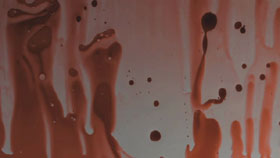 Update: Check out the full 2011 Migrating Forms lineup here!
The 3rd annual Migrating Forms media festival in NYC, which will run on May 20-29,  has announced that its opening night film will be Melanie Gilligan's experimental sci-fi thriller Popular Unrest. Plus, the fest will feature retrospectives of the late Brazilian filmmaker Glauber Rocha and Los Angeles-based Cynthia Maughan; a special North Korean musical program by Jim Finn; videos charting the career of legendary rock band Destroy All Monsters and more.
Inspired by the early films of David Cronenberg and the "forensic porn" found in the CSI TV show franchise, Gilligan has crafted a five-part drama in Popular Unrest that is set in an alternative future where all human social interaction is overseen by a mysterious system known only as "the Spirit."
In this world, first, a series of bizarre murders take place where the victims are killed in public, but no assailant is ever seen. Then, groups of unconnected people are strangely drawn to each other, forming large groups in a society that is primarily disconnected from itself.
This will be the U.S. premiere of Popular Unrest, which has screened previously at the Walter Phillips Gallery at The Banff Center, Banff, Alberta; Kolnischer Kunstverein, Cologne; and Chisenhale Gallery, London.
As for the Special Programs that will screen during Migrating Forms this year, they include:
1. Three films by Glauber Rocha that make up the seminal trilogy of the Brazilian Cinema Novo movement: Deus e o Diabo na Terra do Sol (Black God, White Devil) (1964); Terra em Transe (Earth Entranced) (1967); Antônio das Mortes (O Dragão da Maldade Contra o Santo Guerreiro) (1969). The Cinema Novo movement was directly tied to the revolutionary fervor that gripped Latin America in the '60s and was inspired by other movements such as Italy's Neo-realism and the French New Wave.
2. Electronic Arts Intermix, the non-profit video and media arts resource organization, will present selections from the astoundingly prolific career of video artist Cynthia Maughan, who produced nearly 300 pieces that combined her eclectic L.A. upbringing with the style of B-movie exploitation pictures. One of the biggest influences on her career was the classic Wes Craven horror flick The Hills Have Eyes, which will also be screened at the fest.
3. Filmmaker Jim Finn, director of The Juche Idea (2008), will screen clips from some of his favorite movies and music videos from North Korea, plus some of his own interpretations of the Juche style. Included will be excerpts from Girls From My Hometown (1991), Marathon Runner (2002), Urban Girl Comes to Get Married (1992) and more.
4. Primary Information, a non-profit group devoted to printing artists' books and writings, will screen a selection of videos charting the career of the Detroit rock group Destroy All Monsters, including Clear Day (1996), which documents three reunion shows performed by the band in 1995, and Grow Live Monsters (2007), which is a compilation of low-budget fantasy film footage taken of the band by member Cary Loren in the mid-'70s.
5. A one-night revival of Jean-Marie Straub and Daniele Huillet's 1981 documentary Too Early, Too Late (Trop Tot, Trop Tard), which chronicles several locations in both France and Egypt.
The full Migrating Forms lineup can be found here!