2011 FLEX Fest: Official Lineup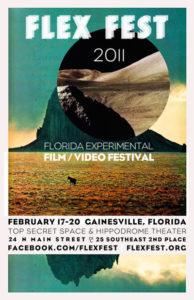 It's four days of experimental media madness in the Sunshine State when the 7th annual Florida Experimental Film/Video Festival — also known as FLEX Fest — runs in Gainesville on Feb. 17-20. The majority of the festival will take place at the Top Secret Space, with the exception of a Saturday afternoon screening of all 35mm films at the Hippodrome State Theater.
This year's judges for the festival are film preservationist Mark Toscano and filmmaker Vanessa Renwick, both of whom will open the fest with two curated programs. First, Toscano will be screening several rare underground films from the late '50s to the early '70s, from filmmakers such as Fred Worden, David Bienstock, Chris Langdon and more. Then, Renwick will screen several of her own short documentaries, including the wonderfully eerie Britton, South Dakota and the touching 9 is a secret. These are two events that really are not to be missed.
The rest of the weekend is filled with wonderful films from some of the best experimental filmmakers all over the world, from here in the U.S. to the Philippines to Guatemala to Australia to Austria and many points in between. Here are a few of the Underground Film Journal's best picks:
On the 19th, the "35mm Marathon" will be a real treat to see several experimental films that have been made in the rarely used — in the underground film world — big screen format. One of those films is the latest in Ben Russell's acclaimed Trypps series, #7 (Badlands).
Then, after the 35mm films, the "For the Lovers" compilation screening concludes with a terrific meditation on modern romance, Kent Lambert's twisted pop culture remix Fantasy Suite.
Also be on the lookout for many new films from Underground Film Journal favorites. On the 18th, there's documentary filmmaker Georg Koszulinski's White House, animator Martha Colburn's Triumph of the Wild, and playful experimenter Kerry Lataila's Sparkle Party. Also on the 18th, look out for Bryan Boyce's brief, but bizarre 2005 Census.
The final night of the fest also promises to be a real blowout with Sylvia Schedelbauer's enviro cautionary doc way fare, Steve Cossman's 16mm slide flickering TUSSLEMUSCLE, Zach Iannazi's new How Should You Pick Up the Ball and Throw It? and two films by Jodie Mack.
And there's a lot more great stuff to see, so please peruse the full lineup below. Plus, visit the official FLEX Fest website for more info.
Feb. 17
7:00 p.m.: "Curated Show by Mark Toscano"
The Maltese Cross Movement, dir. Keewatin Dewdney
Logos, dir. Jane Conger Belson Shimane
Brummer's, dir. David Bienstock
S.W.L.A., dir. Rob Thompson
Aether, dir. Daina Krumins
Mirror People, dir. Kathy Rose
Picasso, dir. Chris Langdon
King David, dir. Robert Nelson & Mike Henderson
Turning Over, dir. Morgan Fisher
SF Trips Festival — An Opening, dir. Ben Van Meter
Dufus, dir. Mike Henderson
Throbs, dir. Fred Worden
9:00 p.m.: "Films by Vanessa Renwick"
Toxic Shock
Britton, South Dakota (Read the review)
9 is a secret
Portrait #1: Cascadia Terminal
Portrait #2: Trojan
Portrait #3: House of Sound
Hope and Prey
11:00 p.m.: "Opening Night Party With Live Video and Performance by Dan Anderson"
Feb. 18
7:00 p.m.: "Neither Here Nor There"
2005 Census, dir. Bryan Boyce (Read the review)
Utopia, Part 3: The World's Biggest Shopping Mall, dir. Sam Green
Sincerity: The Character of Ronald Regan, dir. Chris Royalty
White House, dir. Georg Kouszulinski
Common Ground, dir. Vera Brunner-Sung
Ella, dir. Taylor McIntosh
9:00 p.m.: "The Program in Which…"
Triumph of the Wild, dir. Martha Colburn
Iron-Wood, dir. Richard Tuohy
Toward the Blue, dir. Randy Caspersen
Somewhere Only We Know, dir. Jesse McLean
Sparkle Plenty, dir. Kerry Laitala
The Laying on of Hands, dir. Nick Twemlow
Make Them Jump, dir. Kelly Spivey
Earl, dir. Nick Harvey
Bever Skull Magick, dir. Steve Reinke
Feb. 19
1:00 p.m.: "35mm Marathon"
Horizontal Boundaries, dir. Pat O'Neill
Trypps #7 (Badlands), dir. Ben Russell
Trees of Syntax, Leaves of Axis, dir. Daïchi Saïto
Desert 79, dir. Anna Abrahams
Lumphini 2552, dir. Tomonari Nishikawa
Strips, dir. Félix Dufour-Laperrière
Coming Attractions, dir., dir. Peter Tscherkassky
7:00 p.m.: "For the Lovers"
Sweet Clover, A Homecoming, dir. Jen Heuson
Nilda, dir. Joy A. Aquino
Everytime, dir. Boersen & Lukács
Der Spiegel, dir. Keren Cytter
Father Lover Friend, dir. Lindsay Foster
Fantasy Suite, dir. Kent Lambert (Watch online)
The Voyagers, dir. Penny Lane
9:00 p.m.: "Augenlicht"
Varfix, dir. Kotaro Tanaka
…These Blazing Starrs!, dir. Deborah Stratman
New Year Sun, dir. Sun Jonathan Schwartz
Day/Night (Devil's Milhopper), dir. Andres E. Arocha
Retrograde Premonition, dir. Leighton Pierce
Light from the Mesa, dir. Paul Clipson
Rayning, dir. Robert Todd
Head Garden, dir. Lilli Carré
Compressive/Percussive, dir. Scott Stark
Feb. 20
4:00 p.m.: "Here and There"
Scene 32, dir. Shambhavi Kaul
Twin Propellers, dir. Jason Halprin
5 Lessons and 9 Questions About Chinatown, dir. Shelly Silver
Long for the City, dir. Jem Cohen
The Indian Boundary Line, dir. Thomas Comerford
7:00 p.m.: "People, for a Change, and Birds"
Mugs, dir. Ronnie Cramer
Irma, dir. Charles Fairbanks
Villa 31 Buenos Aires, dir. Chus Dominique
Immokalee, My Home, dir. Kevin T. Allen & Jennifer L. Heuson
AM/PM, dir. Brigid McCaffrey
Avó (Muidumbe), dir. Raquel Schefer
Destination Finale, dir. Philip Widmann
The Commoners, dir. Jessica Bardsley and Penny Lane
9:00 p.m.: "Look/Touch"
Posthaste Perennial Pattern, dir. Jodie Mack
Piel Canela, dir. Linda Scobie
Sutrapeze, dir. Pim Zwier
Esthesia, dir. Kyle Sullivan
Flyscreen, dir. Richard Tuohy
way fare, dir. Sylvia Schedelbauer (Read the review)
Horizon Line, dir. Katherin McInnis
Trilogía Sin Título, dir. Pablo Marín
Tokyo–Ebisu, dir. Tomonari Nishikawa
How Should You Pick Up the Ball and Throw It?, dir. Zach Iannazzi
TUSSLEMUSCLE, dir. Steve Cossman
Collide-O-Scope, dir. Naren Wilks
Special Offer Inside, dir. Jodie Mack
28.IV.81 (Bedouin Sparks), dir. Christopher Harris
11:00 p.m.: "After Party and Awards Ceremony"