2011 FLEX Fest: Award Winners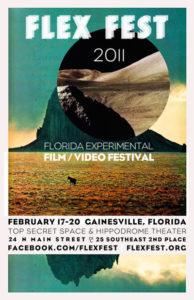 This news is being posted a bit late as the 7th annual Florida Experimental Film/Video Festival was held a month back on Feb. 17-20. But, below you'll find the full list of films that won prizes.
There were four different categories: Two for films and videos over ten minutes long, plus two for films and videos under ten minutes. Then, there was also a special Film Stock Prize sponsored by Kodak. The jurors who picked the winning films were film preservationist Mark Toscano and Portland-based filmmaker Vanessa Renwick.
A few Underground Film Journal favorites either received an award or a mention, including Georg Koszulinski for his White House and Martha Colburn for her Triumph of the Wild. Plus, one of the winners for Kodak's Film Stock Prize was Steve Cossman for TUSSLEMUSCLE, of which I've seen a wonderful clip. The film is a beautiful, rapid fire montage of images cut out of old ViewMaster slides.
The FLEX Fest is held every year in Gainesville, FL. However, it alternates each year with a juried festival, such as this edition, and a curated festival, which will be next year.
For now, here are all the winners:
CATEGORY: VIDEO >10 MIN.
1st Prize: The Voyagers, dir. Penny Lane
Runner-up: Compressive/Percussive, dir. Scott Stark
Runner-up: Utopia, Part 3, dir. Sam Green
CATEGORY: VIDEO <10 MIN.
1st Prize: Collide-O-Scope, dir. Naren Wilks
Runner-up: White House, dir. Georg Koszulinski
Runner-up: Beaver Skull Magick, dir. Steve Reinke
CATEGORY: FILM >10 MIN.
1st Prize: Horizontal Boundaries, dir. Pat O'Neill
Runner-up: Make Them Jump, dir. Kelly Spivey
Runner-up: Trees of Syntax, Leaves of Axis, dir. Daïchi Saïto
CATEGORY: FILM <10 MIN.
1st Prize: Triumph of the Wild, dir. Martha Colburn
Runner-up: Tokyo-Ebisu, dir. Tomonari Nishikawa
Runner-up: Iron-Wood, dir. Richard Tuohy
KODAK FILM STOCK PRIZES
Day/Night (Devil's Millhopper), dir. Andres E. Arocha
TUSSLEMUSCLE, dir. Steve Cossman