2011 Coney Island Film Festival: Official Lineup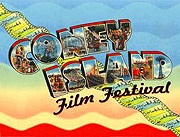 The 11th annual Coney Island Film Festival, running Sept. 23-25, offers an exquisite blend of freak show, burlesque and cinematic oddities, featuring movies about reformed gang members, unwitting superheroes, rock 'n' roll heaven and tons and tons of short films.
The fest opens with the portrait of a real-life Coney Island badass, Keith Suber, a reformed gang member who now teaches kids that violence isn't the solution to their problems in the documentary The Last Immortal, directed by Charles Denson.
However, the highlight of the festival — in the Underground Film Journal's opinion — is the headbangin' documentary Heavy Metal Picnic by Jeff Krulik and John Heyn, which beautifully relives the glory days of '80s era rock 'n' roll Maryland in all its raucous glory. Featuring footage from an outrageous backwoods farm concert and a reunion among its (slightly) more mature participants. Read the official Underground Film Journal documentary review here.
Other feature films include the burlesque fairy tale Love Is Hard by Reynard Roxbury, the reluctant superhero story Somebody's Hero by Darin Beckstead and the sick and twisted The Super by Brian Weaver and Evan Makrogiannis.
Plus, there are more short films than you can shake a strip of celluloid at in several jam-packed screenings. There are, of course, lots of shorts by Underground Film Journalfaves like Bill Plympton's uber-collaborative Guard Dog Global Jam, the animated Devil Town by Victoria Cook, Greg Hanson's Good Taste and shorts by the ubiquitous Robot Hand! crew, Carny and Martian Precursor, none of which can be missed.
Lastly, there are the amazing Coney Island events, such as the Opening Night party featuring several Sideshows by the Seashore performers and the annual interactive screening of Walter Hill's classic crime thriller The Warriors.
For more info, please visit the official Coney Island Film Festival website. The full movie lineup is below:
September 23
7:30 p.m.: The Last Immortal, dir. Charles Denson. In this documentary, meet Keith Suber, a former Coney Island gang leader who has been shot six times and served 10 years in prison. Upon returning hone, he's started an organization to stop gang violence in his old neighborhood.
9:30 p.m.: "Opening Night Party"
Meet the freaks! Attending: Insectavora, Serpentina, Kryssy Kocktail, Burlesque Featuring Lefty Lucy, Creamy Stevens, Mary Cyn, Sizzle Dizzle Variety Act: Lady Scoutington, Go Go: Stella Chu, Dangrrr Doll. And more!
September 24
1:00 p.m.: Somebody's Hero, dir. Darin Beckstead. A mild-mannered accountant is mistaken for a heroic vigilante when he unwittingly stops a robbery while trying on a superhero costume.
Screening with:
Skate, dir. Diane Crespo
2:00 p.m.: "Short Films"
Floyd the Android, dir. Jonathan Lyons
Guard Dog Global Jam, dir. Bill Plympton
Place Stamp Here, dir. Joy Vaccese, Noelle Melody
Delilah, Before, dir. Melanie Schiele
Daydreamed, dir. Jayme Morales
Perspective, dir. Amos Posner
Three Things, dir. Matthew Amenta
Last Words of the Holy Ghost, dir. Ben Sharony
Aurora Borealis, dir. Matt H. Mayes
3:00 p.m.: Love Is Hard: A Burlesque Fairytale, dir. Reynard Roxbury. A burlesque performer wants to leave show business, but is swept off her feet by a hunky foreigner.
Screening with:
Nefertitty, dir. Lola Rock'N'Rolla
4:00 p.m.: "Short Films"
Goodbye Winter, dir. Fred Guerrier
Posthumous Proposal, dir. Thomas Scarlett
After – School Special, dir. Jacob Chase
The Virgin Forest, dir. Piotr Uzarowicz
The Robber Barons of Wall Street, dir. Matthew Meis
Impostor, dir. Marc Masciandaro
5:00 p.m.: The Super, dir. Brian Weaver, Evan Makrogiannis. A mentally unbalanced Vietnam veteran is drawn into the world of snuff filmmaking by one of the demented tenants living in the building he manages.
5:30 p.m.: Atlantic Crossing: A Robot's Daring Mission, dir. Dena Seidel. Oceanographer Scott Glenn is the first person to successfully navigate an autonomous underwater robot across the Atlantic Ocean.
6:00 p.m.: "Short Films"
Devil Town, dir. Victoria Cook
Hesta Prynn "Can We Go Wrong", dir. Randy Scott Slavin
Climb, dir. Brett Bell
Radio Girl (Underground Melody), dir. Ronni Thomas
Carny, dir. Kevin Lonano (Watch online)
Holes for Eyes, dir. Chad Laird
A Fable About Beauty, dir. John Barnard
Good Taste, dir. Greg Hanson
The Dinner Meeting, dir. Antony Webb
15:2, dir. Brennan Parks
What Remains, dir. Sarita Khurana, Chitra Ganesh
7:00 p.m.: "Short Films"
They Call Me Pubefinger, dir. Tom Tenney
Vacuum Attraction, dir. Morgan Miller
Blame Cupid Stupid, dir. Michael Patrick O'Hara
Mondo Claymo, dir. Christophe Lopez-Huici
Neal, dir. Geoff McGee
The Open City, dir. Nathan Maulorico
How (Not) to Borrow a Car, dir. Annika Kurnick
Terrestrial Violence, dir. Ebony Parish
Hey Rube!, dir. Rick Iafrate
8:00 p.m.: "Short Films"
Martian Precursor, dir. Brian Lonano (Watch online)
Waffle, dir. Rafael De Leon Jr.
Incubator, dir. Jimmy Weber
Nice Guys Finish Last, dir. Kimberly McCullough
Sophie Gets Ahead, dir. Damien Paris
Ad Noctum, dir. Ross Morin, Ryan Wilson
Cabine of the Dead, dir. Vincent Templement
Eat Me, dir. Rocco Nisivoccia Jr.
An Evening With My Comatose Mother, dir. Jonathan Martin
9:00 p.m.: "Short Films"
Ode to Charlie, dir. Augustus-Termaine Romeo
Boys From Coney Island, dir. Julia Suo
The Craving, dir. Val Castro
10:30 p.m.: The Warriors, dir. Walter Hill. The Coney Island Film Festival presents its annual, interactive screening of the classic NYC action film.
September 25
1:00 p.m.: "Short Films"
"OH LUV", dir. MAGZ Magda Sztompka
Us, dir. Alex Lora
December 15th, dir. Ryan Russell Smith
Fish!, dir. Damian Samuels
A Finger Two Dots, Then Me, dir. David Holechek
Atlantis, dir. Rohit Joshi
Ma in Her Kerchief, dir. Olga Pampinella
Tom and Sabrina Divorce, dir. Silvana Jakich
2:00 p.m.: "Short Films"
The Hidden Sister, dir. Zina Brown
Dame Factory, dir. Melanie Abramov
First Kiss, dir. Peter LaSala
Bathing & The Single Girl, dir. Christine Elise McCarthy
Heart Break, dir. Heather Fink
Street Pillow or the Sidewalk Sleep, dir. Charles Q. Drexler
Flagpole, dir. Matt Kazman
Suck It!, dir. John DesRoches
3:00 p.m.: "Short Films"
Airhead, dir. Gary Giambalvo
He Shoots, He Scores, dir. William Levin
The Fabulous Jalopy, dir. Elif Alp
Two's a Crowd, dir. Tom Isler
Doctor Kong, dir. Alexis Neophytides
I RUB NY, dir. Carol Caputo
Desert of the Real, dir. Tal Shamir
New New York, dir. Mïïgun St. John
Feedback, dir. Dara Zadikow
Who I Am, dir. Dawn Young
4:00 p.m.: "Short Films"
The Hush, dir. Brooke Sebold
Surfer's Way, dir. Lindsey Megrue
Rumbleseat, dir. Michael Roberts
Just Noodlin, dir. April James
Frustrated, dir. Sam Thonis
Mercury in Tuna, dir. Kristen Lauth Shaeffer
The Day That We Got Married, dir. Simone Smith
Ronan and Alyssa Are About to Break Up, dir. Adam Bertocci
Fallen, dir. Ashley Zahorian
Tommy's Pumpkin, dir. Alex Halpern
Hansel and Gretel, dir. Hee Sun Kim
Death of a Popstar, dir. Greg Loser
5:00 p.m.: Heavy Metal Picnic, dir. Jeff Krulik and John Heyn. Via archival home video footage, hang out at Maryland's Full Moon Jamboree, an over-the-top weekend music festival filled with booze, babes and unrepentant heavy metal debauchery. Plus, through modern reunion interviews, find out what happened to many of the party's most colorful characters. (Read the review)
Screening with:
Greatest Disaster, dir. Gabriel Barbaro
Long Island Uncovered, dir. Sal Del Giudice
6:00 p.m.: "Short Films"
Take Me There, dir. Gary Giambalvo
Neptune Jam, dir. Howie Alex
The Blue Umbrella, dir. Amanda Jencsik, Chris DePierro
Save Coney Island, dir. Djordje Dojcinovic
Coney Island: I Dream of Genie, dir. Jeremy Rocklin
Shoot the Freak, dir. Veronica Lopez
IC Waters, dir. Casimir Nozkowski
A Cornucopia of Characters: The Queens Polar Bears, dir. Ruben Ortiz
A Day in the Life of Coney Island, dir. Daniel Turkewitz
The Great Coney Island Egg Toss, dir. Sean Roman
John Dorman, The Candy Man, dir. Lou Dembrow