2011 Coney Island Film Festival: Award Winners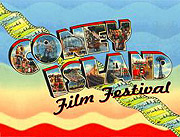 The 11th annual Coney Island Film Festival, which was held last weekend on Sept. 23-25, gave out a total of 10 awards to both feature films and shorts.
Every year, CIFF loves to honor the quirky little seaside resort the fest is held in, showing a selection of films that were screened in the 'hood. This year, the Best "Made in Coney Island" Award went to Daniel Turkewitz's A Day in the Life of Coney Island, a lyrical 20-minute documentary that captures life at the beach and on the boardwalk.
The Best Documentary Feature Award was also a Coney Island-themed film, Charles Denson's The Last Immortal, a profile of reformed gang member Keith Suber, who founded an organization to keep kids out of trouble. Meanwhile, Darin Beckstead's New York-based comedy Somebody's Hero took home Best Feature.
On the short film front, Victoria Cook's Hell-based Devil Town won Best Animation, Jonathan Martin's 30-minute An Evening With My Comatose Mother won for Best Horror Film and Melanie Abramov's examination of modern female objectification, Dame Factory, won for Best Experimental.
Check out the full lineup of films that screened at CIFF here.
The full list of winners is below:
Best Feature
Somebody's Hero, dir. Darin Beckstead
Best Documentary Feature
The Last Immortal, dir. Charles Denson
Best Short
Impostor, dir. Marc Masciandaro
Best Documentary Short
Two's a Crowd, dir. Tom Isler, Jim Isler
Best Horror Film
An Evening With My Comatose Mother, dir. Jonathan Martin
Best Experimental
Dame Factory, dir. Melanie Abramov
Best Music Video
Suck It!, dir. John DesRoches
Best Animation
Devil Town, dir. Victoria Cook
Best Silent Film
Fallen, dir. Ashley Zahorian
Best "Made in Coney Island"
A Day in the Life Of Coney Island, dir. Daniel Turkewitz