2011 Comic-Con International Independent Film Festival: Official Lineup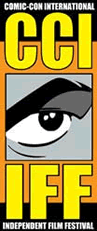 San Diego's annual Comic-Con is mostly known for its major media spectacles, displays and panel discussions by major mainstream Hollywood studios and distributors. Lesser known is the Independent Film Festival that is hosted by and runs concurrently with the larger convention on July 21-24.
The film festival runs in a large meeting room at the Marriott Marquis Hotel and Marina, located right next door to the convention center. Each day kicks off with a "Film School" panel discussion at 10:00 a.m., then packs the late morning, all afternoon and night with independent films from all over the world.
Screenings are blocked by genre, such as Action/Adventure, Sci-Fi, Horror, Animation and Documentary. There's also an awards presentation on the 24th, with repeat screenings of the winning films.
One of the highlights of this year's CCI-IFF is the screening of Waylon Bacon's fantastic and disturbing short film Help Wanted, which will screen at 9:20 p.m. on the 23rd in a block of horror films. The Underground Film Journal reviewed the film last November.
Some other films of note are Perspectives, a new short film directed by Star Trek: Voyager star Tim Russ (Tuvok); and Michael Barnett's feature-length documentary Superheroes, which won a Theatrical Release Offer Award by the Slamdance Film Festival earlier this year.
The full CCI-IFF schedule below is broken down first by the genre blocks of programming, then by the specific screening times of each film. (I also believe each screening time allows for a quick Q&A with attending filmmakers.)
July 21
11:05 a.m.: "Action/Adventure"
11:05-11:45 The Debt Collector, dir. Alan David Morgan
11:45-12:20 The Price, dir. Zeke Pinheiro and James St. Vincent
12:20-12:50 6gun, dir. Hebron Simckes-Joffe
12:50-1:15 Red Princess Blues, dir. Alex Ferrari
1:15-2:05 Perspectives, dir. Tim Russ
2:05-2:35 Mad Dog and the Flyboy, dir. Christopher Rausch
2:35 p.m.: "Animation 1"
2:35-3:00 Bait, dir. Michael Moore
3:00-3:25 Barko, dir. Allison Craig
4:20 p.m.: "Animation 2"
4:20-4:40 Dream Giver, dir. Tyler Carter
4:40-5:05 Paths of Hate, dir. Damian Nenow
5:05-5:25 Marvin, dir. Mark Nute
5:25-6:10 Chaisson Rise of the Zerad, dir. Kevin Ulrich
6:10-6:25 Fei Tian, dir. Zhang Bin
6:25-6:40 Secret of Mechanical City, dir. Jackie Liu
6:40-6:55 The Wind of the Cypress Wind, dir. Christophe Peladan
8:30-9:35 Port of Return, dir. Mike Chang
July 22
11:05 a.m.: "Comics-Oriented"
11:05-11:40 The Kneaded Hero, dir. Alexis Villa
11:40-12:05 Blue Blazes, dir. Mike Shields
12:05-12:30 Secret Identity, dir. Tyler MacIntyre
12:30 p.m.: "Humor 1"
12:30-1:00 The Dungeon Master, dir. Rider and Shiloh Strong
1:00-1:20 Out-Sorcery, dir. Edward Chamourian and Richard Duryea
1:20-1:50 I Knew an Old Lady Who Swallowed a Fly, dir. Paul Andrejco
1:50-2:20 Eugene, dir. Mark Chaput
2:20-2:50 Voodoo, dir. Mark Ratzlaff
2:50-3:25 Repeat After Me, dir. Bryan Bangerter
5:05 p.m.: "Humor 2"
5:05-5:35 April, dir. Mike Piccirillo
5:35-7:05 Tracy, dir. Dan Scanlon
7:05 p.m.: "Horror/Suspense"
7:05-7:35 Clemency, dir. Joseph Albanese
7:35-8:05 The Interrogation, dir. Harry Bainbridge
8:05-8:35 Recollection, dir. Federico D'Alessandro
8:35-8:55 Last Seen on Dolores Street, dir. Devi Snively
8:55-9:20 Write of Passage, dir. B.C. Jones
9:20-9:55 Help Wanted, dir. Waylon Bacon (Watch online)
9:55-10:45 Antidote for a Murder, dir. Josh Blake
July 23
11:05 a.m.: "Science Fiction/Fantasy 1"
11:05-11:45 The Man Who Knew How to Fly, dir. Robi Michael
11:45-12:25 The Historian Paradox, dir. Deon H. Hayman
12:25-1:05 New World Water, dir. J.R. Robinson
1:05-1:30 Cockpit: The Rule of Engagement, dir. Jesse Griffith
1:30-2:00 Digital Antiquities, dir. JP Chan
2:00-2:30 Android 413, dir. William Wall
2:30-3:10 Heal, dir. Mian Adnan Ahmad
4:50 p.m.: "Science Fiction/Fantasy"
4:50-5:20 Misdirection, dir. Doron Kipper
5:20-5:50 The Unnatural, dir. Eric Day
5:50-6:10 The Vortex, dir. Zach Johnson
6:10 p.m.: "Documentary 1"
6:10-7:40 Superheroes, dir. Michael Barnett
7:40-9:00 Comic Books Go to War, dir. Mark Daniels
9:00-10:35 My Comic Shop DocumentARy, dir. Anthony Desiato
10:35-11:00 To Romero With Love, dir. Aaron Peacock)
July 24
12:00 p.m.: "Documentary 2"
12:00-1:40 Gahan Wilson Born Dead, Still Weird, dir. Steven-Charles Jaffe