2011 Comic-Con International Independent Film Festival: Award Winners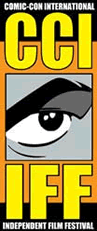 Swirled within the cacophony of major media news items coming out of the just wrapped-up annual San Diego Comic-Con, there is also the news of the winners of the convention's Independent Film Festival. Nearly 50 films were screened over four days in an enormous screening room at the Marriott Marquis Hotel next door to San Diego's convention center.
Awards were given out based upon the genre screening blocks that the film festival is organized into. Winner of the Best Action Adventure Film award was the first film screened at the festival, The Debt Collector, directed by Alan David Morgan, which was a Morgan's thesis film produced at the American Film Institute.
In addition to the genre-based awards, there was one Judges Award, which was given to the Polish animated film Paths of Hate, directed by Damian Nenow. The film, which depicts a stunning aerial dogfight, also won the Best Animated Film award.
Also, most of the films that screened at the fest were short films. However, one of the few feature-length films, the documentary Gahan Wilson: Born Dead, Still Weird, directed by Steven-Charles Jaffe, did take home the Best Documentary award.
The judges for this year's CCI IFF were: Michael Gross, a former Hollywood art director who currently makes his own art full-time; Eric Vespe, an online film writer; and Kevin Walsh, a writer, film producer and Hollywood studio story analyst.
The full list of award winners is below:
Best Action Adventure Film
The Debt Collector, dir. Alan David Morgan
Best Animated Film
Paths of Hate, dir. Damian Nenow
Best Comics-Oriented Film
Secret Identity, dir. Tyler MacIntyre
Best Documentary
Gahan Wilson: Born Dead, Still Weird, dir. Steven-Charles Jaffe
Best Horror/Suspense Film
Recollection, dir. Federico D'Alessandro
Best Humor Film
Repeat After Me, dir. Bryan Bangerter
Best Science Fiction/Fantasy Film
Heal, dir. Mian Adnan Ahmad
Judges' Choice Award
Paths of Hate, dir. Damian Nenow