2011 Comic-Con Film Festival (Sort Of)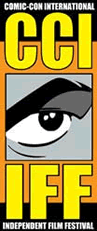 So, per tradition, at the end of my day I headed into the con's little recognized and commented on film festival.
Of course, they weren't showing films during this time.
However, first I caught the tail end of a panel discussion with actual military guys who act as official liasions and advisors to Hollywood films.
I only got to sit in on the last 4-5 Q&A questions, so I don't have anything monumental to say about the panel, but it was nice to have caught some of it.
Then, the post-production company Avid had a little presentation. They produced a somewhat goofy short spy movie knock-off, which they screened, then discussed how they put the whole thing together using Avid tools.
The whole presentation was extremely well put together and was, essentially, a good advertisement for Avid.
Although I wasn't personally interested in their tips, I thought they had great suggestions for indie filmmakers just starting out. They especially did a great job discussing how much thought and work should go into sound design, which can be a deadly, neglected part of the process.
Lastly, I caught 2/3rds of a comedy horror film called April, directed by Mike Piccirillo, about a teenage zombie girl who attends high school for the first time.
After a clunky opening and some distracting Disney Channel style acting, the film really picked up and had some funny bits. It also had a genuine soul about trying to fit in as a teenager to make the film appealing. Although, punching up the more human elements over the corny jokes could have warmed the film up more.
I felt a little bad skipping out before the end of April, mostly because I was getting into it, but I had a train to catch.