2011 Calls For Entry: WNDX, Basement Media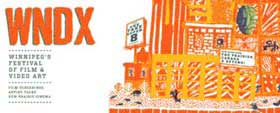 Two fun experimental media festivals are now open for submissions
WNDX Festival of Film and Video Art
Although it's only been around for a few years yet, Winnipeg's WNDX fest has become one of Canada's most provocative and intriguing avant-garde and experimental media festivals, which is saying something given that country's long running institutions like the Images Festival and the $100 Film Festival.
While WNDX definitely has a major Canadian slant — with their annual New Prairie Cinema screenings and retrospectives of Canadian filmmakers like Barbara Sternberg and Phil Hoffman — the fest does have a strong international component. So, you get the best from Winnipeg's extremely strong underground film community, plus more from other Canadian environs and work from all over the world.
Also, WNDX doesn't just stick with traditional film and video screenings, as they also typically include innovative live performances and installation pieces. Their mission is summed up as:
We celebrate the impetus to create in motion picture as a means of artistic expression and bring to the forefront works that may be overlooked by the mainstream.
Submitting to WNDX is free and they have a single deadline date, i.e. submissions need to be in their offices by this date:
Final Deadline
May 13
Please visit the official WNDX website for complete film submission guidelines.

Basement Media Festival
The Basement Media Festival is new to be listed on the Underground Film Journal, so I really don't know too much about it, including an actual screening date.
The fest is conceived and is being run by filmmakers LJ Frezza and Nicholas Tamburo. They're looking for work that is low fidelity, low definition and/or low tech. They also say they will showcase "time-based work that focuses on the mediated form."
Basically, I gather they're looking for lo-fi experimental film and video and leaving it at that to see what comes in. There's no submission cost, so not much risk to send in something if you feel your work fits that criteria. And there's only one deadline:
Final Deadline
July 16
If you have questions and/or if you want to send your experimental work in, please visit the official Basement Media Festival website.