2011 Calls For Entry: Tromadance, Onion City, Coney Island
Three very diverse film festivals, from the trashy to the classy to a little bit in between, have recently opened up submissions for their 2011 events.
If I said "trashy" then I must have meant the 12th annual TromaDance Film Festival, which will be held on April 22-23 in Asbury Park, New Jersey. After years of screening at Park City alongside those other snooty film festivals, TromaDance moved to Asbury Park last year, which is a much more fitting location considering that Troma introduced the world's first superhero from New Jersey, the Toxic Avenger, way back in 1984.
TromaDance doesn't have much in the way of guidelines of what to submit, but don't think your film has to have loads of sex and/or violence to get in. The festival is just looking to feature the best in creative independent filmmaking, no matter in what shape or form it exists. However, having loads of sex and violence in your film probably couldn't hurt, either.
Also, if you think that by entering the fest your film will automatically appear in front of the eyeballs of Troma's head troublemaker, Lloyd Kaufman, then you'll be sorely disappointed. Mr. Kaufman is not a member of the TromaDance selection committee. Bu
But, that's no excuse not to submit! Because the festival is 100% free. Yep, free to enter and free to go to the screenings. So, send your work in! To get somewhat of a feel of what they're looking for, click here for last year's lineup. The deadline is:
Final Deadline
Feb. 18
Free

On the other end of the underground film spectrum, there's the 23rd annual Onion City Film Festival, which will be held at various venue around its regular home of Chicago on June 23-26. (The festival is put together by the Chicago Filmmakers organization.)
Unlike TromaDance, Onion City is strictly an experimental media festival, featuring the most innovative film and video projects from all over the world. They also sometimes program media installations, so you can inquire about those, too.
The fest does say they are open to all experimental films with no runtime restrictions, but, I know for like last year, programming was grouped together in blocks of short films, with about 80 works programmed altogether.
There is an entry fee of $25 for U.S. filmmakers with $5 for any additional submissions, e.g. if you submit three films it will cost you $35. However, international filmmakers are not charged any entry fee in consideration of extra shipping costs.
But, also, Onion City gives out cash awards to winning films as chosen by a three-panel jury. Last year's jury were: Carolyn Faber, Jodie Mack and Alexander Stewart. There's only one final deadline to submit:
Final Deadline
April 15
$25 for U.S. filmmakers ($5 for each additional film)
Free for international filmmakers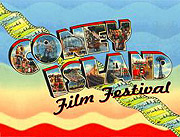 Lastly, in our submission roundup, there's the 11th annual Coney Island Film Festival held — where else — but at the world-famous Sideshows by the Seashore in lovely Coney Island, New York. This year's edition will run on Sept. 23-25.
Although I've never been to the festival myself, it always sounds like such a darn fun time. One: Because it's in Coney Island. And, two, because they always have an interesting selection of films. It's tough to pin down exactly what types of films the festival likes to accept because it has a fairly wide range from serious documentaries, animated shorts, outrageous comedies, horror films and lots more.
However, that's not to say that CIFF is a random hodgepodge of films. When you look at the lineups, like last year's or the year before, they just seem to make sense.
There are several deadlines for the fest, with an increasing entry fee structure. So, get 'em in early! (All dates are the postmarked dates.)
Early Bird Deadline
February 25
$25
Regular Deadline
April 29
$30
Late Deadline
June 24
$35
Extended Late Deadline
July 8
$45