2011 Calls For Entry: San Antonio & Arizona Underground Film Festivals
Two film festivals in the American southwest are currently open for submissions. One has just opened up, and one is coming to a close. So, lets get to that closing one first:
San Antonio Film Festival
The 17th annual San Antonio Film Festival has a final deadline of about a month away as of this writing, but you also have a few more days to squeak in for an earlier, cheaper deadline. The dates are:
Regular Deadline
Feb. 25
$40
Late Deadline
March 11
$60
The SAFF always has an interesting mix of narrative dramas and genre feature films, lots of documentaries, numerous short films and work by local as well as international talent. There's also usually a good streak of socially relevant films that deal with topics like culture clashing, veterans issues, freedom of speech, etc. But, that doesn't mean they won't throw a crime caper or horror flick into the mix either. To understand the feel of the fest, check out last year's lineup.
What's also really nice about this festival is that it honors the work of young up-and-comers. While the fest has always been good at representing student work, this year SAFF is pairing up with local PBS station KLRN, which runs the high school filmmaking competition Fresh Cut. Work made by high school filmmakers that is selected for the Fresh Cut TV program that will air in July will also screen at the festival. The deadline for Fresh Cut is March 18.
This year, the San Antonio Film Festival will run June 22-26. To submit, please visit their official website.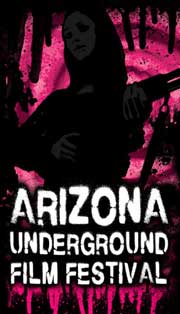 Arizona Underground Film Festival
On the other hand, the Arizona Underground Film Festival is a full-tilt, balls-to-the-wall genre film fest. Last year featured films with titles such as Nude Nuns With Big Guns, Tricked Out Trannies With Knives, Dead Hooker in a Trunk, Beyond the Grave, Nude Study and more.
Heading into its fourth year this year, AUFF has quickly grown into a real powerhouse of a festival, screening films from all over the globe, from Germany, England, Norway and other countries, many of which were North American and World premieres.
This year the fest will run Sept. 17-24 and submissions have just opened up, so here are the dates:
Earlybird Deadline
March 25
Features $30
Shorts $25
Regular Deadline
May 20
Features $35
Shorts $30
Late Deadline
June 24
Features $40
Shorts $35
WAB Extended Deadline
July 21
Features $50
Shorts $45
For more info, please visit the official Arizona Underground Film Festival website.