2011 Boston Underground Film Festival: Award Winners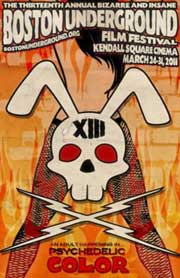 The 13th annual Boston Underground Film Festival has handed out their Bacchus Awards and the big winner of the fest is filmmaker Usama Alshaibi, who took home the Best of Fest Feature for his film Profane. What makes this an even sweeter win is that the film's BUFF screening on March 26 was its North American Premiere.
If you want to catch Profane again, it has a repeat screening on March 29. You can actually catch many of the winners at repeat BUFF screenings all this week until the 31st. The full festival schedule is on the Underground Film Journal here.
Another big winner of the 13th BUFF was Matthew Garrett's disturbing short film Beating Hearts, which was reviewed on the Underground Film Journal just a few weeks ago. Also, Jason Eisener's much anticipated feature film Hobo With a Shotgun, starring Rutger Hauer took home the Audience Award.
All in all six films were given awards, and five films received a special Runner-Up mention. The full list of winners is below. For more info on the Boston Underground Film Festival, please visit their official website.
Best of Fest Feature:
Profane, dir. Usama Alshaibi (Read the review)
Runner-Up:
A Horrible Way to Die, dir. Adam Wingard
Best of Fest Short:
To My Mother and Father, dir. Can Evernol
Runner-Up:
All Flowers in Time, dir. Jonathan Caouette
Most Effectively Effectively Offensive:
A Safe Distance Away, dir. Alexander Yan
Runner-Up:
Ninjas, dir. Dennison Ramalho
Director's Choice Short:
Beating Hearts, dir. Matthew Garrett (Read the review)
Runner-Up:
Good Morning Beautiful, dir. Todd Cobery
Director's Choice Feature:
Chop, dir. Trent Haaga (Watch online)
Runner-Up:
The Beast Pageant, dir. Albert Birney & Jon Moses
Audience Award:
Hobo With a Shotgun, dir. Jason Eisener